Join the #GoodnessRevolution Contest — Do good and win exciting prizes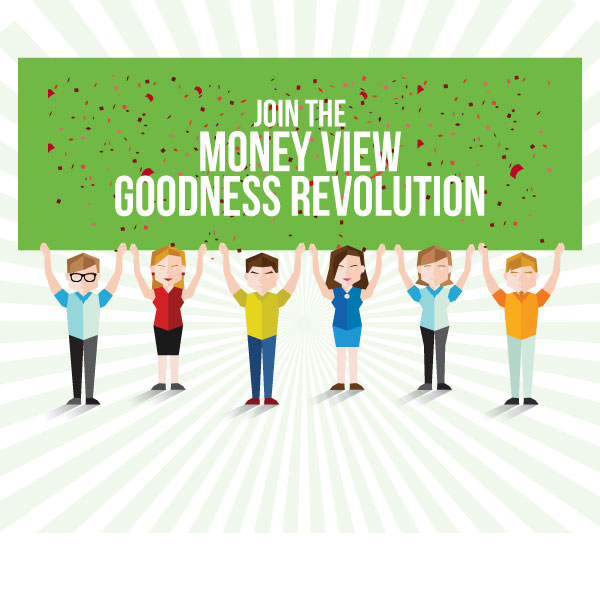 It is the festive season, a time to celebrate, shop and indulge. It is also time to spread joy and cheer. To make your festive season brighter, Money View comes to you with an exciting new Contest called the #GoodnessRevolution. After all this is the Season to do good as well. And who better to start with than your friends.
You love your friends. But you may not love some of their habits especially when you see them spending money recklessly. Your heart does not blame them entirely, after all with the season of festivals and extravagance, it's easy to fall prey to the innumerable sales and discounts that are on offer. You want to inject some financial prudence in their lives but don't know how. Don't throw your hands up just yet. Get them to download Money View App and stay in better control of their finances. After all, when you get your expenses, income and savings in one place with timely notifications, it is easier to stay in control especially if you are overspending. Participate in the #GoodnessRevolution Contest. Not only do you help your friends out but also enter a chance to win exciting goodies including a swanky LG Nexus 5X.
Here's what you need to do:
1. Download/Update the Money View App on your phone using this link.
2.Tap 'Refer and Earn' on the Menu when you open the App.
3. You will get your own Referral Code. Share it with your friends and ask them to download the Money View App using this code.
4. That's all. The more people who download the App using your code, the better are your chances of winning.
The Prizes:
Grand Prize:
A brand new LG Nexus 5X
Other exciting Prizes:
Fit Bit Fitness bands, Honor Power Banks, BookMyShow tickets and Wildcraft bags to be won too
So hurry, do some good, get some good!
Offer valid for referrals made on or before 8th Nov
Follow us on Facebook and twitter for all the updates.
T&C apply:
The contest will be valid on all referrals done through the Money View App till 8th November 2015.
This contest is a lucky draw and every referral doesn't guarantee a winner.
The contest participation will be valid for customers who refer from the Money View App and customers who download the app using the referral code.
The contest participation cannot be availed with any other referral offer.
In case of any dispute, the final decision lies with Whizdm Innovations Pvt. Ltd.
Money View reserves the right to change/void the offer at any point of time without any prior notice.