3 Money Lessons to Learn from Dussehra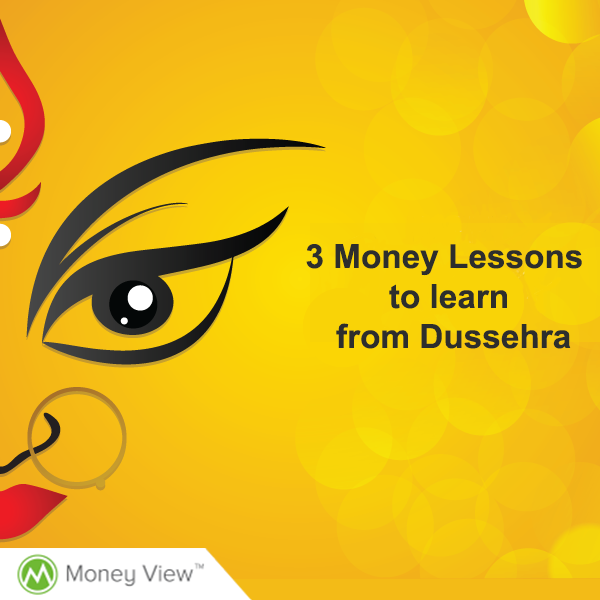 India is a land of cultural diversities and celebrations. Every celebration has a unique tale attached to it so that the rituals associated with the festivals are more like binding acts of faith. Dussehra also has many such inter-connected tales associated with it . According to the ancient lore, Lord Sri Ram vanquished the Asura King Ravan on this day.  This is also the day when Goddess Durga attained victory over Mahishasur thus paving the way to a more peaceful mankind. Both these tales point to the same theme — end of evil and renewal of hope. Dussehra thus symbolizes new beginnings in many ways.
In the context of personal finance and money, it means putting behind all your bad financial habits and marching ahead with greater financial confidence and grace. Dussehra teaches us many valuable lessons in money management and personal finances, a few of which can be enumerated below:
Replace Bad Spending Habits with Good Ones
Bad spending habits are responsible for poor financial health of families and households. They also reduce you to emotional wrecks when you realize that you are neck deep in debt and your credit card bills have escalated overnight. This Dussehra, as you witness the burning of Ravan's effigy, let go of the crippling money habits and embrace new ones in the following ways:
Make purchases while keeping a track of your long term financial goals.
Purchase only those items that make you genuinely happy.
Do not splurge on items to get rid of boredom or loneliness.
Replace unplanned shopping expeditions with more fruitful activities such as exercise, de-cluttering your closets or playing with children.
Practice the habit of planning a purchase. Have short-term and long-term financial goals in place.
Make a purchase only when your bank balance allows it.
Arrange for your bills to be paid automatically online or pay them  immediately when you have the time.
Keep track of all the expenses that you incur and exercise control when you feel that you are spending more money than what your budget allows.
Stop making payments with Debit/Credit cards and use cash instead.
Start Living within Your Means
Living beyond one's means is one of the biggest evils of modern day living. It involves losing the ability to distinguish a want from need, getting addicted to hoarding of material possessions that have little use and in general leading a life full of pretence. Such lifestyle, while being inauthentic also contributes to the deterioration of both the physical and mental health of the individual.  As you celebrate Dussehra this year, invoke your inner Shakti and slay the demons residing within you; say no to financial habits that are inauthentic and start practicing financial authenticity in the following ways:
Do not make a purchase or invest in property to make a personal statement of wealth or create a false impression of opulence.
Make your own customized budget and start investing wisely.
Do not equate lavishness with generosity. Gift your friends only with items that you can afford.
Shakti is another name for strength, determination and self control. Use them wherever required.
Get Rid of Bad Financial Decisions
Bad financial decisions do not fall under a single category. Their effects are also many. Like the ten-headed Ravan, they can wreak havoc in many ways.  They not only disturb the delicate balance of the present, but hold you back from moving forward .  This Dussehra, re-visit your past financial decisions and assess their repercussions with a discerning eye. Ask yourself how they are contributing to your family's wellness. Make new decisions that will yield rich returns for you and your family. For instance:
Replace an expensive insurance policy with a cost effective one.
Sell any investments to curb further loss.
Go for a home loan with a competitive interest rate.
Dussehra is the time to burn the evil and herald new beginnings. As you celebrate the festival with your family and friends,  let go of everything that was holding you back and surge ahead with  greater dignity and grace.
Sridevi Datta is a Cost Accountant. After working as a Business-SME in a leading E-learning centre, she now  blogs regularly at The Write Journey.