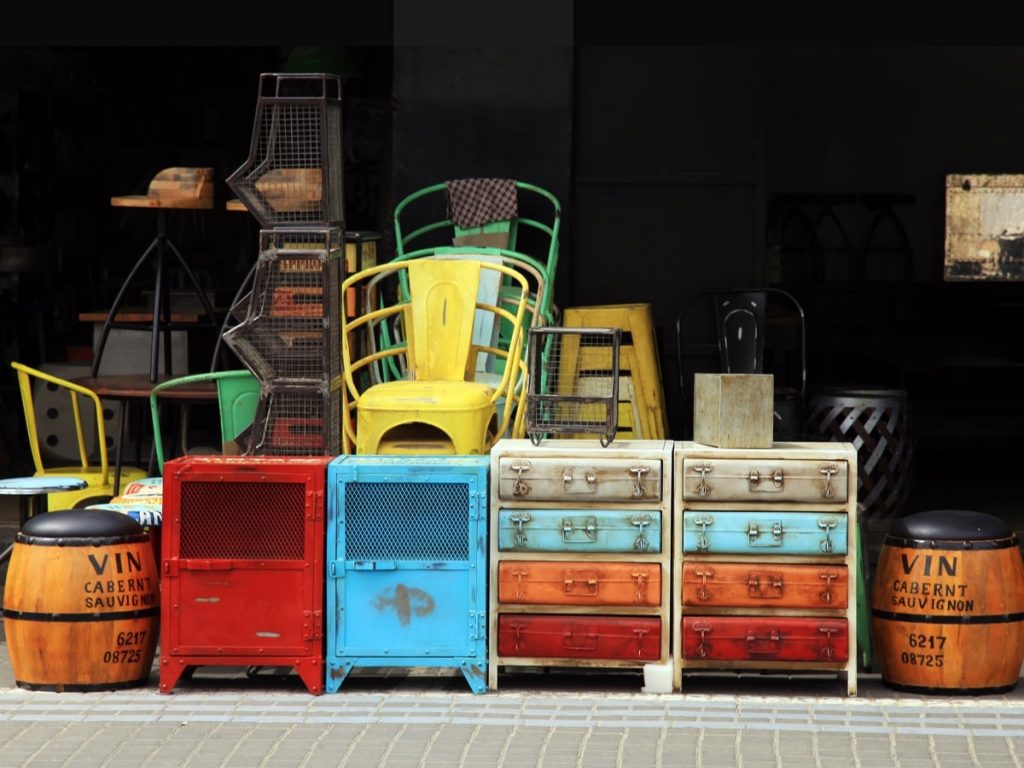 We belong to the generation of pampered shoppers. Almost everything is available to us on the internet, and we have multiple credit cards to buy them instantly. We no longer use items to their maximum life. We buy, throw, and replace things very fast. This way we end up wasting our hard earned money and polluting the environment. Would it not be better to use money judiciously? Buy quality products and buy according to use. How, you ask? Try buying used or second-hand products. There is no point paying full-price when you can get the same quality in half.
Following are few items I prefer buying used:
Household Appliances for Rented Homes
I love the idea of new appliances but when you move a lot like I do, it makes no sense to spend a lot of money on them. With each move, things wear out. Few bumps and scratches are inevitable. And technology changes fast. Also, we all have this fantasy of decorating our home with brand new products. Then why waste money now? Save till you move into your own home. Microwaves, ACs, TV, Washing Machines are a few items that can easily be bought on the internet. Try Olx, Quikr, Click.in or Indialist.com.
Plastic Toys for Children
I am a big fan of hand-me-downs. Children grow fast and it's wise to buy as few clothing items for them as possible. I have the same principle for toys. Like clothes, children grow out of toys too. They learn and lose interest. They want a brand new toy every now and then. As we all know toys are very expensive, buying second-hand makes much more sense. Tricycles, plastic toys, Lego sets are a few that we can be bought used. Getting them from friends or relatives as hand-me-downs is a great option as well. I won't recommend buying second-hand stuffed toys, though.
Designer Products
Do you know you can't go and buy Hermes bag at their stores? Well, at least not the common folks like us. The day I found this out, I also found that those who really want it, buy it second-hand. What a great idea this is! Designers products are ridiculously overpriced. If someone wants to own a bag, watch, or dress, and can't afford it on full-price, buying second-hand is a great way to fulfill your desire without burning a hole in your pocket. There are many legitimate websites that sell second-hand designer stuff and they certify it on request. Check VintageDesi, Zapyle or ConfidentialCouture.
Textbooks, if Syllabus has Not Changed
Textbooks cost a lot. With fees and other expenses at the beginning of the school year, it's advisable to get second-hand textbooks. In every city, there are stores that sell second-hand textbooks. In case you know someone who is a year senior to you or your child, ask them. And don't forget to keep yours in good shape and donate them. It saves money and protects the environment too.
Car for New Drivers
We all know the value of car reduces by 20% the moment we take it out of the showroom. Then why pay the high price when you are a new driver? As a new driver, few scratches here and there are a given. Personally, I would make a mistake on the road if I'm more worried about my car than following traffic rules. For new drivers, it's good to have a second-hand car. Buy a used car from an authorized dealer. This way you pay less money and have the best quality. Do the same for two wheelers for your growing children. You can also check out sites like Olx, Quikr for second-hand cars.
Furniture for Guest Bedroom
I love old furniture. It has charm and costs less. If you like a DIY project, buying second-hand furniture is fun. If not for your entire home, try second-hand furniture for guest bedrooms, patio or terrace. Places where you use them less or where you don't want to spend effort in taking care of them. Rather than investing heavily in furniture for such places, use websites like Zefo.com for buying second-hand furniture. You can also rent furniture these days. It works really well for small homes and for people who move around a lot. Furlenco.com is one such site.
One-time Use Items
I follow this principle – I never invest in a product that I would use once or I am not sure I would use again. I use Craigslist, and recently I've started using Facebook Marketplace to find a good deal. There is a folding lawn table that I bought in excitement and never used again. Ask yourself – if you don't intend to use a product in the next 6 months, don't buy it from the store. Search for a second-hand online deal or renting instead.
Is there anything you would recommend buying used? Please share in comments below.