What Is a Personal Loan & How to Get One from Money View?
Personal loans come in handy when you are purchasing a vehicle,furnishing your home or have an unexpected medical expenses. As the name suggests, a personal loan can be used for anything personal to you. Even while there are many financing products available in the market like home loans, car loans etc, most of them are used for financing an asset. Banks have a security against such assets (known as collateral) in case the borrower fails to repay in time.
However, personal loans are mostly unsecured in nature. Even while we may not have taken personal loan from banks, most of us have experienced this in the form of credit cards. The difference between a personal loan and a credit card is that a personal loan will charge interest on the amounts drawn from the bank and used for expenses, while a credit card will charge interest only once we have failed to repay the credit card dues on time.
What do Banks Consider while sanctioning a Personal Loan?
Since personal loans are unsecured in nature i.e. not backed by any asset, banks are very cautious in sanctioning such loans. They take into consideration the existing loans, your monthly disposable income, your present overdue status with other banks etc. Further, they also consider your track record for repayment habits of the applicant, for which they get the necessary information through your credit report and CIBIL/credit score.
How to get a Personal Loan?
You may approach any of the banks for a personal loan. They will screen you for their eligibility criteria for such loan considering your age, income etc. After that, you may be required to submit the desired documentation. Personal loans are usually applied for consumption spends like a vacation, jewelry, marriage etc. and banks may ask for some collateral security like charge on other assets owned etc. while advancing such loans.
MoneyView App Launches Personal Loans Feature – Simple Loan
Money View App has recently launched a new feature – Simple Loan that allows its users to get a collateral-free personal loan in hours. A user can apply for a loan of an amount ranging from Rs. 25,000 to Rs. 2,00,000 and get it within 2 business hours of loan approval.

Here's How Personal Loans Feature Benefits the Users:
The Personal Loans feature in Money View App benefits the users in the following ways:
Transparent – The complete process is automated and happens on the screen. Select the required amount and the payback period in the app and get the due amount right away.
Quick – You can get the money in your account within 2 hours of the loan approval.
Paperless – The feature eliminates the need of long paperwork or visiting a loan officer/ bank. The complete process from the Application right up to the disbursal stage happens through the app.
Personalisation – You can personalize your loan amount and your EMI and payback period while setting up your loan. We recognize It's your loan, so it makes sense that you should decide the terms.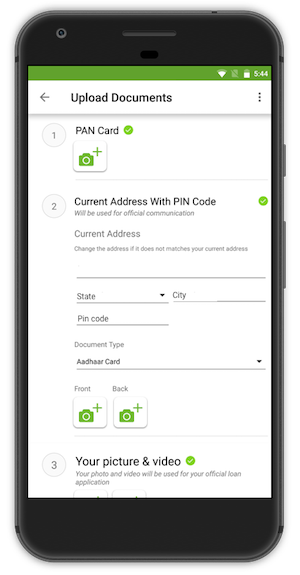 Since we are aware that a default on a personal loan can adversely impact your credit score, we help you stay updated on your loan through the app. You can check your application status, verification information and upcoming EMI payments through the app. You'll see it all on the app, right in front of you. That way, there are fewer chances of an EMI payment slipping your mind.
So, the next time you think of a personal loan, you know where to go. Just login to your account on  the Money View app. We are sure this feature makes personal loans just a click away for you. Don't forget to share your feedback with us.
PS: We have selectively enabled only the users who qualify for Simple Loan. If you are enabled, you will see the 'Simple Loan' option on the menu.