The Jedi Way to Personal Finance Stardom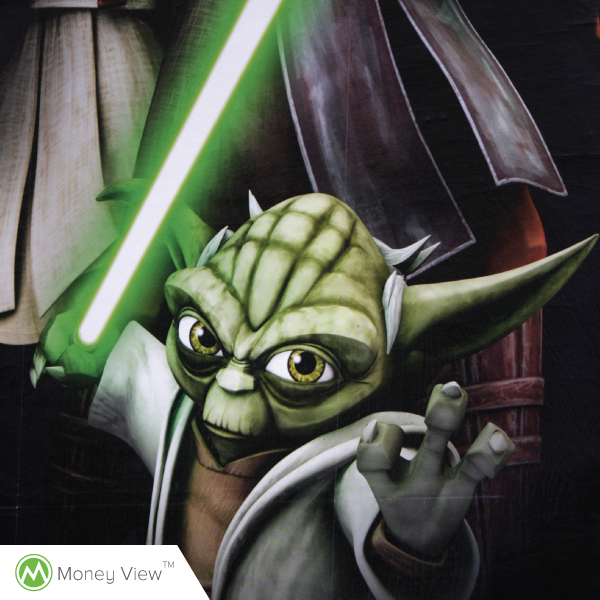 Yoda, the Jedi Master, is one of the most memorable characters from Star Wars. Whether it be the wit and love with which he instructed Luke, or the anguish with which he watched Anakin make his choices, his screen moments are charged with magic and wonder that is universal in its appeal. Communities and systems have evolved around his utterances, often accepted as simple English for the actual Jedi code.
The teachings of Yoda hold as much wisdom for personal finance warriors today as it did for Luke in his journey. With Episode VII fever upon us, here are three timeless pieces of advice that you will want to apply warp-speed to your financial life.
Do or Do Not. There is no Try.
Commit to an outcome, stick to your budget and diligently build up to your financial goal. Or don't. There is no third option. This consonance between your intent and your actions will propel your universe to manifest what you desire. Be realistic, create and achieve concrete goals, automate your payments and investments, and use a money management app. A Jedi resolves to do. There is no try.
Size Matters Not.
Many do not make a beginning simply because they feel that the money they have available now will never grow into a large enough amount, no matter how you put it to use. They spend all their energy trying to increase their earnings in the belief that then things will be different. The most ignored principle of finance is that of compounding. With sustained prudence and balance across budget categories, in a few months perhaps, it is not difficult to put aside some money. Over time, it is possible to build up a fair corpus by investing this in a systematic manner. No matter how little you start out with, focus and the power of compounding returns will make it sizeable. A Jedi does not work for money, he lets money work for him.
Already Know You That Which You Need.
Personal wealth creation is an exact science that you already know and understand. EMI for a 60 lakh home loan at about 10 percent interest for 20 years will be … If you spend more than you earn… If you systematically save and invest… You already know your goals (and they might be different from what you are thinking right now) and the correct way to reach them. You also have the information, intelligence and strength with which to unlock your true financial potential. A Jedi seeks within for instruction and understanding.
Personal finance can be challenging. Like everything else in life. The key to success lies not just in meeting your challenges successfully, but in seeking the lessons that lie beyond. The lessons that change you and move you towards who you are meant to be. Surmounting obstacles is best seen as permission to tackle bigger ones. Everyone goes through it in their own way. A Jedi merely makes the journey meaningfully.
Were you among the ones who wondered what is wrong with all these people who are trying to watch six films in row, that too a series that is almost four decades old, before they watch Star Wars: The Force Awakens? Or are you among those who took part in the marathon? Have you found any aspects of the saga useful to you in the realm of personal finance? What did you think of the new film? Let us know in a comment.
Subhorup Dasgupta is a Hyderabad-based blogger and artist. He writes about responsible living at his blog,  Subho's Jejune Diet.