Linking Aadhaar Card with Bank Accounts
The process of linking Aadhaar to your bank account is simple and is similar for most banks. As per the Reserve Bank of India, linking Aadhaar to bank accounts is not mandatory and customers may provide other documents to complete their KYC. However, many customers do prefer linking Aadhaar to their bank accounts as the process is simple, convenient, fast and hassle-free.
The different ways through which you can link your Aadhaar card to bank accounts online and offline are given below.
Through Online Banking
Through ATM
By visiting the branch
By sending a text message (SMS)
Through IVR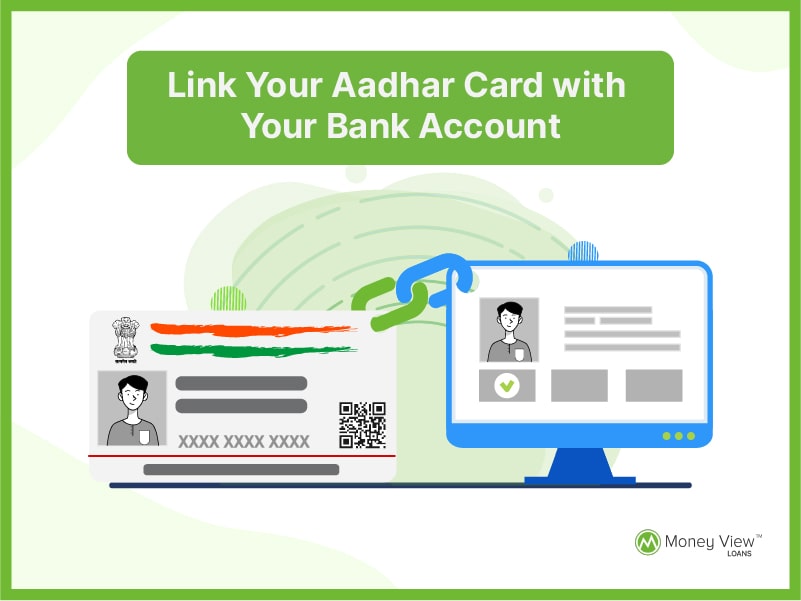 Process to Link Aadhaar to Bank Accounts
Through Online Banking –

The simplest way to link your Aadhaar and bank account is through the online or net banking portal of your bank. The process is a little different for different banks. Once you login with your user ID and password, look for the section that says 'view Aadhaar information'. There you should get an option to update your Aadhaar information and then you can verify the same by generating a one-time password (OTP).

Through ATM –

Most banks provide this facility to the customers through which they can visit the nearest ATM of their bank and update Aadhaar details with the help of their debit card. You will need to swipe or insert your debit card and enter the pin. On the screen you should get an option to update Aadhaar information. Follow the steps mentioned on the screen to complete the process. Please note that this facility is not provided by all the banks in India.

By Visiting the Branch –

You can visit the nearest branch of your bank and then update Aadhaar details on your bank account. In order to do so, you will need to carry your original Aadhaar card. You can take a photocopy of your Aadhaar card and submit it with a duly filled copy of the application form to update Aadhaar information. The process is very secure and usually takes 2 - 3 business days for it to be completed.

By Sending a Text message (SMS) –

customers of some banks can send a text message or SMS to update details of their Aadhar on their bank account. You will need to send a specified text followed by your Aadhaar number to the number given by your bank. Once the message is received by the bank, your request will be processed in a few days.

Through IVR –

Almost all the banks in India provide the option of updating Aadhaar details through their IVR service. You will need to call the customer care department of your bank and then follow the prompts on the IVR service. You can then update your Aadhaar details by choosing the correct options on the IVR.
Once you have followed any of the steps given above to link your Aadhaar to your bank account, you can check Aadhaar and bank account linking status on the official website of UIDAI by following the steps given below.
Step 1: visit https://resident.uidai.gov.in/bank-mapper
Step 2: Enter your 12 digit Aadhaar number or 16 digit virtual ID
Step 3: Type the security code that is displayed on the picture on your screen
Step 4: Click on Send OTP to generate a one-time password
Step 5: Or Click on Enter TOTP if you already have the OTP
The bank account and Aadhaar linking status will be displayed on your screen.