New school term is a stressful time. There is a lot to manage. On top of that, the price of school supplies, books, uniforms, and stationery can put a dent in your budget. Thanks to online shopping, there are tons of places where parents can shop without worrying about the price tag. No need to head to the market in the scorching sun. Shop from the comfort of your home and at the most competitive prices. In addition to customer favourites Amazon, and Flipkart, there are many portals that cater to the needs of school going kids. Here's the list of the websites for back to school online shopping in 2018.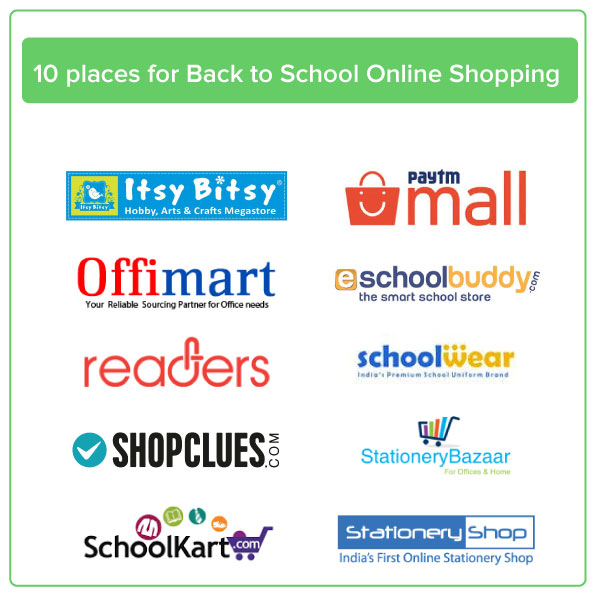 SchoolKart is a one-stop shop for all the school needs. The website carries uniforms, books, and school essentials for more than 500 schools. With cash on delivery option, SchoolKart delivers across India. The portal is user-friendly. Deals are divided into price slabs so you can shop according to your budget. You can also place bulk orders on SchoolKart. The website specialises in the delivery of uniform and books of all NCR schools.
In case you are looking for great deals with easy payment option – Paytmmall is the best place. There is more than 50% off on selective back-to-school supplies. For some stationery products, the discount is as high as 82% – making it a perfect place to shop and stock the essentials. With these features, Paytmmall is one place that is hard to miss while searching for deals. For the whopping discounts it offers, Paytmmall is gaining a lot of popularity these days.
For your kid's many stationery needs, head to Stationery Bazaar. The website has writing, printing, craft, games, party supplies at reasonable rates.  On order worth more than INR 750, shipping is free and cash on delivery option is also available. Check discounted deals and use coupons to get a rebate. All the discount related information is mentioned on the homepage of the website.
To find material for school projects, ItsyBitsy is the best website in India. The website has a wide selection of art and craft supplies. High-quality products are priced reasonably. They ship everywhere in India for free with minimum order of INR 999. Check their clearance and sale section to cash-in better deals. It's the best website to find products that are not easily available at your local stores.
With 500 brands and 35000 handpicked products, Offimart is stationery heaven. Go to this site if you are looking for variety. The website sells all the top brands available in the market. High school students can find all the tools and materials for their projects on this website. Look at the deal section on the homepage to save money. Delivery is free on orders above INR 499. Price-wise, it's the best website in India to shop for stationery.
To buy school uniform online, Schoolwear is one of the top portals in India. Free delivery, 15-day return policy, discount on top brands are few of the reasons this website gets high scores from parents. School uniforms of Mumbai, Thane, Ahmedabad, Surat and Baroda schools is available on this website. Stationery, footwear, and costumes for parties and plays are also available on this website. Their costume section is one of the best in the market. You can find all fancy dresses here.
Yet another portal to shop for stationery, StationeryShop carries everything for school, college, and office needs. Divided under easy heads – writing supplies, stationery sets, desk accessories – there is hardly an item for your school going kids that is not available here. Delivery is free on orders valued at INR 1500 or more. There is a 7-day return policy on the website.
To shop for school supplies – bags, bottles, lunch boxes – head to Shopclues. There is a huge selection available at reasonable price. The shipping policy is very good on Shopclues. There are no delivery charges on most of the items. Though Shopclues is a shopping portal like Amazon and FlipKart, their shipping and delivery policy makes it very appealing to parents.
It is the best place to shop for stationery, art supplies, and school essentials. The website has almost all the products students need. The only exception is textbooks. Readers.in ships to all states in India, except for J&K, Andaman and Nicobar, and few areas of Arunachal Pradesh.
With no minimum order requirement, ESshoolBuddy is a popular store online. With Surf by School option, parents can find a curated list of products for their child's new session in school. Parents need not worry about making a list of products. The complete list of school supplies is ready at the click of the button.
Hope you liked our list of back to school online shopping in 2018. Where do you shop for your kids? If there is an online store we missed, please share the name in comments below.