5 Money Lessons My Father Taught Me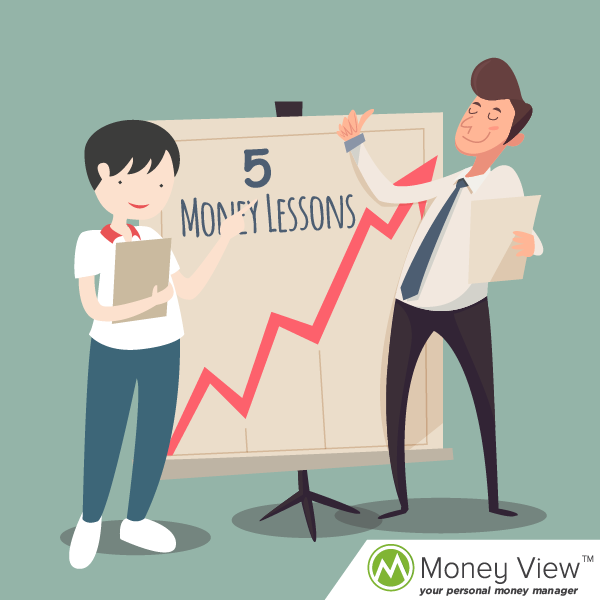 Apple doesn't fall far from the tree. We inherit many qualities from our parents. Three good things I've inherited from my father – talk sensibly, a good sense of humour and financial independence. He started working at the age of 10 and I started earning at the age of 18. Both of us worked part-time. He worked to pay his fees, I worked because it seemed the right thing to do. I earned in my spare time and it gave me both money and pride. On this Father's Day, I recollect the financial wisdom my father shared with me while growing up. Some of it made sense then and there, some that sounded out-of-date made sense few years down the road.
Stay Within Your Means
When I wanted to buy Levi's jeans costing 2200 rupees, my father said no! I was earning 1500 per month and I had an add-on credit card. Don't spend more than you earn. Spend only when you have the means to. Even on the credit card, spend what you can repay easily. Three of the sentences he repeated often. After that, whenever I bought something expensive for myself, I always saved first. Even now, I don't buy things I can't afford. Remember, temptation is the biggest culprit in our financial downfall.
It's Never Too Early to Save
According to my dad, savings come first. One must save 25% of their salary. If not that much, save as much as you can. Even 500 rupees from your monthly salary of 15000, would become a good sum, he would say. The biggest lesson – start from the day you get your regular paycheck. Set a limit on your spendings and savings. Learn to budget to stay away from the financial mess.
Always Have a Plan for Your Commitments
My father always had a plan. And a backup plan if the original plan failed. He had money for our college fees. If that was not enough (as in my brother's case who did his BS from the USA) he made arrangements to sell his investments. He started planning when we were born. I learned from him. If I have a commitment or a desire, like gifting a vacation to my husband on our 10th anniversary, I plan it out and start investing for it.
Invest in Things You Love
People invest in property, gold or share market. It's good. Money makes us happy. However, there are things that give us immense pleasure. Like a nice car or a personal library. My father never spent, he invested in those things. He feels such things bring recurring happiness, so they can't be termed as spending. I follow suit. I invest in books. In addition to the money I have in my bank account, such investments add joy. It's money well spent, sorry, invested.
Discuss Money Matters with Your Family
As kids, my brother and I knew how much was within the reach of our family. I knew throwing a party in a banquet on my birthday was off limits. My brother knew our parents could only buy him a two-wheeler. We had reasonable expectations from our parents. All because we knew how much money we had and what was that money for? After marriage, I continued the same principle with my husband. We talked about our finances – assets and liabilities. It helped us in the initial years of marriage as just out of B-school my husband was in debt. As a newly wedded couple, putting everything on the table, helped us sail through the otherwise patchy first year of marriage.
It's Father's Day and a couple of weeks later is my father's birthday. I gift him twice a year, once in winter – a sweater or jacket, and on his birthday. And as taught by him, I plan ahead for his gift and spend money reasonably on things he loves. I am truly paying back for his teachings in the way he loves! What say?
What are you plans for Father's Day? Do share if you have any financial nuggets from your father.
A Company Secretary by profession, Saru found her true calling in writing. She blogs at sarusinghal.com which she religiously updates every Monday for the last four years.