Can I Get a Personal Loan with No Credit Score?
The need for extra money can arise at any time. But, access to credit is not always easy. 
You will have to meet a number of criteria before you can get a loan, especially if you need a large amount of money.
A factor that mainly decides your eligibility is your credit score. This 3-digit number determines your creditworthiness, including your repayment ability.
But are first time personal loans with no credit history in India possible?
The answer is yes!

Why Does Your Credit Score Matter?
When a lender disburses a loan to you, it is understood that this loan will have to be repaid. However, this process can only happen if the lender trusts you to repay the loan on time and in full. 
This 'trust factor' is determined by your credit score.
If your credit score is high (above 750), then you are considered to be a trustworthy borrower. But if your score is lower than 750, you will be seen as a risky borrower. This will then impact the terms and conditions of your loan.
Not sure what your CIBIL Score means? Read this blog to find out!
Having a high credit score comes with a number of advantages. These include –
Getting a high loan amount

Reasonable interest rates

Extended repayment terms
Having a low credit score on the other hand will result in unfavorable conditions such as high interest rates and a lower loan amount. This is why it is extremely important for you to work on increasing your credit score. Check out these 8 simple ways to improve your credit score.
However, credit scores can be improved only after you have taken some form of credit and repaid it.
But what about first-time borrowers? 

No Credit Score? No Problem, You Can Still Get a Loan!
While most lenders do not offer personal loans unless you have a high CIBIL score, we, at moneyview, provide loans to even those who are new to credit.
All we need is for you to fulfill our eligibility criteria which are –
You must earn a minimum monthly income of Rs. 13,500 if you are salaried

Your minimum monthly income must be Rs. 15,000 if you are self-employed

Your income must be credited to a bank account

You have to be between 21 to 57 years of age 
To know more about our personal loans, click here.
What Makes moneyview Loans the Best?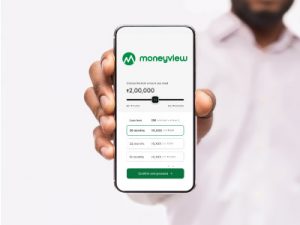 moneyview is not only one of the highest rated lending apps in the market, it also offers features and benefits that you can take advantage of at every step.
While credit scores are important, our AI-powered proprietary models consider a number of other criteria as well. This is why you can get an instant personal loan with no credit score from us!
After all, access to credit should be available for everyone.
Apart from this, our documentation requirements are minimal, the application process is seamless, and we disburse our loans within 24 hours in most cases!
Not Convinced? Check out what our customer has to say about us!
In Conclusion
If you are new to credit, there are a number of credit options available. You can either get a credit card, request a family member to be a guarantor for a loan or opt for collateral loans. But nothing beats the advantages offered by personal loans.
Personal loans are also a great way to help you build your credit score. All you need to ensure is that repayments are done on time. Additionally, personal loan interest rates are also not as high as that of credit cards. This makes them a more economical option as well.
If you are new to credit but need a personal loan, you don't have to worry anymore. moneyview loans provides personalized credit offers and instant loan without credit score.
So, what are you waiting for? Visit our website or download the app to get the best personal loan today!