My Personal Finance Story: How I Started a Successful Cake Business?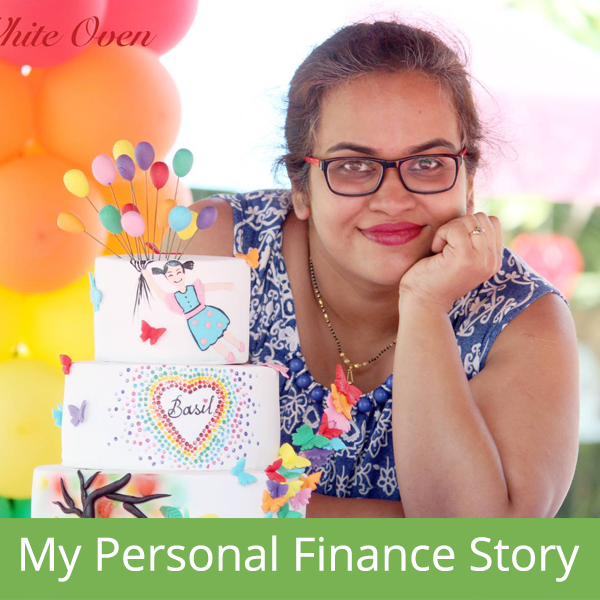 "You won't make much money when you grow up, you will depend on your husband's income."
These wise words came from a one-book palmist that was my older brother, all of 18 years old, and the 13 year old that I was, believed him. Strangely enough, I believed him for a long time.
Till the day came, when I grew up, and no longer believed that story.
Career Aspirations
Back then in 2000 dentistry was the next big thing. Almost anyone who had scored well in Common Entrance Test was aiming for dentistry. Fixed timings, great income was the game changer for most of us. Being a good science student meant that getting admission to dentistry wasn't a big deal for me. I spent five years learning the science and came out into the big bad world, aiming to make it big as a dental surgeon par excellence.
Family Happened
But life had other plans for me. I married my long time boyfriend when I was 24, and had my baby when I was 26. Having no child support at home, meant that I could practice only one shift. I did that for six years, not making much income. Then I had my second daughter, and I couldn't practice even for one shift. Things just got crazier.
Foray Into Baking
Out of frustration, and not knowing how to spend my time at home, I began dabbling in baking. Not as a career option for I sincerely thought I'd resume dentistry once the little one was a little older. I watched TLC shows like Fabulous Cakes and Cake Boss and wondered if one could do that in our country. Whether the resources would be available. Before I knew it, I had had a lot of research in my kitty. From recipes that work, to resource availability in my city and outside, I had a wealth of knowledge.
A few custom cakes down the line, and I knew I was hooked. I knew there was no looking back. When I consciously decided to make the switch, I knew there would be a cry of outrage from a lot of people. However, I made the switch and here I am today telling my humble story.
I know I have miles to go yet, much yet to accomplish, but I had never thought that I could come this far in my business either. Today my cakes have traveled the length and breadth of Maharashtra. My cakes regularly travel to Pune, and some of them have even traveled to Malvan and Nagpur! My criterion for knowing the quality of my product is the times a client repeats an order with me, and I can safely boast of several clients who have placed orders with me not once but five to six times over the last two years.
The most important thing that I can give my clients is not just the appearance of their cake as per their expectation, although that is paramount when you call yourself a cake artist, but also the quality of the cake that I deliver. The cake has to be fresh, and full of rich flavor, because no matter what your cake looks like on the outside, if it doesn't taste good, no one is going to remember what it looked like.
Thanks to my business I have now been featured in various websites online Women's Web, ZenParent, BlogwatiG, Bliss for Moms being just a few of them. I have also been invited to several cake collaborations, which is a big plus for me.
Last year I forayed into taking workshops. Small workshops teaching advanced skills to fellow bakers, was what I was aiming for. As in the beginning of any business journey, my first thought wasn't, "this is going to be successful!" On the contrary it was more like, "Who would want to come all the way to a suburb like Thane to learn from me?" And then several months later the answer to my second question turned out to be, "Who wouldn't?" I have made wonderful friends through my workshops in the last year, and I think what makes my students like me is that I genuinely love to teach. Which is why I focus on small batches and maximum output. In my business, my mantra has always been "Expect less, give more".
I can say with honesty and pride that I haven't spent a single penny as yet on formal advertising. Early on in my business, I didn't have that kind of money to invest in advertising, and now that I do, I have more work than I can handle. In my work, I am a one-woman show. My husband is my support system. All of my students can vouch for this. But predominantly where cakes are concerned, I pretty much do everything myself including domestic chores like cooking and looking after my kids. However, what has worked as an advertisement for me is mouth-to-mouth publicity. My clients swear by me and I am grateful to them for that. Social media has been a big help too. Right from the beginning I used my Facebook page as my online cake studio, displaying all my work as and when it was created. Twitter and Instagram too have helped in promoting my business to larger audiences.
My three point advertising mantra has been:
Nothing beats word of mouth publicity – Even today in the day and age of social media, especially in the day and age of social media, word of mouth publicity is the most important way to get your clients. Because these clients will come with you in good faith.
Solicit feedback – Solicit feedback from clients. Not all feedback will be stellar, and I have had my share too. But even critical feedback is positive feedback. Getting critical feedback is most important for you to know where you are lacking and which area in your business needs improvement. Always be open to feedback and be grateful for both reaffirming and critical feedback.
Stellar reviews – Reviews are very important. This is one thing I learnt whenever I would go online shopping. My criteria for buying a thing I like would always include a thorough examination of the reviews. What were others saying, what are their opinions? How was their experience with after sales? Which made me realize the importance of my happy clients' reviews on my page. Prospective clients will and do refer to other clients' reviews and make their decisions based on them. Of course, to get a positive review, you must have a class quality product as well!
As an entrepreneur, there are several mistakes I made in the beginning of my business, which led to me not making any sizeable profit. TV shows may show you how to make creative cakes, but not how to make a creative income. That is for us to learn. My early mistakes in my business were:
Not understanding the market – What is the requirement for custom cakes like? What are people willing to pay? How much do others charge for similar cakes?
Not accounting for the overhead costs – In a food business run from home, one often tends to ignore overhead costs like electricity, phone bills, transportation costs, packaging material costs, and most importantly man hours spent. These have to be accounted for to arrive at the right value of your work.
Not keeping tab of my income and expenditure – It is most important not only to keep a tab of expenses but also of your income, especially the cash income because it is so easy to lose track of. Cash exchanges hands faster than you can blink, and it is quite often that even a small sum like Rs.100 gets unaccounted for. Trust me, that Rs.100 has a value, and it adds up.
Not saving up and investing – I wish I had begun saving or invested in SIPs back when I began, and had a small income. But it is better late than never, and I have recently begun both with the hopes of long term pay offs.
Finding the book-keeping boring and uninteresting – When you are in a creative business, this part often gets overlooked for being the mundane, the boring. But to be able to sell your art, the boring must be done. The mundane must be paid attention to
With my early mistakes rectified, and with an insane amount of drive to succeed, I spent hours and hours doing the same thing over and over again till it got to the point of boring. Till it got to the point that I could make those things even in half sleep.
My one advice to all women entrepreneurs out there, "Do your homework, and trust yourself." It will happen, and success will come slowly, but when it is there, all the hard work will be worth it.
Gauri

 

Kekre is a mompreneur and the creative head and the artist behind Li'l White Oven. Dental surgeon by education, and Cake Artist and teacher by passion what began as humble home baked cakes for her kids, branched out into a full fledged and thriving business. You can find her work at

 

https://www.facebook.com/lilwhiteoven.