Money View Loans Story -How Sachin Kumar Shrivastava managed to close a Gold Loan
We are back with another story from our customer in our Money View Loans Story series.  These are the stories of experiences that our customers have had while availing a loan from Money View and how the loan has helped them in times of need. Read on to learn more.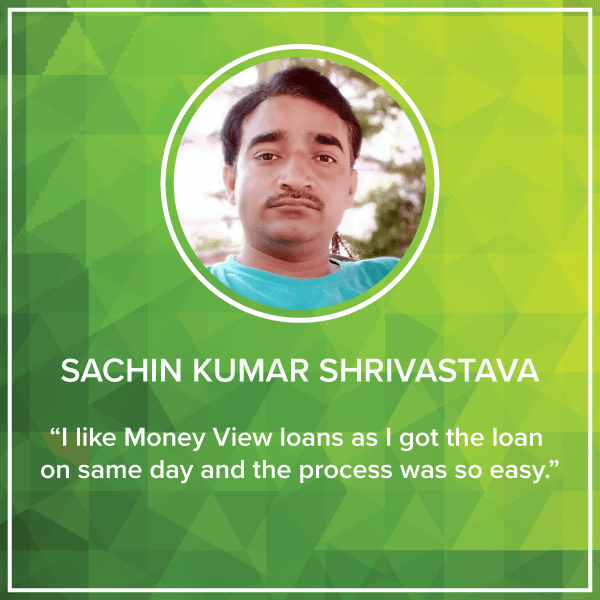 Tell us something about yourself.
My name is  Sachin Kumar Shrivastava and I am a resident of Rewa in Madhya Pradesh. I stay here with my family. I work at BPCL petrol pump and look after accounts.
What kind of loan did you apply from Money View?
I applied for an online top-up personal loan from Money View. 
Earlier, I had a business which had to be closed down. To make up for the losses, I had to avail a loan against gold.  With the top-up loan that I got from Money View, I have been able to release all the pledged gold. I am very happy and relieved now.
Why did you apply for a top-up loan with Money View?
I had already availed a personal loan from Money View and had a good experience. So, the next time when I got an offer for a top-up loan I readily went ahead.  
(For the information of our readers, a top-up loan is a special kind of loan which is offered only to those customers who show regular repayment on existing loans. As all the particulars about the customer are already with Money View, the processing of top-up loans is done extremely fast.)  
Why did you not apply with a bank or other financial institutions?
I had applied for a loan earlier with an NBFC, but I got disappointed as the process and the loan approval process took a lot of time. I did not get the loan when I needed the cash. 
How did you get to know about Money View loans?
I came through Money View Loans while casually browsing on my phone. I downloaded the app and applied for my first loan. The application process and the disbursal was fast and efficient. This was a  good surprise for me, considering my experience with an offline NBFC. Now Money View is my choice for a personal loan.
What features of Money View did you appreciate?
I enjoyed the experience of applying to  a Money View loan due to the following reasons
Simple app

: I felt that the

Money View Loans app

is very easy to use and understand. This makes it comfortable for anyone to apply for an online personal loan.

Easy application process:

The entire application process is very simple and does not involve a lot of steps or does not require filling a lot of details which makes the work easier. I also like that the loan required low documentation. 

Super Fast processing

: I was impressed with the speed of processing of Money View loan applications. I got my earlier loan as well the top-up loan on the same day of applying. 

Low minimum income requirement:

Money View online instant personal loans are available at quite low minimum income requirement in comparison to banks and other financial institutions. The

criteria

for availing online loan from Money View is also simple and transparent.

Option to avail a top-up loan

: I liked the fact that I could avail a top-up loan on the app with almost zero effort. I like the convenience and I am happy that I did not have to go to another lender.

Low effort

:  As the app is very user-friendly I faced no problem in neither the application process nor in submitting the required documents. 
Final Thoughts
Sachin Kumar Shrivastava is extremely happy that Money View loans helped him meet his need for money. He says that it is very important to pay your EMIs on time whenever you take a loan. This will help you whenever you require more loans in future. 
He is also very happy to recommend Money View loans to all his friends and family. 
We are very thankful to  Sachin Kumar Shrivastava for having spared his time and shared his experience with us. Money View wishes him the very best.