Money View Loans Story — How Simbu Found Money View Loans to be Simple and Easy
Simbu is a young professional who lives in Chennai. He lives with his mother and brother.  Simbu had an urgent family requirement for which he needed money. That is when he chanced upon Money View Loans App. His loan was processed within a week and disbursed in a day's time.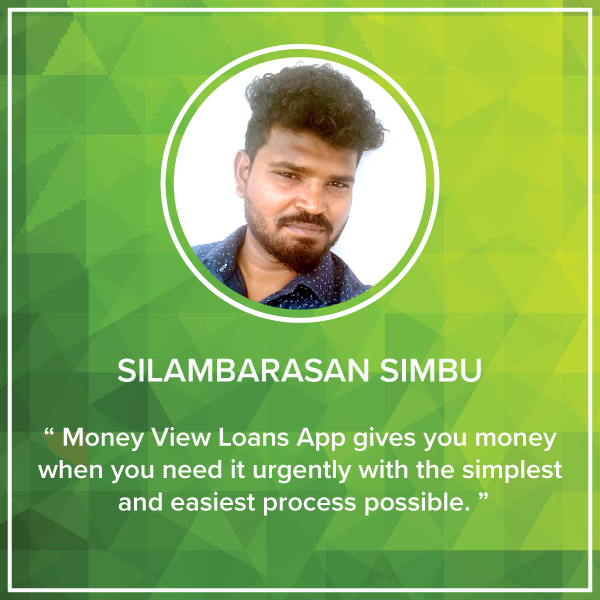 How did Simbu come across Money View Loans?
Simbu wanted to try out an option other than a bank as he wanted something faster and simpler. His office colleague had used Money View Loans and recommended it to him. He checked online about this App and was interested in trying it out after he saw the positive reviews.
He felt that Money View Loans was perfect for his needs. He went to Play Store and downloaded Money View Loans App.
What was the process of getting Personal Loans with Money View?
The process was extremely simple. Once  Money View Loans App was downloaded, all he had to do was upload the documents mentioned. But Simbu's application got stuck because the picture he had uploaded was blurry. Also there was some issue with the salary slip that he had provided.
On contacting the Customer Service team, they helped him out and guided him so he could upload another picture as well as salary slip.  After that it just took one day for the loan to be approved and the money disbursed. By next morning, money was in his bank account.
Why did Simbu like Money View Loans?
Quick Loan: Unlike banks, Simbu found Money View Loans to disburse loans much faster with a pain-free application process.
Easy Process: Downloading an app and uploading forms is all it took to get a loan. Also when stuck, he was very happy to get timely help so that his application moved ahead soon.
Low Cost: Simbu was happy that Money View Loans proved low cost in terms of getting money on time as well as low processing fee and no loss of office time.
Excellent Customer Service: The Customer service team was prompt in helping and guiding him with his application.
Reliable: Money View Loans App is super easy to use. The terms of the loan are laid out transparently and money is disbursed as promised.
Final Word
"Money View Loans App gives you money when you need it urgently with the simplest and easiest process possible."
We are delighted that that Money View Loans is making a difference to the lives of people like Simbu especially when they need money the most. He can't stop recommending Money View Loans App to his friends and relatives.