moneyview Revolutionized Sharad's Business – Customer Testimonial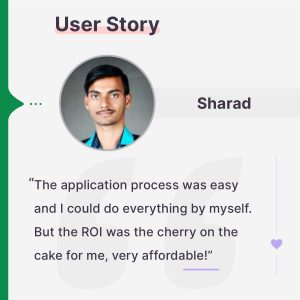 When there is no dearth of funds, the sky's the limit for an entrepreneur. Timely and affordable loans can change the way a business functions. 
Sharad's business scaled manifold after he discovered moneyview.
Read ahead to know why he calls it his biggest support, and agrees with our motto 'Mann hai toh money hai'!
Tell us something about yourself
I am Sharad, a businessman from Nashik, Maharashtra. I'm a medical wholesaler. 
What kind of loan did you avail from moneyview?
I took a personal loan from moneyview to invest in my business. After paying the EMIs for 6 months, moneyview offered me a top-up loan. 
I opted for it and the amount was transferred to my bank account directly. I didn't even have to do anything additional for it.
Why did you apply for a loan from moneyview and not other banks or financial institutions?
As an entrepreneur, I tried many financial institutions back in the day. But after applying for a loan from moneyview, I was so impressed by the benefits offered that I have never considered other lending apps since. 
All other apps I heard about or checked were too complicated to use or asked for a lot of unnecessary documents. Additionally, even the rate of interest was higher.
How did you get to know about moneyview loans?
My friend recommended it saying I could get a loan within a few hours. But it sounded too good to be true!
So, I went on to the Play Store and checked out the app for myself. I went through the reviews, and I was so impressed that I downloaded it instantly. Just like my friend said, I did get the loan within a few hours.
What did you think of the moneyview loans app and the application process? Are there any particular features that you enjoyed?
I applied for the loan around 3:00 pm and I got the money by 9:00 pm the same night. It took less than 24 hours in my case, which is really great for a business person, as we often need money urgently.
The rate of interest was also low which meant that the EMI was not putting a strain on me.
Final Thoughts
Most apps were too complicated, but for moneyview I didn't need to ask for help from anyone. I applied and completed the process all by myself.
I have recommended this app to many of my friends who have also applied and taken loans. Now whenever I am in need, I go straight to the moneyview. 
Thank you Sir, for your valuable feedback! We wish you and your business all the very best.