Need Emergency Funds? Trust Madhuri's Choice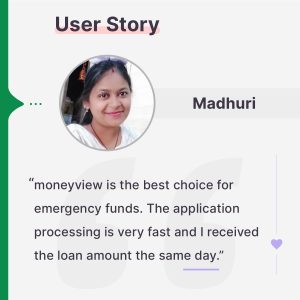 We never know when a financial emergency strikes. All we can do is prepare ourselves best to face it or have a backup plan to see us through the crisis.
As a company, we have time and again improved our products and services to stay accessible to our customers and ensure that their financial needs are met at all times. 
Read our customer Madhuri's story to know why she believes moneyview is the best choice for emergency loans!
Tell us about yourself
My name is Madhuri and I work in the private sector. I live in Nagpur with my husband and son.  
What kind of loan did you avail from moneyview?
I took a personal loan from moneyview for an emergency.
Why did you apply for a loan from moneyview and not other banks or financial institutions?
I have tried other apps but I found moneyview easy to use and the application processing was very fast
How did you get to know about moneyview loans?
I needed some money for an emergency and tried quite a few online money lending apps but in vain. My husband then suggested moneyview.
What did you think of the moneyview Loans app and the application process? Are there any particular features that you enjoyed?
The application process was my favorite part of the app. It was simple and user-friendly. I also liked that the process took no time at all for me to finish.  
Would you recommend the moneyview Loans app?
Yes. I would 100% recommend the moneyview loans app to my family, friends, or anyone in need!
Final Thoughts
moneyview helped me in times of financial emergency. Not only was the application process fast and straightforward, but also I received the funds within less than 24 hours of submitting the application. 
I had a wonderful experience using the app and would choose moneyview if I ever need a personal loan in the future. Anyone looking for a personal loan with an affordable interest rate should definitely try moneyview!
We are grateful to Madhuri for trusting us in an emergency. We wish you and your family the very best!