Our Super Fast Processing Has a New Fan – Ayush Aman
'The entire process from application to disbursal was done within a day – that too on a Sunday!'
We generally receive positive responses from customers when we ask for feedback but some conversations go above and beyond a regular assessment. One such conversation was with our esteemed customer, Ayush Aman from Delhi. His enthusiastic and articulate responses have definitely given us a boost.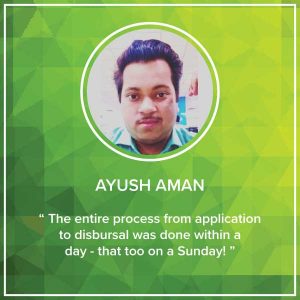 Given below are excerpts from our conversation with him.
Tell us something about yourself
My name is Ayush Aman and I work for a multinational company in Gurgaon and reside in Mukundpur, Delhi.
What kind of loan did you avail from Money View?
I had a credit bill to pay and needed a loan at the earliest which is why I availed a personal loan from Money View.
Why did you apply for a loan from Money View and not other financial institutions?
When I heard about Money View, I decided to give it a try as I felt that some of the features and benefits were quite unique. While I did apply for loans from other places as well, I was not satisfied with the results. 
I genuinely believe that Money View is one of the best loan providers in the country today.
How did you get to know about Money View?
I was scrolling through social media which is when I found out about Money View and decided to apply.
What do you think of the Money View app and the entire loan application process?
The entire application process was good. I found the it easy to use and every step was extremely simple and user-friendly. The process did not take much time either which is always an advantage.
Do you have any advice to give to others who may be looking for an online personal loan?
I believe everyone looking for a loan should definitely opt for Money View as the application process is simple, hassle-free, and the customer service is also exceptional. Therefore, I would definitely advise others looking for personal loans to definitely give it a go.
What other features of Money View did you appreciate?
For me personally, I genuinely appreciated the option to foreclose a loan without having to pay a high fee. That is a really great feature.
Apart from that, what stood out for me was the 'super-fast processing'*. I had recently applied for a second loan and while I have experienced the '24 hour loan disbursal feature'**previously, the entire process seemed faster, right from application approval to the amount disbursal. Everything completed within a single day -that too was a Sunday! I was blown away by how seamless the entire process was.
*Money View allows customers to foreclose their loan after a certain number of EMIs have been paid. To know more about personal loan foreclosure, click here
**One of our most popular features is our instant loan disbursal. Once the loan application has been accepted, your amount will be disbursed to your bank account within 24 working hours.
Final thoughts?
I was happy to know that the team is open to feedback which I appreciated as a customer and I would definitely recommend Money View for everyone looking to get personal loans.
Keep up the good work!
We are thankful to Ayush Aman for sharing his valuable feedback and experience with us. Team Money View wishes him the very best.