Split bills and expenses the easy way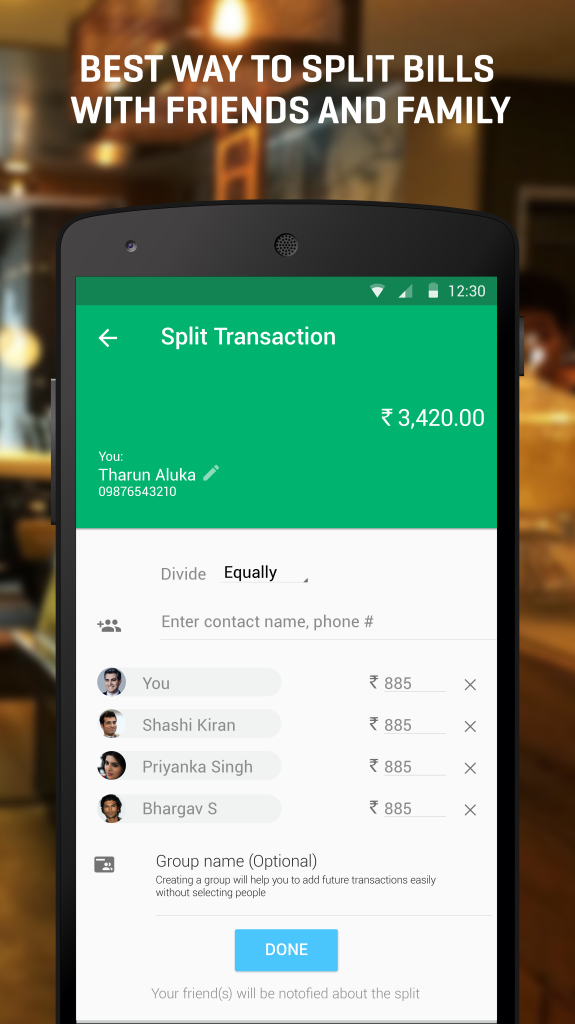 Vacations, lunches and movie nights with friends are all fun, until you have to worry about who owes how much! How many times have you forgotten that your friend owes you for last week's lunch or that month's rent? And what happens when your friends tell you that if you pay this time, the next expense is on them. Is the amount split evenly or does each one owe you a different amount? You've probably made mental notes and it has fluttered away in the summer breeze! Sometimes even written notes are not of much help, there's too much to calculate, and you lose track of your money. When in doubt ditch the calculator, embrace the app! Actually, just embrace the app! Money View brings to you the easiest way to keep track of your shared expenses. The new feature 'Split Expenses', lets you tag your friends on a particular spend, so you know exactly how much they owe you. The app incorporates your phonebook contacts; so when you tag friends, it is against their numbers. Once tagged, the app will send an SMS to your friends about how much they owe you, and for what. So you don't need to make excel sheet records, post-it notes, gentle reminders or send pay-up-or-I-take-away-your-bike messages! Go Dutch with Split Groups. The feature allows you to:
Keep track of all the shared expenses
Tag your friends against the expense
Divide the amount equally or assign particular amounts to friends
Send notification to friends sharing the expense, stating the expense and the event
Allows you to update as "settled" when friends pay up
Let the app work the math and magic to keep your finances in order. Split Groups is an awesome feature that will help settle shared expenses, so you can just concentrate on the fun.