This TN Businessman Got a Loan Instantly! Read on to know more!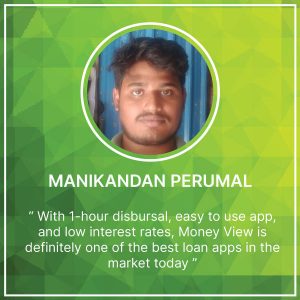 What constitutes a great loan experience? This is a question we constantly ask ourselves in our endeavor to make our personal loans the most sought after. 
And the best way to get answers? Ask the customers themselves!
We speak to our users regularly to gauge their feedback on our loans, be it the experience of applying for one, our eligibility criteria, the amount disbursed, etc. 
Here's an excerpt from our conversation with Manikandan Perumal, an esteemed customer from Tamil Nadu. Check out what he has to say about Money View loans.
Tell us something about yourself
I'm Manikandan and I'm a businessman from Tamil Nadu.
What kind of loan did you avail from Money View?
I had taken a personal loan from Money View for business purposes and to fund the construction of my home.
Why did you apply for a loan from Money View and not other banks or financial institutions?
I needed a loan for business purposes and while there are many banks that provide loans, I was not comfortable going to the bank and interacting with anyone in person. I tried applying online through various apps but the interface was not very easy to navigate.
I came across the Money View loans app and decided to give it a try and I was blown away by how easy it was to use the app and get a loan.
How did you get to know about Money View loans?
I found out about Money View while I was looking for personal loan apps online. I saw that the Money View loans app was one of the highest rated and hence, decided to apply.
What did you think of the Money View Loans app and the application process? Are there any particular features that you enjoyed?
The best part of Money View loans for me was the interest rate. It was lower compared to many other lenders making it much more affordable for me. 
Apart from this, the loan was disbursed within just 1 hour of the application getting approved. I needed a loan quite urgently and I had taken a look at multiple lenders but their terms and conditions as well as their disbursal time did not appeal to me. Money View, on the other hand, offered quick loans at affordable interest rates.
The application was also incredibly easy to use. Even if a user is not tech savvy, he can easily use this app as the steps are minimal and easy to understand.
Final Thoughts
Money View is one of the best loan apps I have come across. I have and will continue to recommend Money View to everyone looking for personal loans.
Thank you Sir,  for your kind words. Money View wishes you and your family the very best.