How to Check Bank Balance Without Going to the Bank?
Digital technology has simplified several chores that previously required both time and effort. You don't need to go to the bank to do financial or banking transactions, for example. You can transfer money, check your account balance, deposit money, and do other things with the press of a button.
Because we frequently conduct transactions, we must keep track of our bank balance. Checking your bank account regularly keeps you informed of any possible mistakes or frauds. Email, push notification, SMS, net banking, Unified Payment Interface (UPI), and other means can all be used to check one's bank account balance.
Let us learn how you can check your bank account balance in 8 easy steps.
Table of Contents
simple ways to check your account balance
Keep the following points in mind when checking your bank account balance:
To begin, make sure your mobile number is registered with the bank.
To receive and send SMS and make phone calls, the mobile number must be active.
Use a smartphone. The reason for this is that you can use different apps, such as banking apps or UPI apps if you have an active internet connection.
Your ATM or debit card should also be linked to your bank account.
You should also have activated internet banking services.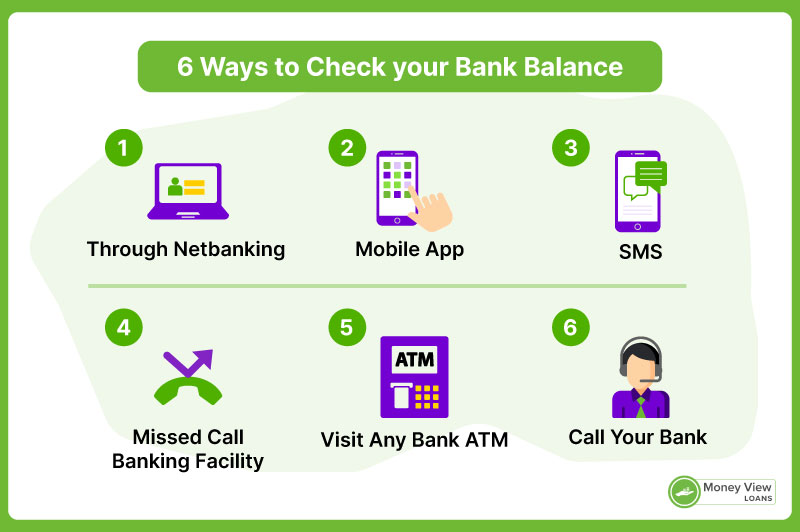 Through Net Banking
The most common way is to use the net banking service to check your account balance. To use this feature, go to the relevant bank's official website on your phone and log in.
If this is your first visit, you must first register by clicking on the 'register' or 'first time user' tabs.
Follow the steps below to register -
Enter your account number, cell phone number, email address, debit card number, and CVV number. Submit the form. A one-time password (OTP) will be generated.
Enter the username (new) and password after entering the OTP that was delivered to your registered mobile number. The account is now set up.
To access your bank account, select 'login' from the drop-down menu. You can check your account balance online at any time with net banking. It also allows you to carry out a variety of banking activities and transactions.
Using an ATM
You can also use an ATM to check your account balance. You can enter your ATM card or debit card and follow the on-screen instructions by going to a local ATM.
It is recommended that you utilize your own bank's ATM or an ATM network affiliated with your bank. Other ATMs usually impose fees even if you don't withdraw money. Additionally, if you use a foreign ATM, your bank may charge you additional costs. It is possible to be charged for checking your balance at a foreign ATM.
The instructions below will show you how to check your ATM balance —
Swipe your ATM/debit card

Enter your ATM pin, (four or six digits)

Choose the "Balance Enquiry Option" from the drop-down menu.

Complete the transaction.
The RBI has currently imposed a limit on the number of free transactions per ATM card. A balance inquiry is also considered a transaction. After you've used up your free transactions, you'll have to pay a transaction fee for each transaction made during that month.
As a result, ATM cards should only be used for cash withdrawals or other services. You can check bank account balances by mobile or various online methods that are both convenient and cost-effective.
Through text messages
Sending a text message is one of the easiest ways to check your account balance. The majority of institutions offer this service to account holders. You can request a rapid balance update at any moment once the bank has extended this service.
The account balance information is sent to you by text message. The message alerts should be turned on automatically. Whenever there is a financial transaction on your account, you will be notified immediately.
You'll also get the most recent balance information. Message alert service is the name of the service provided by banks. Your phone will receive push notifications as a result of this.
Using missed call services
When a customer makes a missed call using their registered mobile numbers, banks send balance update notifications. However, the following information is required to get miss call balance updates:
The most significant condition for this process is that you have a registered mobile phone number. You will only receive balance updates if your phone number is registered with the bank.

To make a missed call or receive an SMS, the phone number must be active.

This service should be available through your bank.
By calling the bank
Call your bank to check your balance if you prefer a more traditional method. Although you may need to contact during certain hours to speak with a live person, most banks have automated systems that deliver account information 24/7.
It may take some time to get used to those systems (you may need to first establish a PIN, among other things). However, once you're up and going, it will become second nature.
Through UPI and other banking apps
One of the most convenient and simple ways to check account balance is through UPI and other banking apps. If you don't want to install several banking apps, the UPI app is a smart choice.
Follow the instructions below if you're a first-time user:
1st step: Download and install any UPI app on your phone.
2nd step: Verify that the SIM card associated with the registered mobile number is active and has sufficient balance to send an SMS from a UPI app-enabled mobile device.
3rd step: If your phone has a dual SIM, you'll be required to enter your bank's name and the registered mobile number as soon as you launch the app.
4th step: To validate your phone number, the app will send you an SMS.
5th step: After successful verification, you'll be prompted to create a unique PIN (different from the ATM card PIN) and a unique UPI ID.
6 step: Create a four-digit UPI code according to your preferences. The registration process is now complete.
Please note that if you've already created a UPI ID for a specific app, you can use it across all UPI apps. Some apps will also ask for your email address. It's possible that the email address isn't the same as the one on file; it could be different.
To check your account balance, open the UPI app and select 'check account balance.' When you enter your UPI pin, the balance will be automatically shown. There is no cost to check your balance using UPI.
By setting up alerts
Rather than manually checking your bank account balances, you can have your bank send you information when something happens. This adds an extra layer of protection to your account.
Set up alerts so that your bank sends you an email or text message when your account balance falls below a certain threshold or when a major withdrawal occurs.
You may tailor the types of communications you receive as well as the monetary amounts that are relevant to you. If you have alerts set up, you can assume everything is fine until you hear from your bank.
Via passbook
When you open an account with a bank, they usually give you a passbook. The passbook contains information on all of your account's transactions as long as you regularly update it. You can check the balance of your account by opening your passbook.
The list of all debit and credit transactions can be viewed. As a result, it's critical to keep your passbook up to current at all times. You must, however, visit the bank each time you want to update your passbook.
Available balance in your account
You must pay attention to the type of balance you see while checking your bank account. Most banks display an available balance (which tells you how much you can spend or withdraw today) as well as a total account balance whether you go online or use the bank's app.
Checking account balance in SBI
Customers with SBI accounts can take advantage of a variety of banking services. You can get a mini statement, check your account balance, and execute various bank operations.
The following are several methods for checking the balance of an SBI account.
SBI Toll-free Number for Missed Calls and SMS
Customers can call the SBI balance inquiry toll-free number, 9223766666, to check their account balance. Otherwise, text the word "BAL" to the number 9223766666.

Customers can request a brief statement by dialing 9223866666, which is a missed SBI number. Alternatively, text "MSTMT" to 9223866666.
SBI ATM
Customers with an SBI account can now use an ATM card to view their account's available balance. You must go to a State Bank of India ATM and complete the instructions outlined below:
Swipe your SBI ATM/debit card.

Enter your ATM pin (four digits long).

Choose the "Balance Enquiry Option" from the drop-down menu.

Finish the transaction.
You can also check your most recent ten transactions by selecting the "Mini Statement" option. The SBI ATM will print a receipt for your account's previous ten transactions. SBI account customers can now check their account balance at any other ATM.
SBI Net Banking
SBI account holders can use the net banking service to check their account balance online. Using the login ID and password, you can access your SBI online banking account.
Customers often have access to a wide range of services through online net banking. Balance inquiry, house loans, mortgage loans, funds transfer, and personal loans are just a few of the services available.
SMS Service by SBI
Customers of SBI can link their mobile number to their bank account. They must then register for the SMS service and check the balance of their account. The registration SMS format is as follows:
Send "REG" <space> "Account Number" to 0922348888
A confirmation message will be sent by SBI. This facility may now be used to check SBI account balances, mini statements, checkbook requests, and many other things.
Users of SBI bank credit cards can send an SMS to check their balance and other information. You can obtain information by sending a text message in the format - BAL XXXX to 5676791.
SBI Passbook
Every account holder receives a passbook when they open an account with the State Bank of India. By going to the bank, you can update your passbook. It allows you to view all of your transactions as well as your current account balance.
Mobile Banking Services
SBI provides its customers with mobile banking services via a variety of mobile apps. SBI Anywhere, SBI Quick, SBI Online, and SBI Anywhere Saral are the apps in question.
To download the app, clients must have a smartphone (android or iOS) device. These apps offer a variety of banking services, including balance inquiries, account statements, cash transfers, and the ability to open a fixed deposit account, among others.
Mobile Apps by SBI
SBI Anywhere
Customers of SBI will benefit from this app. You can use your mobile banking credentials to log in and use the services.
SBI Online
This app is only available to SBI account holders. The SBI online banking portal is simple to use. This app's interface is similar to that of the desktop website. You may simply access banking services by logging in with your net banking credentials.
SBI Anywhere Saral
Customers of SBI corporate internet banking can use this app. Customers of SBI bank who want to check their balance can't use this app.