5 Pearls of Financial Wisdom you can learn from Women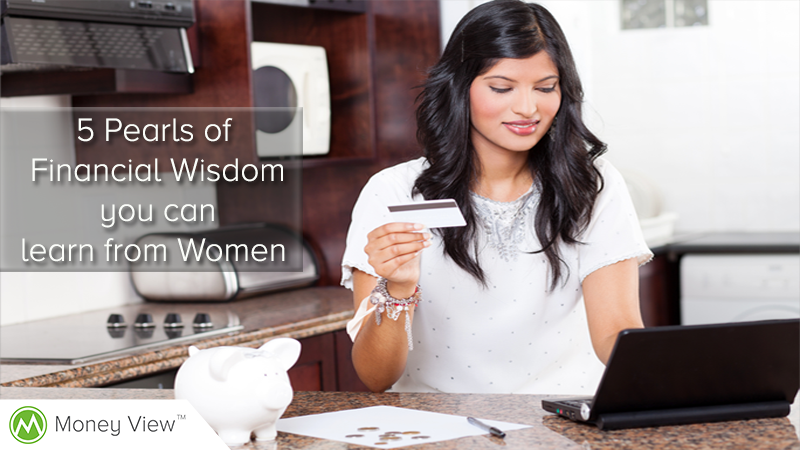 In the olden times, men and women had clear and distinct roles in personal finance; while women managed home budgets and day-to-day expenses, investment and family properties were the sole prerogative of men. However with more women stepping out of their comfort zones and making choices they would not have made a decade earlier, these lines are getting blurred. Armed with better intuition, collaborative skills, greater empathy and self-control, women these days play an active role in making informed decisions regarding both short-term and long-term management of finances related to both household and business.
Let us now look at some of the lessons in money management that women have taught us over the years. These nuggets of financial wisdom have not only yielded rich returns but have also paved way for a better and more secure future for both businesses and households.
1. Trust Your Intuition

The brains of women are differently wired. Unlike men who are focused on the current situation, women are able to integrate different events from past with the present, dig out information when required and help make informed financial decisions. A woman's intuition is her greatest strength. Hence, without being overtly analytical, but through the sheer strength of her sixth sense, she knows whether a particular investment plan or a business loan will work for your requirements and in what way it will impact your future.
2. Share your experiences, do not compare notes

Female bonding varies in content as compared to male bonding. For instance, in case of a loan, men tend to discuss the financial nitty-gritty such as the EMIs and the interest rates among themselves. Women on the other hand are more concerned about the emotional implications of a financial decision such as how the action will affect the family in terms of stress, health and the sacrifices to be made. In other words, men tend to compare notes while women share experiences. Hence, whether it be saving, investing, borrowing or buying an insurance plan, a woman would be able to tell you in more concrete terms, how it would affect your family.
3. Focus on the Immediate while providing for the future

As opposed to men, who focus more on the future and creation of wealth, a woman's focus is more immediate. She is as much worried about escalating rents, caring for the elderly, school fees as about saving for her children's education. Hence, a financial decision made by a woman does not throw a family off balance and at the same time provides for a more secure future.
4. Cooperate rather than Compete

Women find it easier to cooperate rather than compete. They firmly believe that they can achieve their goals of financial emancipation by reaching out to others rather than viewing them as potential rivals.This intrinsic cooperative streak in women makes collaborating easier for them. They are less inhibited to ask for help and more open to seek the guidance of financial experts in their immediate circle.
5. Exercise Greater Self Control

As opposed to the popular misconception of the diamond being a girl's best friend or women being compulsive shopaholics, in reality women are more grounded about their financial condition and find it easier to let go off certain privileges in times of financial crisis. A woman finds it easier to sacrifice her credit card rather than hoard on the interest. This is because she values her mental peace more than the material pleasures that the plastic money might bring.
A woman's empathy, intuition and her sense of discretion will help you achieve your financial goals with greater efficiency.
This festive season, as you celebrate with more fervor than ever, ponder upon the many life lessons that the women in your life have taught you. Reflect upon how they have added to your short term and long term financial well-being. Whether it be motivating you to ask for that raise or cutting down your credit card expenses, tell us how the women in your life have made a difference.
Sridevi Datta is a cost Accountant. After working as a Business-SME in a leading E-learning centre, she now blogs regularly at The Write Journey.