A Businesswoman's Choice for Convenient Personal Loans – Read Khushboo Devi's opinion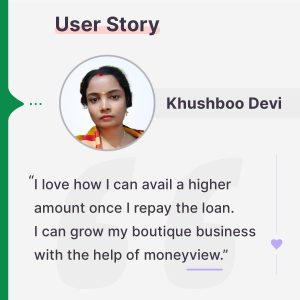 Personal loans are a great solution to our financial problems but in most cases, getting that loan becomes a huge problem in itself.
However, once we find a trustworthy source, one we can rely on, getting a personal loan is the easiest task.
Here is the story of Khushboo Devi, an entrepreneur, who swears by moneyview when it comes to personal loans. Let's take a look at why she trusts us completely.
Note: Did you know that moneyview is running an exciting Women's Day campaign in March for our female customers? More on this later!
Tell us something about yourself
I am Khushboo Devi. I own and run a boutique in Delhi.
What kind of loan did you avail from moneyview?
I wanted urgent funds for my business and took a personal loan from moneyview for this purpose. 
Why did you apply for a loan from moneyview and not other banks or financial institutions?
This is actually my second loan from moneyview. Right from the time I first tried it, I loved how simple it was to use. Since then, I have never thought of looking for other apps. I was and still am completely satisfied with moneyview.
How did you get to know about moneyview loans?
I wanted to grow my business further and realized that I needed funds. I was discussing this with my friend and she told me about an app that could help me in just 24 hours. That's how I was introduced to moneyview.
What did you think of the moneyview loans app and the application process? Are there any particular features that you enjoyed?
I loved everything about the moneyview app. The application process is really fast and I didn't have to submit too many unnecessary documents. 
My favorite feature, however, is that once you have paid your loan, you will be offered a higher loan amount. This is apt  for my type of business, as it gives me flow of capital. 
Final Thoughts
Finding a reliable and quick source of business capital can be difficult. Many of my friends have fallen for dangerous schemes that are not reliable.
I am happy that I found the moneyview loans app and can grow my boutique with its help. I can get the funds within a few hours and that too at affordable rates.
Thank you Ma'am for your wonderful feedback. We wish you and your business the very best!
This Women's Day we want to celebrate strong women, like Khushboo Devi! moneyview is celebrating women's month with an exclusive ZERO EMI offer for all female applicants. So download the app and apply before March 31, 2023 to avail this offer!