Read This User's Review To Know Where To Get Instant Loans!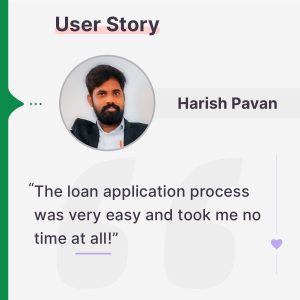 There are myriad lending apps available in the market and yet, getting a loan has not become easier. Even if you do get a loan, sometimes it is just not the right amount. 
In times like these, we are happy to have provided our customers with exactly what they needed. One such customer, Harish Pavan, downloaded the moneyview loans app as the last resort and was not disappointed. 
Read more to understand how moneyview changed his perspective on online loan lending apps!
Tell us something about yourself
I am Harish Pavan and I work as a marketing manager in Warangal. 
What kind of loan did you avail from moneyview?
I took a personal loan of Rs. 40,000 to renovate my home. 
Why did you apply for a loan from moneyview and not other banks or financial institutions?
I tried a few loan apps but couldn't get the amount I was looking for. When I heard about the moneyview loans app, I decided to give it a chance. And, I am glad I did.
How did you get to know about moneyview loans?
One of my friends found out I was having trouble getting the amount I needed from online apps and suggested moneyview. Fortunately, the loan I got from moneyview covered all my needs.
What did you think of the moneyview Loans app and the application process? Are there any particular features that you enjoyed?
I found the app very easy to use and the instructions so simple to follow. The application process was hassle-free and took me only a few minutes to complete.
Within a few hours of applying for the loan, I received the loan amount in my account. I was really impressed by how fast the application was processed.
Would you recommend the moneyview Loans app?
Absolutely. I would happily recommend moneyview to anyone looking for financial help. 
Final Thoughts
moneyview made it possible for me to renovate my home. I was in dire need of money and I am really glad my friend recommended it to me. The entire process was over before I knew it and I received the money instantly. 
The best part is, moneyview provided a higher loan when compared to the other apps I have tried. Along with the amount, I found the interest rate very reasonable and EMIs were easy to pay off. 
I had a great borrowing experience from moneyview and recommend it to anyone without a second thought.