Fund Your Vacation and Build Your Credit Score Like This User
Here's how Deepanshu fulfilled two goals with one moneyview personal loan.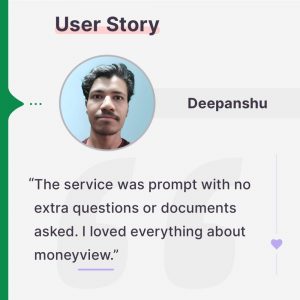 Planning a vacation can be stressful, and the financial aspect can also add up to that stress.
A personal loan can be handy at such times, as you can pay it off in easy installments without having to worry about spending all your savings.
Here is Deepanshu's story. He stumbled upon moneyview and funded his vacation with our personal loans. 
Tell us something about yourself
I am Deepanshu from Indore and I currently work at a private company. 
What kind of loan did you avail from moneyview?
I had some travel plans so I took a personal loan from moneyview to fund my vacation. A major reason behind taking this loan was to build my credit score. 
As I want to start a business in the future, I might need to take a bigger loan for which I will definitely count on moneyview. 
Why did you apply for a loan from moneyview and not other banks or financial institutions?
To be honest, moneyview was there for me when no one was. I had a decent CIBIL score, yet my applications were getting rejected. But moneyview stood by my side and approved my loan request instantly.
How did you get to know about moneyview loans?
I was very heartbroken when my applications were rejected from most platforms. Then, I suddenly saw an advertisement on the TV. I thought why not try it out? That was the best decision I made.
What did you think of the moneyview loans app and the application process? Are there any particular features that you enjoyed?
I loved everything about the service provided by moneyview. The application process was smooth and prompt. No unnecessary documents were asked, and everything was done within a few hours. 
Final Thoughts
It can be very stressful when you run out of funds after planning a vacation. I thought I'll take a personal loan, but I was struggling to get one.
Coming across moneyview was a boon for me. Within a day my application got approved, and I went back to being excited about my trip.
In fact, I'm confident that when I start a business and need extra funds, I can turn to moneyview. 
Thank you Sir for your wonderful feedback. We hope that you have a great time on your vacation!