'Loan Amount Met My Expectations'. Read Our Latest User Story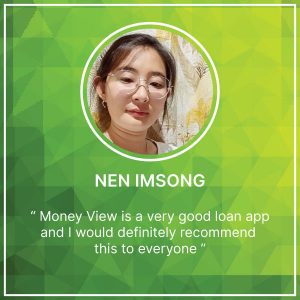 Our quest to ensure our customers' utmost satisfaction never ends which is why we make it a mission to constantly seek feedback. 
Individuals from all across the country have benefited from our personal loans and based on their kind words and wonderful reviews (a 4.5 on Playstore making us the only loan provider in the country to have such a high rating), we know we are doing something right!
There's a long way to perfection, but these validations definitely guide us in the right direction.
Here's an excerpt from our conversation with one of our wonderful customers from Nagaland – Nen Imsong.
Tell us something about yourself
I am Nen. I reside in Nagaland and I work in the Postal Department.
What kind of loan did you avail from Money View?
I had initially taken a personal loan from Money View after which I have also availed a top-up loan.
Why did you apply for a loan from Money View and not other banks or financial institutions?
It is so easy to get a loan on time from Money View. The procedure was also quite simple and straightforward. 
More importantly, although Money View provides loans based on the applicant's salary, I received a loan amount that matched my requirements.
How did you get to know about Money View loans?
I was looking for applications on Google Playstore that provided loans, which is when I came across Money View and decided to apply.
What did you think of the Money View Loans app and the application process? Are there any particular features that you enjoyed?
The application process was simple, hassle-free, and highly convenient for me. 
Apart from this, I also received the loan amount within just 24 hours of application approval which was great as I needed the loan amount urgently.
I also appreciated how easy and quick it was for me to get a personal loan from my own home.
Do you have any advice for others who may be looking for an online personal loan?
Yes, I will definitely recommend Money View to everyone who needs financial help.
Final Thoughts
I think Money View is definitely one of the best loan providers in the country today. Keep up the good work and continue helping those who are in need. Good luck!
Thank you Ma'am for your kind words. Money View wishes you and your family the very best.