Need an Personal Loan Easily? Ask Pawendra Kumar Where to Get One!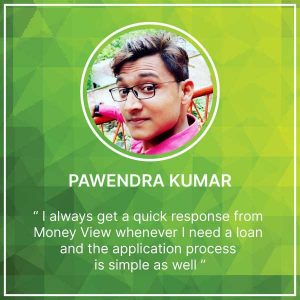 Since its inception in 2014, Money View has been consistently breaking barriers in the fintech industry and revolutionizing financial inclusivity. Our goal is to make personal loans quick and accessible to everyone and when users validate our efforts, it only encourages us to do better each time.
We had the privilege of speaking to one of our esteemed customers from Raipur who appreciated our quick processing among our other features.
Here are some excerpts from the interview.
Tell us something about yourself
I'm Pawendra Kumar from Raipur. I currently work as an area manager at a reputed company.
What kind of loan did you avail from Money View?
I had taken a personal loan from Money View for the construction of a new home.
Why did you apply for a loan from Money View and not other banks or financial institutions?
Every time I contact Money View, whether it is for a loan or even customer grievances, I always get a prompt response. More importantly the entire process of applying and receiving a loan is quick.
When it comes to traditional lenders, there is a lot of time wasted in unnecessary processes.
This is why I prefer to get loans from Money View.
How did you get to know about Money View loans?
I saw a post on Social Media about Money View which is how I found out about this company.
What did you think of the Money View Loans app and the application process? Are there any particular features that you enjoyed?
Everything was easy for me. Sometimes with certain apps, there are server issues or navigating within the app is not easy. The Money View app was completely seamless in my opinion and I faced no difficulties whatsoever.
I can easily get a loan from the comfort of my home and the entire process from application to disbursal is incredibly quick.
Final Thoughts
I would recommend the Money View loans app to anyone who wishes to get a personal loan. Not only is it easy to get a loan, the entire process is quick as well.
Thank you Sir, for your kind words. Money View wishes you and your family the very best.
If you are looking for a hassle-free personal loan with minimal documentation, visit our website or download the app to apply now.