Now Track your PayTM Wallet through Money View
The popularity of mobile wallets like PayTM have been constantly growing as many of us use them for convenience. RBI monthly bulletins show that an amount of Rs. 14,636 crores was transacted through mobile wallets during the month of April and May 2017 alone.
If you also prefer using m-wallets like PayTM then you will be pleased to know that our latest update has a new feature to track your PayTM spends.
Money View app now lets you track the PayTM wallet usage – spends, wallet recharge and money transfer. So, whether you have paid your grocery merchant, your favorite food joint or Uber, all the payments through the wallet can be tracked through the Money View app.
Why Has PayTM Wallet Integration Feature Been Launched?
Many of our users regularly use PayTM and other m-wallets and have asked us for a better way to track these spends.
We have kicked off m-wallet tracking with PayTM, as it is the flagbearer of digital payments in India. Its acceptance has grown manifolds after demonetization and a large percentage of our users use PayTM now. However, we will be adding more wallets in the future.

Here's How PayTM Integration Works:
Similar to tracking your credit/debit card spends, Money View tracks the transaction SMSes initiated by your PayTM wallet activity.
You can now access this new feature by checking the Wallet tab in Accounts page.
Here is how it tracks and categorizes the transactions:
Bank account to wallet is considered a Spend.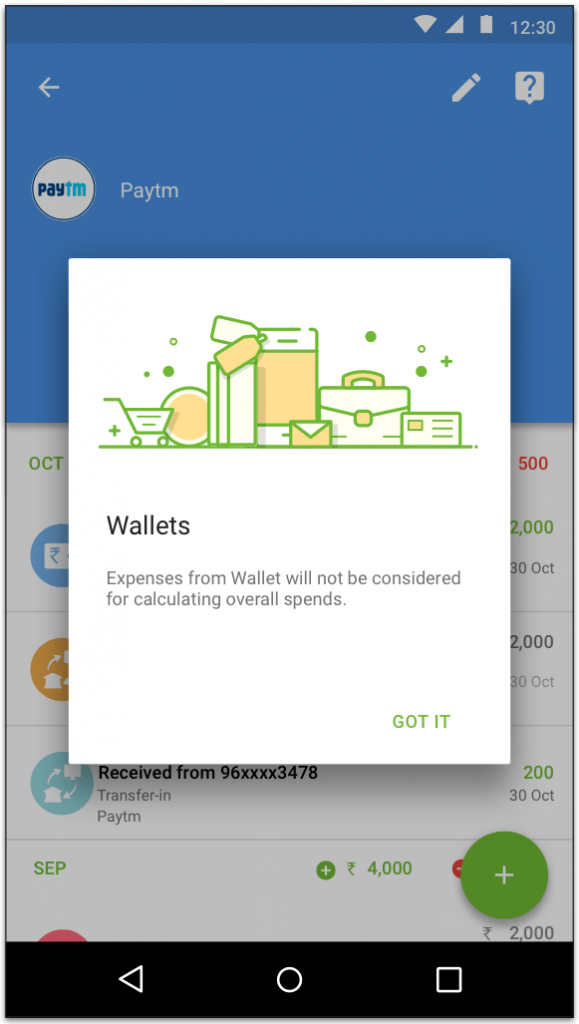 Spends from the wallet are considered as 'Not a Spend' to maintain the user's ledger. As such, the complete ledger is displayed in one go categorized into various expense categories.
Transfer from Wallet to a bank account is considered as Income, being a receipt in a bank account.
Even if PayTM does not send SMSes for all the transactions, users can manually add transactions made through PayTM wallet.
Here's How PayTM Wallet Integration Benefits the Users:
It helps Money View users in more accurate expense tracking, and they also get a ledger view of PayTM transactions at a glance. As it shows all transactions, all spending channels are shown, be it a bank account or an m-wallet.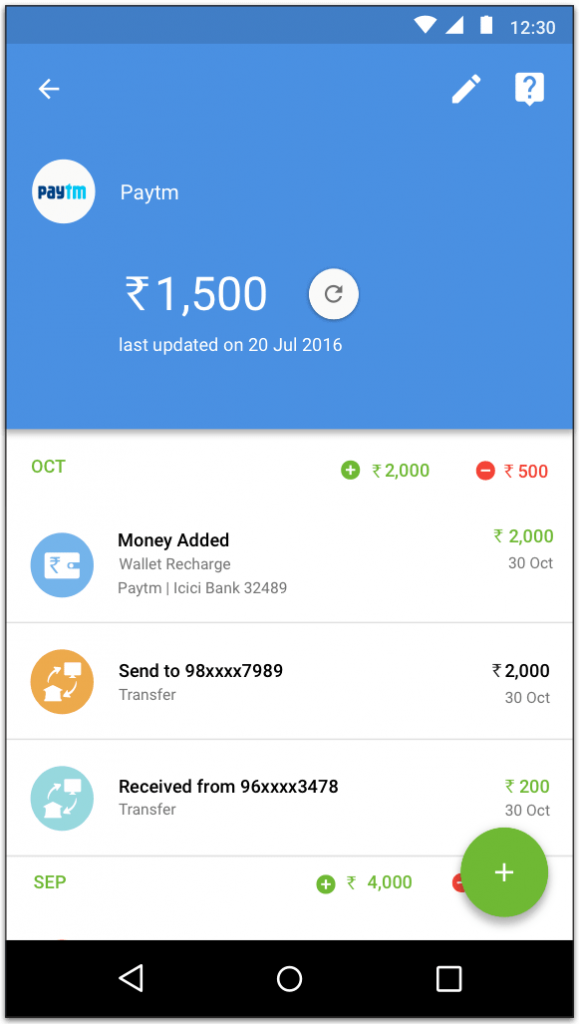 This feature is available in the latest version of the app – Earth-1.5.7 (167). 
In case you are not able to view this feature, please update the app from the Play Store.

We are very excited about this feature launch and are looking forward to hear your views in the comments section below.