Our Quick & Easy Loan Process Has a New Fan – Pawan Saleem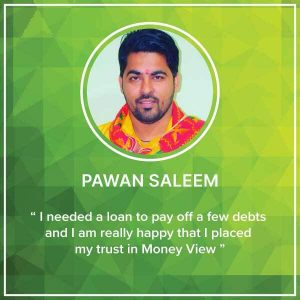 As a popular loan provider, our customer's satisfaction is paramount to the growth and success of our company. At Money View, two of our priorities include timely disbursement of loans while ensuring an easy application process. Therefore, hearing positive feedback from one of our esteemed users is definitely the validation that we seek.
A few days ago, we had the chance to speak to a distinguished customer – Pawan Saleem from Karnal, Haryana.
Here are a few excerpts from the conversation.
Tell us something about yourself
My name is Pawan Saleem, and I am a devotional singer and a business owner from Karnal, Haryana.
What kind of loan did you avail from Money View?
I had availed a personal loan from Money View as my business was affected due to the lockdown.
Why did you apply for a loan from Money View and not other banks or financial institutions?
It is true that there are multiple options available for loan seekers today but I had heard good reviews about Money View, especially regarding the interest rates as well as the time taken to disburse the loan. Therefore, I decided to avail a loan from Money View itself and I am glad that I made the right choice.
How did you get to know about Money View loans?
I found out about Money View through an acquaintance who had recommended the app to me.
What did you think of the Money View app and the entire process of loan application?
I am completely satisfied with the entire loan application process. Not only was it simpler than most other loan apps, the customer service team was extremely helpful and clarified my every doubt patiently. If anyone is intimidated by complicated loan application processes, then Money View is the perfect choice for them as the procedures involved are simple and hassle-free.
Do you have any advice for others who may be looking for an online personal loan?
Instead of applying for loans through other apps, I would definitely recommend Money View not only for the easy application process and instant disbursal but also because Money View is one of the most trustworthy companies that I have come across.
What other features of Money View did you appreciate?
Money View's loan application process is one that definitely appealed to me. It was simple, quick, and at every step the customer service team was ready to help which I genuinely appreciated. The timely loan disbursal is also a boon, especially for those looking for urgent financial help. 
I could also complete each step, including document submission from the comfort of my home and within no time, the loan amount was credited to my account.
More importantly, in today's times, it is difficult to know which online business to trust as there are many fraudulent websites that cheat people of their hard earned money. These companies call once with the promise of a loan and then disappear after. But with Money View, I have realized how genuine everyone is and are only focused on ensuring that their customers are satisfied each time.
Final Thoughts
For a company to grow, there are certain qualities needed and I wholeheartedly believe that Money View embodies each of these. I am genuinely happy with my experience and will continue to recommend this app to everyone. 
We thank Pawan Saleem for his wonderful review and wish him and his family the very best.