Pay Your Bills Through Money View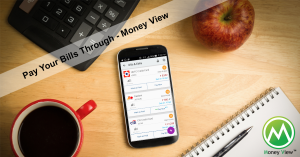 We are all guilty of doing it at some point in our lives! Even with best intentions, the most honest and honourable of us fall prey to it! And then of course, what else but pay for it. The crime in question – missed or delayed bill payments!
With multiple credit cards, utility and other bills, all on different billing cycles it is not easy to keep track. Post-its, diaries, spreadsheets, financial planning software – you may have done it all, and yet somehow there'd be a missed bill staring you in the face, costing you a penalty.
Paying bills on time is one of the most important aspects of being in control of one's personal finances. To consolidate, know what is pending and taking corrective measures on time can be extremely tedious. But then again, bill payment-diligence not only reduces stress but also saves money that one would otherwise spend as late payment fees. Not to forget, one's good paying habits boosts the credit score, which is imperative in getting a lower rate of interest when borrowing from banks.
So how does one keep track of expenses and get organized? Sifting through bills, noting down the different payment due dates, setting up reminders and writing cheques are absolutely obsolete now! All you need today is to get a smart and simple expense tracking app like Money View that does all the work for you.
Here's how you get started:
Download the free Money View app from the Google Playstore. The app is functional as soon as it is downloaded – no inputs, no setting required. Money View tracks your personal expenses from SMS received from banks and billers in your inbox, streamline and automate your financial information
Open the app. Go to the Bills section, you will see a summary of the bills pending. Money View categorises your bills, so you know exactly who and how much you owe. The app gives you a countdown to the due date, sends you timely reminders, so you never have to miss a payment.
Although the app is designed to sift through SMS to organize information, you can add bills that you don't get SMS for. Once done, Money View will auto-generate these bills every month.
If you don't want the app to show a particular bill, you have the option to hide it.
The app enables you to name your bills making it easy to refer to.
Airtel, Vodafone, Tata Docomo and BSNL bills can be paid directly through the app (via Whiz Pay).
For other bills, the app will redirect to respective biller websites, enabling you to make quick mobile payments.
And just like that, bill payments can become a fuss-free, hassle-free task. You don't have to pick up a chequebook, visit a store or stand in line or look for a computer with internet access. You can now kill your bills from your smart phone, from anywhere, on time, every time!