Personal Loans Made For Your Needs! Read Our Latest User Story for More Details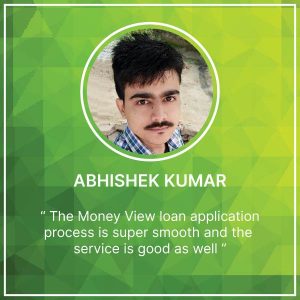 Customers today are bombarded with options – be it for groceries, gadgets, and even personal loans. So how can one choose the right option? Most consumers would opt for company reputation as well as customer reviews.
We understand the need to continuously innovate and provide the best for our customers which is why we make it a point to regularly converse with them to receive and implement their feedback.
While we do have a 4.5 on Play Store (making us the only loan provider in the country to have such a high rating), it only motivates us to work harder and provide the very best for our customers.
As part of this process, we recently spoke to an esteemed customer from Bihar – Abhishek Kumar. Take a look at what he has to say about Money View loans.
Tell us something about yourself
I am Abhishek from Bihar but I currently reside in Kolkata. I work with an MNC as a software developer.
What kind of loan did you avail from Money View?
I had availed a personal loan from Money View for certain personal expenses.
Why did you apply for a loan from Money View and not other banks or financial institutions?
The main reason for choosing Money View personal loans over other options is due to the flexibility in the loan amount offered. I needed a relatively smaller loan amount and most banks would only offer a loan of a higher denomination. 
There were also other features and benefits offered by Money View loans that were appealing to me.
How did you get to know about Money View loans?
I was looking for a personal loan provider on Google which is how I found out about Money View loans.
What did you think of the Money View Loans app and the application process? Are there any particular features that you enjoyed?
I genuinely enjoyed how quick and hassle-free the entire application process was. I had to submit only a minimal number of documents and I got my loan quickly. 
Additionally, I did not have to deal with unnecessary calls, messages or emails. Most loan providers bombard customers like us with pesky calls which can be extremely irritating. Money View on the other hand, did not disturb me even once. 
Apart from this, the app is also designed well and provides a smooth and seamless experience for users and the overall service is also good.
Final Thoughts
I recommend Money View to everyone looking for personal loans because of how smooth the entire process is, from application to disbursal.
Thank you Sir,  for your kind words. Money View wishes you and your family the very best.
If you need a personal loan of up to Rs. 5 lakh that is disbursed within 24 hours, visit the Money View website or  download the app to apply now!