The Joy of Giving: Why Charity is rewarding?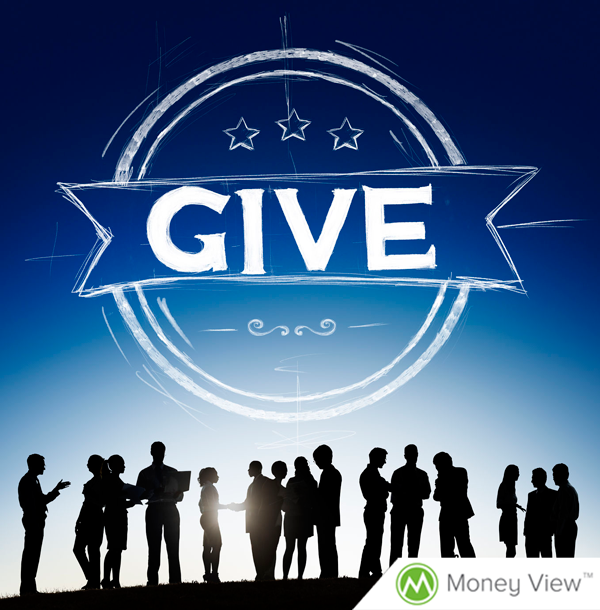 We, at Money View blog are on the quest to improve the quality of your financial life. But being prudent with your money doesn't mean you shouldn't indulge in the 'act of giving'.
Donating to charity is universally accepted as the way of becoming a better person. It is said, that philanthropy is the only act where the giver gets more than the receiver – in the form of joy and fulfilment. And tapping into that vein of generosity, early on in your 20s, ensures you and the money you earn are part of something bigger.
Consider or revisit your intentions of paying it forward this Joy of Giving Week. Here are 3 reasons why you should embrace giving :
Helper's high
Studies have shown connections between altruism and happiness. It is said that the when one performs a selfless act, the reward centre of the brain lights up, producing endorphins, resulting in a feel-good feeling called Helper's High. This is exactly the same euphoria that a runner experiences. And like all highs, helper's high is addictive!  Biologically giving to charity creates a 'warm glow', often referred to as the 'giver's glow'.
Self-discovery
When you give, you become intimately familiar with your own self – your emotional and spiritual sides. Philanthropy is also a key component in many religious belief systems, across the world. The author of 'The Hidden Gifts of Helping and Why Good Things Happen to Good People', Dr. Stephen Post has said, "Every great moral and spiritual tradition points to the truth that in the giving of self lies the discovery of a deeper self. Giving to others increases your capacity for love. It makes you realize that even if you don't have much, you have enough to share with others."
Tax deductions
One of the bonuses of making charitable contributions is that it can be exempt from your taxable income under section 80G. Retain records of your contributions – money or property, so you can include and itemize them on your tax forms.
Charitable organizations are constantly looking for young professionals who are willing to invest their time and energy, aside money.
Here are 5 ways you can give more effectively:
Volunteering – Whether it's for a few hours every week or for several months, you can choose to volunteer for a cause you are passionate about. There are many organizations like I Volunteer and Volunteer in India that offer opportunities to work on social and economic causes across the country.
Give what you don't need – Go through your closets and cupboards to find things that you've outgrown or won't be using in the future. From clothes, shoes to old piece of furniture, you can donate useable things to people who can benefit from them – it could be your domestic help's family or a complete stranger in need.
Share a skill – By sharing a skill you have with people who don't have it, you not only help fine tune your skill sets but also help another gain a vocation and a livelihood. You could teach underprivileged children in the neighbourhood or approach community outreach initiatives like Teach for India and Youth For Seva to contribute.
Disaster relief – Aside from making monetary donations, you could get associated with a disaster relief agency and lend a hand in actual on-ground relief work. Even the smallest of efforts can go a long way in alleviating someone's suffering.
With family and friends – The value of activities done with a group of people always has the potential of compounding. By engaging in charity with family and friends, you can help strengthen the spirit of giving in the group. Not to forget it's a great way of spending time together and also setting a great example to your children.
While random acts of kindness give you short bursts of contentment, it is the constant and continuous pursuit of giving, sharing and helping that will impact you in infinitely positive ways.