Top 10 Hacks to Save Money While Traveling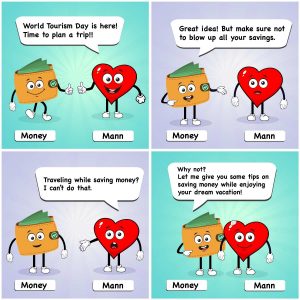 World Tourism Day is here and what better way to celebrate than to indulge in your wanderlust desires! We are well aware that a traveler's heart is constantly planning the next holiday.
While it is important to listen to your heart, you cannot ignore your monetary limitations as well. After all, your bank balance is important too. 
Let's check out the tips Money is giving his friend, Mann, on how to save money while traveling. Literally the best of both worlds!

1. Research Beforehand
The importance of planning a holiday in advance cannot be stressed enough. 
Before planning, go to online forums like YouTube, or Reddit to thoroughly research your destination. Often this small step can help you save lots of time and money.
2. Book Tickets in Advance
Travel tickets make up a huge chunk of your holiday budget, so save up as much as you can at this step. How? By booking months in advance! 
Once you decide to travel, the first step should be to book your tickets. Flight and train tickets if booked in advance can get you great deals.
Follow some of these hacks to get better deals on flight tickets –
Book both departure and arrival tickets as a package to save money

Try traveling as well as booking tickets on weekdays as prices on weekends might be higher

Use websites that offer good deals instead of mainstream websites
3. Opt for Hostels or Homestays
To save money on hotel prices, don't shy away from searching for budget hostels or homestays wherever possible. Homestays might also have free homely meals which will help you save up some extra cash while eating healthy.
Check package deals that include flight and hotel bookings as you might get a huge discount.
4. Rent a Vehicle
In case access to public transport system is limited, try to rent a scooter, bike, or car, depending on your convenience. 
Having your own rented vehicle will allow you to easily travel at any hour. You can search for vehicle rentals online and even book them in advance. 
5. Avoid Shopping from Tourist Spots
Buying gifts or decorative items for friends, family, or your own house is a must when you are on vacation. 
When shopping, avoid tourist spots as the prices might be sky-high. Instead, keep a day to visit a local market for all your shopping needs.
6. Stock up on Snacks
Food at airports and airplanes is extremely expensive. If you are traveling on a budget, stock up on filling snacks that you can consume while traveling. 
Also carry some ready-to-eat snacks with you, as they can come in handy when you get hungry at your hotel. This way you won't have to order every meal from expensive restaurants.
7. Utilize Card Offers and Discounts
Credit cards and even debit cards often have various discounts going on, which you should utilize when trying to travel on a budget. You can use your credit card to get discounts on flight tickets or hotel bookings. 
Check if you have any cashback offers, or dine-in discounts on Swiggy or Zomato while you are eating out. You can also use your Debit card to get access to the airport lounges, where you can enjoy a meal without spending money.
8. Travel during Off-season
Everything from activities, experiences, tickets, and vehicle rental rates, to public transport at tourist spots is more expensive during the busy season. 
Thus, travel during the off-season, if possible. This will also give you the added benefit of avoiding the crowd and enjoying in peace. 
9. Explore Local Markets
They say, 'When in Rome, do as the Romans do.'
When you are at a tourist spot, make sure to visit the local markets or hangout spots. Eating at joints that regular people eat will help you know the local cuisine. Local markets will also be selling things that are native to that place, at much cheaper prices.
This will definitely help you soak in the culture of the place you visit while saving your hard-earned money.
10. Bargain
Be it hotels, shopping, vehicle renting, or public transport, bargain as much as you can. Sellers or businesses at tourist spots often quote a higher price and may scratch it down if you haggle.
It is better to have an idea of how much the items and services cost in general, so you know if you are paying extra.
In Conclusion
Investing in travel is investing in experiences. Traveling is not only a break from your daily life but it also resets and rejuvenates your mind. 
This doesn't mean you will have to blow up your savings every time you take a vacation. These tips will help you travel smart while keeping your savings intact.
In case you need a break or are planning that dream vacation but are running short on funds, you can consider taking an instant personal loan from moneyview. 
You can get loans from Rs.5,000 to Rs.10 Lakh depending on your requirements and your eligibility criteria. To check your eligibility, visit the moneyview website or download our app.