Top 20 Finance Blogs of 2016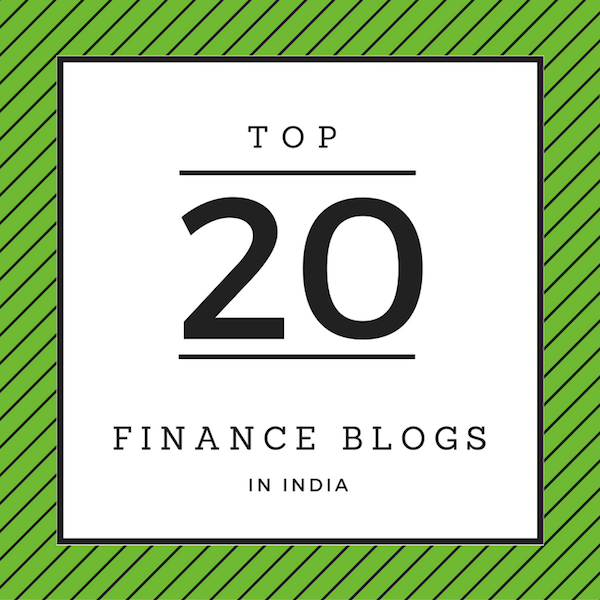 2016 is almost over. For me, this year flew by faster than 2015. Do you feel the same?
If you read posts on this blog often, you will realize that saving and investment are not fly-by-night events. They take time, patience and effort. And yes, the discipline of learning constantly.
Here are the top finance blogs of 2016. They will keep you educated about all you need to make your money work for you.
I have sorted the blog into three categories viz. Money Tips, Habits and Insights.
Tips
Long-term vision is important to achieve financial goals. But it's important to not lose touch of short-term actions to get there. Here are blogs which offer everyday tips to improve your savings and investment.
This site is handled by Amit, an MBA. He is also certified from the NSE in Mutual Funds, Capital Markets, Derivatives Markets and more. Apna Plan is a repository of knowledge from retirement planning to tax management, smart shopping and more.
As the name suggests, this blog helps people become more investment-savvy. Handled by Manish Chauhan, it offer insightful information pieces for free. JI also offers a pro membership, which provide analysis reports, goal-based planning, health insurance and more.
A blog of a service with the same name, Scripbox offers many nifty everyday money tips. From lessons on money to managing funds during sale periods, tax payments and investment, you can get insights into many small actions which you otherwise tend to overlook.
Dev Ashish, a SEBI-registered Investment Advisor, started this blog about five years ago. He helps individuals manage their money better to set (and achieve) personal financial goals. His posts are reliable and insightful, and show that investment is not as difficult as we think.
Cash Overflow is another popular financial blog, started by Pardeep Goyal purely as a hobby and interest in finance. He shares results from personal experiments to save money through credit cards, travel and shopping. He believes that we must be smart misers, save at the right avenues and focus on secondary income sources too. Do give his blog a dekho.
Money Excel excels in tips to invest in the stock market, personal finance and tax management. It also shows how you can leverage the latest happenings in the world to stay financially sound and sorted.
Through this online diary of over five hundred blog posts, Rohit Chauhan shares his approaches to picking undervalued stocks. He also analyzes numerous Indian companies. He has been interviewed by experts, and is respected for his opinions on the Indian stock market. A financial blog for you to follow if you want to make money in the stock market.
Founder Gopal Gidwani provides comprehensive views about various topics across the financial sector. Readers stay updated with information in the financial world. You will get suggestions to invest in mutual funds and tax vehicles, the latest financial initiatives by private sector companies and the government and more. You also can get insights about availing and managing loans, and tips to renovate your house.
A good blog to follow if you want to know more about investment suggestions for Real Estate, stocks, everyday finance, home loans and more.
Run by Jane Hwangbo, this blog offers a different perspective to look at money. It encourages us to look at money as a means to an end, instead of an end in itself. Read it and you will stop feeling guilty about the desire to earn more money.
Free FinCal
This website is filled with personal finance, DIY investing and money management tips. It offers free MS-Excel based calculators which you can use to better understand your spending and investing habits. It was started by an IIT Chennai professor and is one of the most renowned financial blogs in India.
A blog of the money spend tracking app by the same name, Money View blog is filled with tips on saving for various goals. From information and tips on buying a home, vacation, hacks, to retirement, tax planning, news, views and analysis.
It also offers tips to strengthen your investment portfolio, and how new policies affect your finances.
Habits
Investment is not a skill you can develop if you don't follow the right habits. Like everything good in life, investment is a result of discipline and an in-depth understanding. Not just of your own mindset, but how the world functions too, so that you can make the right calls. Follow these blogs to develop good finance- and personal-life related habits.
If you read my listicles, you will know that I'm a fan of Safal Niveshak. Run by Vishal Khandelwal and Anshul Khare, this blog focuses on mental models, and how they align with investment. It also offers a weekly roundup of the best articles from around the world. Read it not just to improve your investment, but also your thought process.
Another favorite. Shane Parrish focuses on mastering what others have figured out. His posts outline lessons on what makes us irrational. Reading this blog won't just make you aware about poor investment habits. It will also change your perspective on life.
Investment is not an end goal, nor is getting rich. These actions should be motivation for a larger goal. The Subramoney blog highlights best practices for earning and investing money. It also sheds light on the significance of a long-term strategy.
Insights
Okay. So you have habits and tips all covered. But to invest in the right vehicles for the long term, you should know what the future holds. Of course, no one can predict the future. But these blogs will provide insights into where the future is headed – nationally and globally.
The Economic Times blogs offer brilliant insights into national and international events, insights that the media chooses not to cover. From decoding landmark events and government policies to discussing beneficial steps, these opinions will provide rich insights into potential fields where your investment will grow quickly.
Seemingly banal events can have far reaching consequences. Chaos Theory states that a butterfly flapping its wings in Japan can cause a hurricane in Hawaii. As the name suggests, Freakonomics suggests on these freakish events of nature. A terrific blog to learn how to uncover underlying patterns to everyday tales.
Arguably the most popular financial blog in India, Money Control needs no introduction. It provides not just the latest news and happening from the world, but also opinions which can let you plan for the long term.
The blog of another financial newspaper similar to the Economic Times, this one also offers insights to understand the market environment and sentiment better.
A popular portal which has its hand on the market's pulse, it offers two types of newsletters – free and premium. It is a rich source of research reports, recommendations, and information on trends of the stock market.
Here is wishing you a peace and prosperous 2017. May all your financial dreams come true.
Vishal is the founder of Aryatra, a venture to help individuals improve their productivity and live more fulfilled lives. He also is a digital marketing consultant helping businesses generate revenue from their online presence.