Top 5 Websites for Filing Income Tax Returns (ITR) Online in India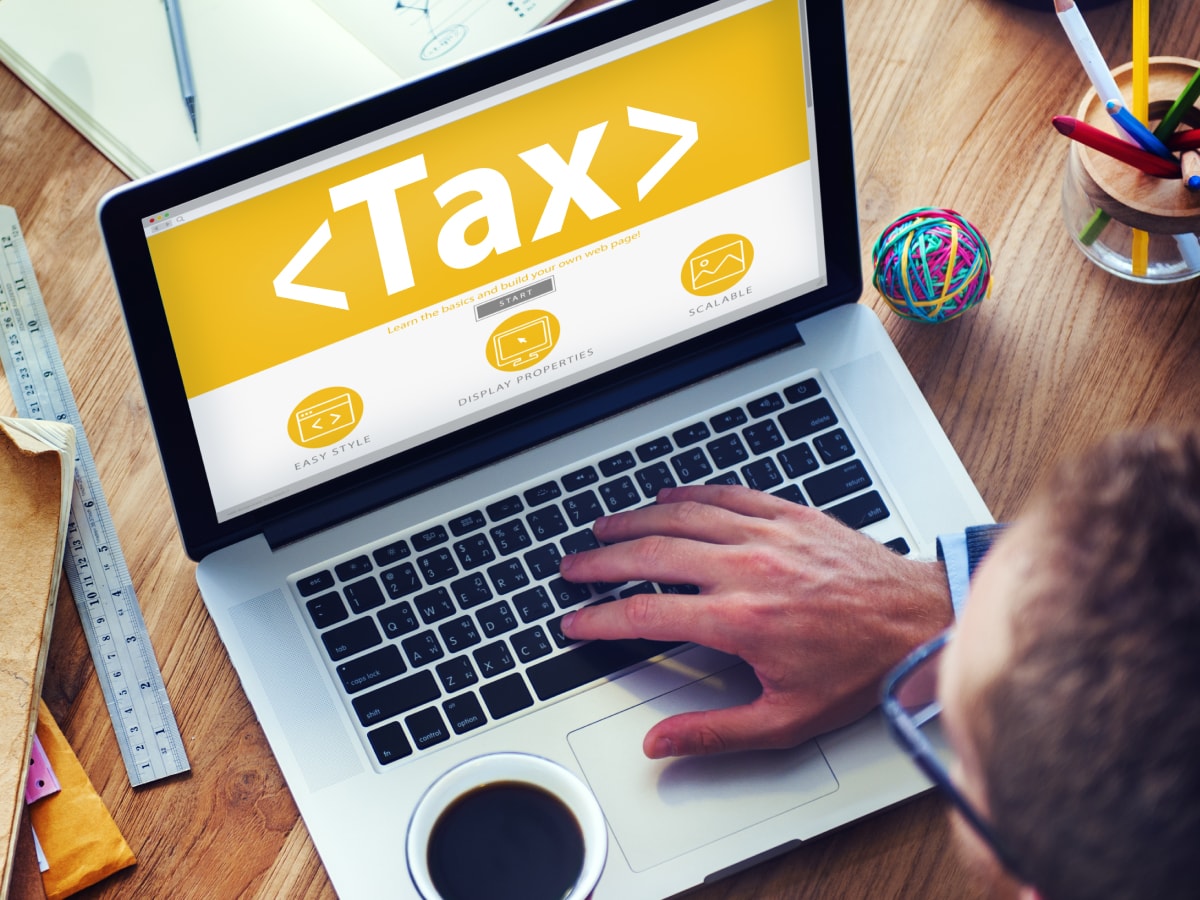 Most of us have been busy collecting the documents required to do our annual tax calculations. The time is here to use these documents to prepare the Income Tax Return (ITR) and file it with the Income Tax Department (ITD). With an intent to collect more information from the taxpayers and enable system-assisted processing of returns, ITRs have been made more comprehensive and detailed.
While it has made the work of ITD relatively easier, taxpayers have been finding it difficult to fill the ITR forms by themselves and thus, feel the need to contact professionals like CAs, etc. However, with the advent of technology, several websites have emerged offering a helping hand for such taxpayers to enable them to file their ITRs cost-effectively.
Here are 5 best websites to file taxes online:
1.Income Tax India Official Website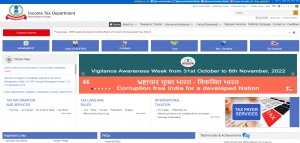 It is the website of the Income Tax Department of India which provides the facility to e-file Income Tax Returns. All the Income Tax Returns, even if generated through other software and e-filing portals, are also required to be uploaded at this website only. The portal provides you an option to prepare ITR-1 and ITR-4 returns online through easy-to-use interface.
The portal also provides Excel and Java utility for all the ITR forms. Here the users input the necessary information, which is validated against pre-specified checks and then converted into XML format. The user can upload the XML file online and file the return.
You can also view your Tax Credit Statement (Form 26AS) so that you can match the TDS credits being claimed in the ITR and the actual TDS credit reflecting in your online account.
In addition to the above, you can also perform various other functions like checking the status of earlier ITRs, submit the refund re-issue request, e-verification of ITR, rectification request, etc. Hence, it is the best website to file taxes online for free.
2. ClearTax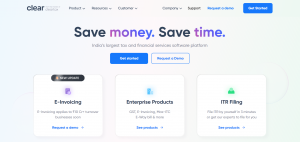 Cleartax is among the best online tax filing websites in India trusted by more than 40 lakh taxpayers to file their ITRs online. Further, it also enables 20,000+ CAs and tax experts to assist their clients for all their tax compliances through software and website.
A user-friendly web interface makes it easier for all taxpayers to prepare their ITR online. With a very user-friendly web interface, it is easier for salaried assesses and freelancers/ business persons with presumptive income to file their returns for a nominal rate.
However, if you are unable to or unsure of filing on your own, you can always use their assisted plan facility.
ClearTax is a registered e-Return Intermediary with the Income Tax Department and hence, you can file the returns directly through their portal without even logging into your Income Tax Account.
3. MyITReturn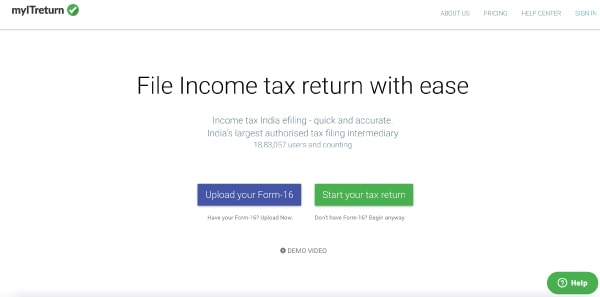 MyITReturn is a leading online ITR filing website with more than 26 lakh users, helping the users calculate their taxes and prepare their ITRs online using their website The first Income-tax return in India was filed using their software, which had been developed for the Income Tax Department itself.
Besides their website, the portal also helps over 200,000 users calculate, pay and file their tax return using their mobile App for Android and iOS, making this process very handy and convenient.
Apart from English, users also have an option to use their services in over 9 Indian languages (Hindi, Gujarati, Marathi, Tamil, Telugu, Kannada, Malayalam, Bengali and Punjabi). The portal offers free e-filing facility to salaried employees with income less than Rs. 2.50 lakhs. Taxpayers with higher income have paid plans for them, starting from Rs. 199 plus taxes.
MyITReturn is also a registered e-Return Intermediary with the Income Tax Department, which makes it possible to upload your ITRs directly from their site to the Income Tax Department's server.
4. H&R Block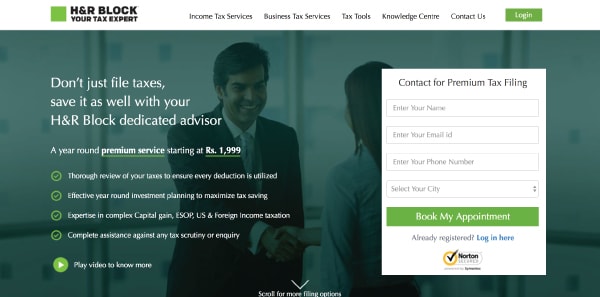 H&R Block is the world's largest individual tax filing company filing over 80 crore returns annually. The Company has over 6 lakh users and around 500 corporate partnerships in India as well making it among the best websites to file taxes online in India.
The portal allows you to prepare your ITR by yourself in an easy and simple-to-use web interface. Adding to the convenience, it also allows the facility to auto-read your Form 16 to populate the fields related to salary income and the related TDS in your ITR.
Besides this, it offers live chat and call support through the Income Tax Return e-filing process even in the free package. Apart from the free return filing facility, paid plans start from Rs. 999.
A dedicated tax expert will prepare you IT returns on the basis of the documents provided by you and also e-file your ITR for you once you have reviewed, approved and submitted a request for e-filing.
5. TaxSmile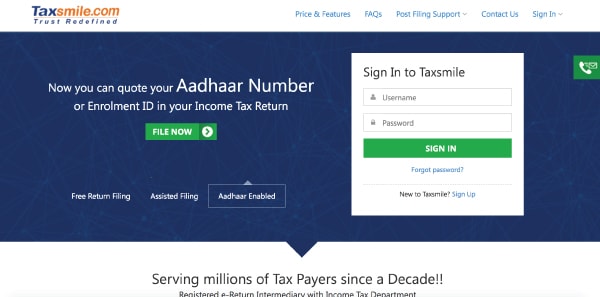 TaxSmile allows you to prepare your ITR in an easy-to-understand Q&A format, and it is fairly easy prepare your ITR by yourself. The first thing you'll notice about this portal is a prominent sticky window with an email address for instant support.
Having a dedicated support helpline available for free users gives Taxsmile an advantage over other online ITR filing websites. It offers free return preparation and filing facility for taxpayers not having any income from business or profession and further, with a net taxable income of less than Rs. 5 lakhs only.
For other taxpayers, the paid plans start from Rs. 249. Further, the portal allows you to prepare your tax computation for free, and you need to pay only when you e-file.
Just like ClearTax, TaxSmile is also a registered e-Return Intermediary with the Income Tax Department and hence, you can file the returns directly through their portal without even logging into your Income Tax Account.
With easier return preparation facilities on the portals shared above, the ITR filing process is not complicated anymore and can be done easily from the comfort of your home.
Do remember to file your returns by 31st July.