Your Perfect Travel Companion – Holiday Loans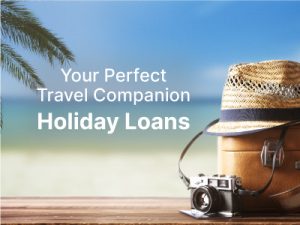 Wanderlust is defined as a strong desire to travel. After being restricted due to the lockdown, we naturally want to explore this beautiful world. 
However, traveling may not always be easy on the pocket. This is especially true if you wish to enjoy a luxury vacation or even visit places abroad.
But every problem has a solution and in this case, the perfect answer is to get a holiday loan or a personal loan for travel!
Why Holiday Loans Are Your Best Bet!
If you were planning to save up for months or use your credit card or even borrow from family/friends to fund your travel – think again! There's an even better option.
A holiday loan or travel loan is just like a personal loan and can be used to fund your travel-related needs. 

Here's why a travel loan is the best option to fund your holidays –
Instantly Available
Nobody wants to save up for weeks or months. This is why holiday loans are so great! You can easily get a loan within just 24 hours!
You can now travel wherever you want, whenever you want without worrying about the lack of finances.
No need for collateral
Some lenders ask for collateral or security but this only delays the process of disbursing the loan. Most holiday loans do not require any collateral. You will only have to fulfill the lender's eligibility requirements.
Hassle free application and minimal documentation
Once upon a time, the only way you could get a loan was to visit a bank, wait hours in line, and complete tedious paperwork. Even after all this, you could get the loan amount only after a few days.
But we can bid such unnecessary processes goodbye. 
Today, all you need is your mobile phone, 5 minutes, and an internet connection to get instant travel loans in India without any hassle.
How to Get Instant Holiday Loans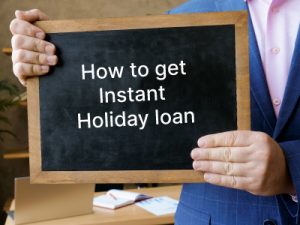 Now that we've spoken about the many advantages of holiday or travel loans, let's find out how to actually get one.
There are plenty of lenders in the market today but moneyview stands out for many reasons.
Not only is moneyview one of the highest rated loan apps in the country today, our documentation requirements are also minimal.
The application process is seamless and can be completed within a few minutes. All you have to do is fulfill the eligibility requirements, complete the application process, and voila! The loan amount will be credited to your account within just a few hours!
To know more about our personal loans, click here.
In Conclusion
When the travel bug bites you, you have no choice but to give in. Traveling not only enriches your life but also warms your soul. Lack of finances can sometimes stop you from exploring all the places that you want to, which is why travel loans will be your savior.
Get instant travel loans from moneyview by visiting the website or downloading our app.