Fast and Convenient Personal Loans – Read Mahaveer's Verdict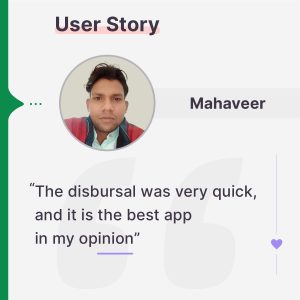 We all like to read reviews and try out various products before choosing one for ourselves, especially when it comes to financial products such as personal loans.
But our customer, Mahaveer, chose moneyview at the first go itself. Let's take a look at why moneyview loans inspired such confidence in him.
Tell us something about yourself
My name is Mahaveer Bundel and I am a car mechanic at a showroom.
What kind of loan did you avail from moneyview?
I had taken a personal loan from moneyview.
Why did you apply for a loan from moneyview and not other banks or financial institutions?
After I heard about the moneyview loans app, I wanted to try it out first. Once I started exploring it, I never felt the need to go try any other app. That is how satisfied I am with moneyview.
How did you get to know about moneyview loans?
I shared with a colleague of mine that I was in need of a personal loan. He told me about moneyview and that's how I ended up downloading the moneyview app. 
What did you think of the moneyview Loans app and the application process? Are there any particular features that you enjoyed?
The app was so simple to use that I faced no issues in applying for a loan. The process was straightforward and fast and no time was wasted. I applied and the loan application was initiated immediately. It was incredibly fast for me and I loved it.
Final Thoughts
I needed a personal loan urgently due to unavoidable circumstances. So when my friend told me about moneyview, I checked it out at once.
My experience with moneyview was very good, and I had no problems whatsoever. I got the money within 24 hours and I was relieved.
The application fee was also reasonable and I found it to be the most economical option compared to other apps. I would definitely recommend this moneyview loans to everyone looking for personal loans.
Thank you Sir, for your wonderful feedback. We wish you and your family the very best.