MBA Salary in India
Do you know the average MBA salary in India? Got no idea? An MBA Graduate's Salary in India depends on qualifications and experience.
This is particularly true when we see that MBA Salaries in India are directly proportional to how much trained and upskilled you are.
Before jumping directly to the average salary of MBA in India, let's have a deeper insight into the varied specializations offered under the MBA umbrella.
Specializations under an MBA
Management is the art of handling business effectively and efficiently to help members fulfil the organizational objectives. There are a plethora of specializations under the management belt that help you land different job roles and handsome salary packages. Some of the major specializations are:
MBA in Finance
MBA in Human Resources Management
MBA in Marketing
MBA in Business Analytics
MBA in Operations Management
MBA in International Business
Under these specializations, many job roles such as Supply chain manager, Operations manager, HR manager, Marketing Manager, and General manager are offered.
The degree doesn't restrict you from taking up any of the above management job roles because it is a well-known fact that every industry requires a certain level of management to ensure smooth operations.
MBA Salary in India
The salary of an MBA graduate in India is based on three factors.
Area of Specialization
Location
Experience
MBA Salary: According to Specializations
MBA in Finance Salary in India
The major responsibility of an MBA in Finance is to maintain the financial efficiency of the company. Specialization in Finance offers a multitude of jobs in the sectors of corporate finance, corporate banking, credit risk management, private equity, treasury and sales and marketing.
The average MBA in Finance salary in India is about 6,78,000 INR per annum. Furthermore, the average CTC of top management institutions such as IIM Ahmedabad, IIM Bangalore, IIM Calcutta, etc. is 20- 25 INR LPA.
The various finance job roles available to the candidates are Finance Manager, Project Manager, Research Analyst, Business Analyst that has a starting salary package of 15 to 20 lakhs INR per annum.
Some of the top recruiting firms for Finance candidates are EY, Accenture, HDFC Bank, ICICI Bank and TCS.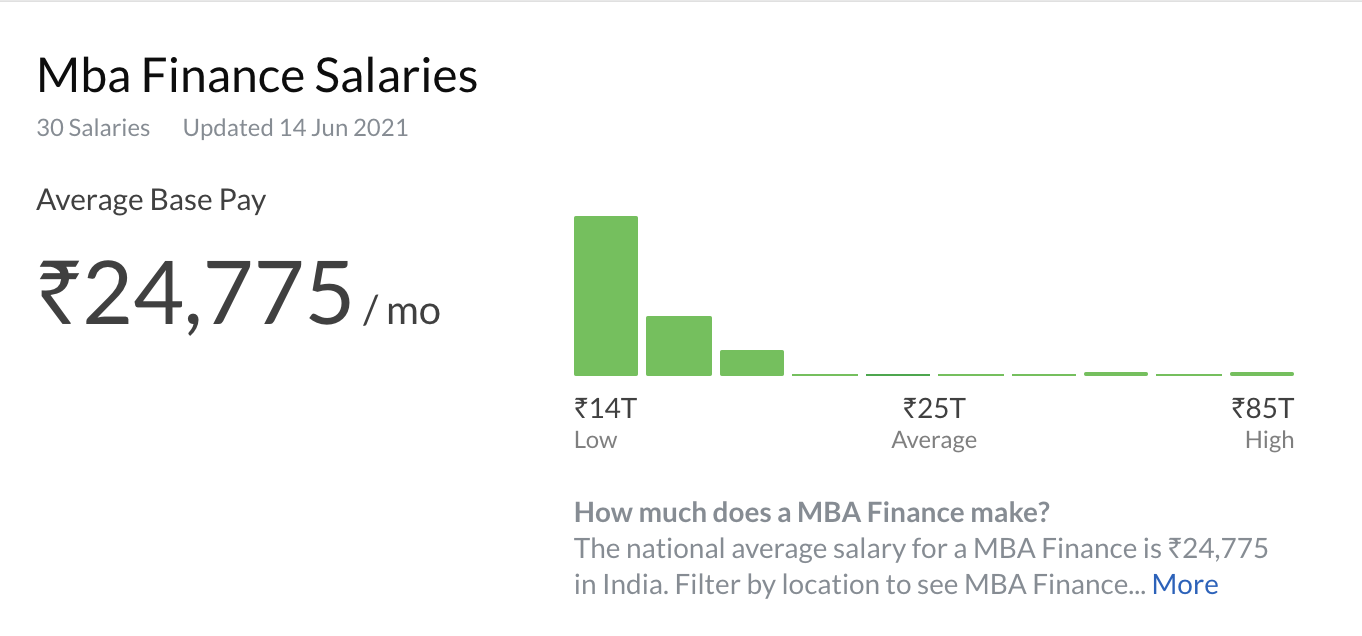 MBA in HR Management Salary in India
Over time the professionals with an MBA in Human Resource Management degree have gained ample employment opportunities in the IT sector, law firms, newspaper houses, advertising and media companies and retail businesses.
Communication, language and analytical skills are highly required to excel in this degree.
The average MBA human resources management salary in India is 7,56,000 INR per annum. In the case of a senior HR manager, it shoots up to approximately 10,00,000 INR per annum.
The main job roles under this degree are HR generalist, staffing director, technical recruiter, compensation manager and employee relations manager.
Some of the top recruiting firms are WIPRO, State Bank of India, Reliance, HDFC.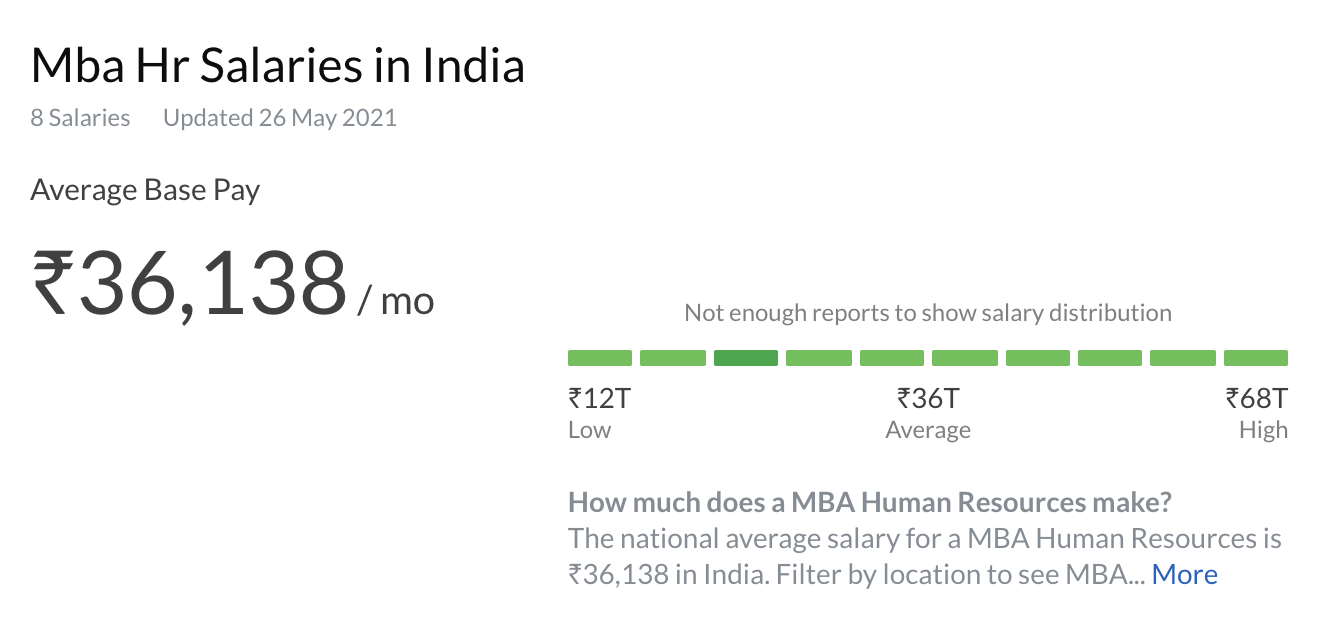 MBA in Marketing Salary in India
Marketing professionals usually find a job in the online, business, competitive, advertising, product and brand management sectors.
The degree requires strong skills in the fields of sales, business development, media and entertainment, advertisement, brand management, or even general management.
The average MBA in Marketing salary in India is 752,000 INR per annum.
Brand manager, sales manager, digital marketer, PR manager are some of the job roles offered to freshers in this field. Whereas, the experienced ones work as a research specialist, marketing manager and executive.
The top recruiting firms for MBA in Marketing professionals are Facebook, PepsiCo, Nike, P&G and Google.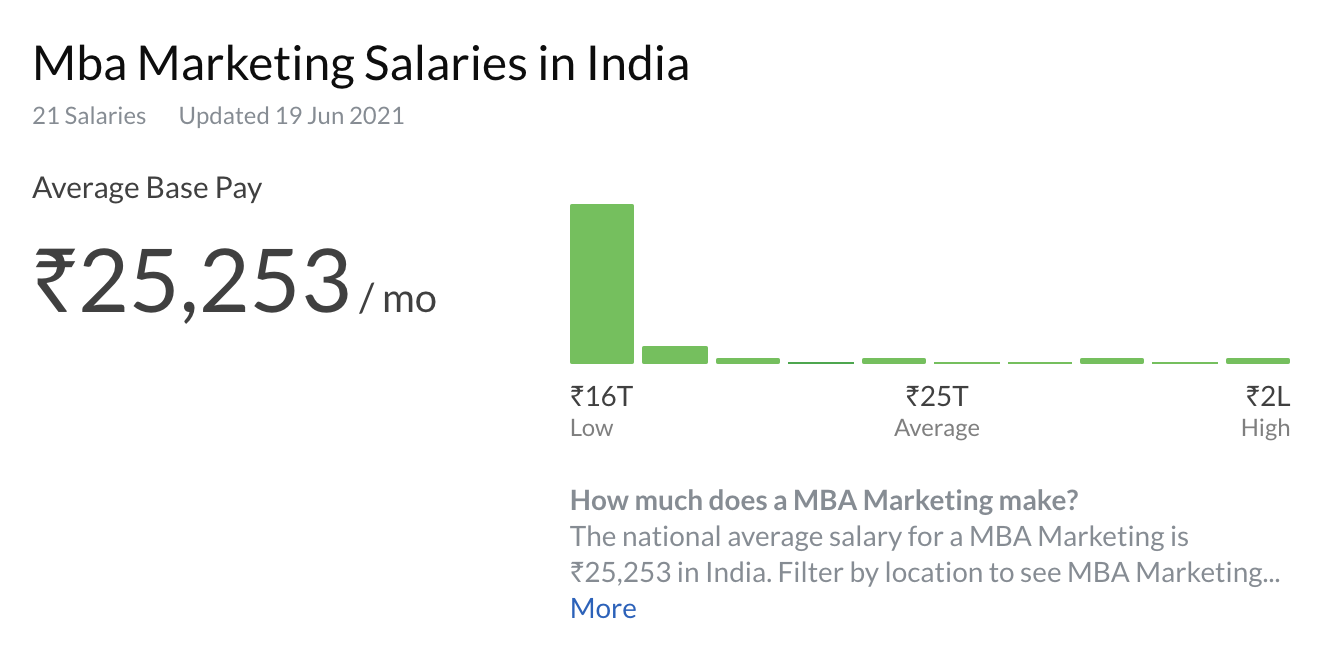 MBA in Business Analytics Salary in India
An MBA in Business Analytics is designed to provide jobs in the IT, technology, e-commerce, healthcare and financial sectors.
The growing importance of Business Analysis is firms demand strong analytical, statistical and operational intelligence skills on the candidate's part.
An MBA in Business Analyst is expected to speed up the decision-making process of the company and keep up with industry trends to gain a competitive edge over the other firms.
The average salary of an MBA in Business Analytics graduate in India is 11 Lakhs per annum. Additionally, freshers can earn up to 5-8 Lakhs per annum. People with experience of over 4-5 years under their belt can earn up to 10-18 Lakhs per annum.
The top recruiting firms for this specialization are Facebook, LinkedIn, Morgan Stanley, Microsoft and Accenture.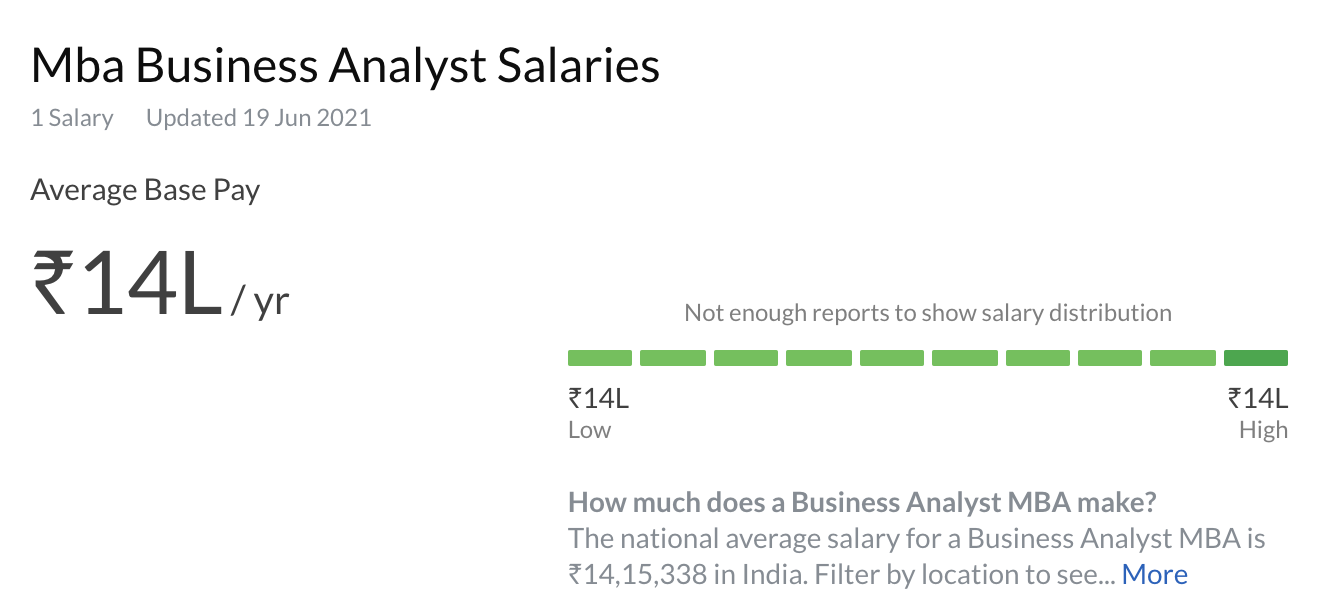 MBA in Operations Management Salary in India
Graduates with an MBA in Operations Management can get jobs in the construction, management consulting, hospitality, retail and logistics sector.
The major communication and technical skills are foundational to get placed at top positions with this specialization.
There are several career gateways for freshers and professionals in operations management. Freshers are open to profiles of supply chain manager, operations manager, plant manager etc. While the seniors and professionals can seek the job roles of Sr. operations manager, business process manager and IT manager.
The pay scale or the average salary of an MBA in operations management graduate in India is close to Rs. 802,000 per annum.
Some of the top recruiters of MBA operations managers are ONGC, Bluedart, GAIL, Apple and American Express.
MBA in International Business Salary in India
If you're looking to expand your career horizons then an MBA in International Business is a perfect match for you. One can find jobs in the financial and consulting sectors in India and Abroad.
Excellent communication skills, business aptitude and passion for global trends and financial economies is a must to pursue this postgraduate degree.
The role requires candidates to handle cross-border information relating to transactions of goods and services happening between two or more countries.
Project manager, global business manager, account manager, international finance manager and export manager are a few of the job profiles that one is hired for after doing a specialization in International Business.
The average salary package of an MBA in International Business is around 7,88,000 INR per annum in India.
McKinsey, CITI Bank, Johnson&Johnson and BCG are some of the top international recruiters for this global degree.

MBA Salary: According to Location
MBA Salary in India
An MBA graduate Salary in India is also affected by the location of employment. While it totally depends upon the job profile of a graduate, the standard and cost of living of different cities have a great influence over the salaries of people.
Let's see how the salary packages are distributed over different locations in India.
Haryana - Gurugram in Haryana is one of the best locations offering high salary packages to MBA graduates in India. The average salary package at this location starts from 7,50,000 INR per annum.

Bangalore - The IT Hub, Bangalore is the second most high paying location for MBA graduates offering an average of 7,30,000 INR per annum.

Mumbai - Mumbai, being the financial capital of India is not less in providing handsome salary packages to MBA professionals. The average salary over here is a good 7,32,000 INR per annum.

Delhi - Delhi, the capital of India is a step behind the above locations because of its population of about 3 crores. But it still manages to give 6,30,000 INR to its skilled professionals.

Pune - Pune offers about 6,00,000 INR to its MBA professionals. This isn't the lowest though, the lowest is yet to come.

Hyderabad - The location of Hyderabad offers the lowest average of 5,90,000 INR to the MBA degree holders.
MBA Graduate Salary: According to Experience
As you level up and gain experience in your pursued specialization you tend to gain promotions. The higher you climb the ladder the better pay you get.
Let's have a look at how experience influences the salary of an MBA graduate in India
Beginner's Level MBA Graduate Salary in India
The average salary of a fresh MBA graduate in India is about 2,90,000 INR per annum. But within a span of 1-4 years, you can surely jump to somewhere near 4,00,000 INR per annum. Such a level of salary of an MBA graduate comes guaranteed with experience and constant efforts.
Mid-Level MBA Graduate Salary in India
A mid-level MBA graduate in India having experience of 7-9 years can expect a salary package of about 7,50,000 INR per annum.
Professional-Level MBA Graduate Salary in India
The professional level candidacy provided by MBA graduates demands much higher salary packages. For 15 years of experience, companies offer an averaging of 15-16 lakhs. Furthermore, MBA graduates having more than 20 years of experience along with a domain-specific profile are offered more than 27,00,000 lakhs per annum. They are placed in the top managerial positions such as vice president, CEO, COO to get such salary packages.
Conclusion
This brings us to the end of the article on MBA Salaries in India. Pursuing a specialized MBA degree can supply a major boost to your mushrooming career. MBA graduates have the chance to enter any industry due to the presence of management in almost all sectors. Want to upskill your management career? An MBA is probably what you should go for!