Top 10 Twitter Accounts That Will Make You Smarter About Money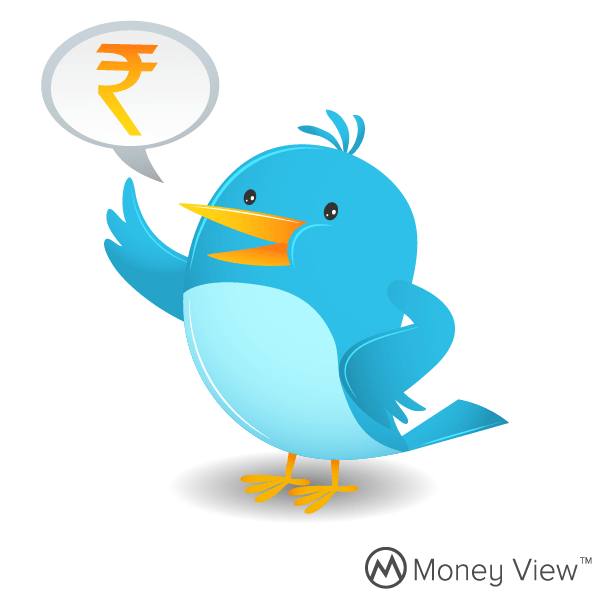 Twitter is a strange social media platform. Some of us get it, but most don't. Conventionally, social media platforms are closed networks – where we connect and share only with people we know.
Twitter, on the other hand, is a platform where people we don't know, connect with us. And we must say all we want in 140 characters. Yet, despite all our difficulties with it, Twitter remains the world's most powerful social media platform. You can find invaluable information about any subject on it.
Financial advice is one such topic. The vast amount of information and insights on Twitter are enough to make you proficient at handling (and growing) your money. You just have to know where to look.
So if you want to follow the right people on Twitter related to financial wisdom, here are top 10 twitter accounts suggestions that will make you smarter about money:
Arguably the most comprehensive financial portal in India, the MoneyControl Twitter handle shares all finance-related news real time. Whether it's government policies, stock market ups and downs, quarter-result declarations by listed companies or something else, you stay updated with information on the go. Bite sized tweets make it easier for you to consume them swiftly. The handle also shares useful tips for you to make your professional life better.
Don't let this handle name 'fool' you. It is an intelligent one, which shares rarely-heard tips on investment's best practices. The handle offers rich insights on investing, retirement, personal finance and more. It doesn't tweet articles as much as it puts out powerful advice in 140 characters. It is based in USA, but the core philosophies of money management stay same throughout the world.
The Twitter handle of the expense tracking and personal finance management app, MyMoneyView shares insights on everyday money management challenges. Not everyone is an investor. Some people want to invest their money, while others just want to know how they can handle their daily finances better.
MyMoneyView, through its tweets and blog posts, maintains a good balance to address all these questions. Their recent initiative – the #MoneyViewChat Twitter chat – is also a good way to stay tuned with the best practices to manage your personal finances.
Curated by investment experts Vishal Khandelwal and Anshul Khare, this handle offers potent insights for people who want to improve as investors. They don't just tweet their own blog posts, but from other platforms also. Humor is an integral part of their daily dose of tweets, so rest assured that you will chuckle a few times a day when their tweets appear on your timeline. This handle beautifully addresses challenges faced by small investors, and enables them to become smarter and wiser, not just in money, but in life as well.
Yet another brilliant Twitter handle helping people understand long term investment and personal finances better. Most tweets from Stableinvestor.com beautifully simplify the toughest concepts of investment. The handle doesn't just emphasize on making money, but also on good habits like productivity, minimalism, locating the right areas of focus, and so on.
Sanjay Bakshi is an Adjunct Professor of Behavioral Finance and Business Valuation at Management Development Institute in Gurgaon. It is a powerful subject, because financial management is primarily about handling our behavior and emotions better. He also conducts lectures abroad on the subject. His tweets offer good suggestions on books and articles to read, to become more sound financially and understand deeper implications of the events occurring (and which might occur) in the market today.
Shane Parrish is the founder of the website and Twitter handle Farnam Street, which focuses on helping you make better decisions. After all, the ability to make smart decisions is key to healthy investment habits, like all other habits in life. Shane's posts don't just revolve around philosophies for making money. They also focus on philosophies to lead a fulfilled life, a part of which is earning and utilizing money. These tweets will change the way you look at life and money.
A renowned investor and co-founder of a SEBI registered wealth advisors group, Basant Maheshwari has authored the book 'The Thoughtful Investor'. He frequently appears on financial news channels to share his expertise. He doesn't often post links in his tweets, but snippets which get you thinking within seconds. His hashtag #TheThoughtfulInvestor has encouraged many Twitter users to share their insights about personal finance and investment.
This Twitter handle, like MoneyControl, shares the latest and breaking news, and compelling analyses about the Indian and world business scenario. The world is moving at the speed of knots. So much occurs within minutes today that it's difficult to keep up with the latest news. This handle shares links of posts from its website. So reading the headlines will keep you updated with the latest happenings, if you don't have time to read complete articles.
One of the oldest finance-related media publications in circulation, the Financial Times handle tweets headlines from its website soon after publication. Reading those is enough to stay up to date with the latest happenings in the world of business. From events in Japan, Thailand and Vietnam to Columbia, USA, UK, Europe, the Middle and Far East, you can catch the latest news and opinions about business events on this handle.
Do you follow any awesome Twitter handles that you suggest we should follow as well? If yes, do drop a comment. We would love to hear from you.
Vishal is the founder of Aryatra, a venture to help individuals improve their productivity and live more fulfilled lives. He also is a digital marketing consultant helping businesses generate revenue from their online presence.