After Reaching 5 Million Users, Money View Goes Local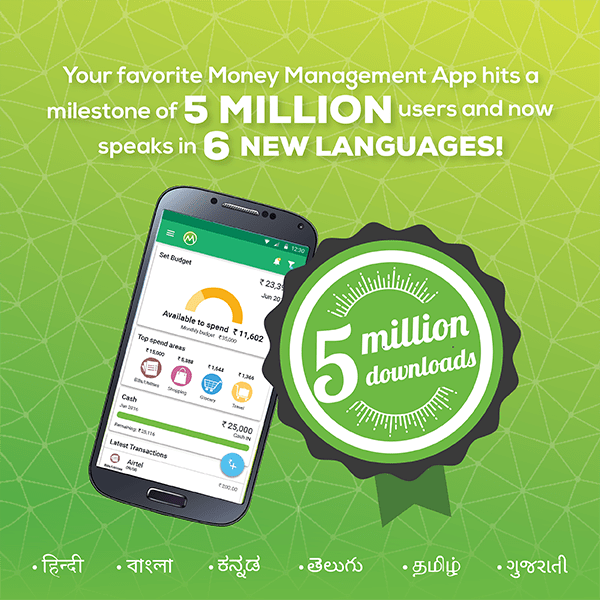 'When it comes to pursuing dreams, it is not just the goal but the journey that makes it so fulfilling to achieve.'
When Puneet and I sat in that Starbucks café many moons ago, it was a dream that lived in our eyes, hearts and minds and energized us. The dream was to make India financially fit through a mobile app.
Many struggles, challenges and 18 months later, we now have 5 million users in the Money View family.
A huge milestone in the fintech segment but we are just getting started.
I remember during our early days, we used to get a lot of feedback calls from our users, many from smaller tier 2/3/4 towns. A lot of our users, though able to use the app in English, were more comfortable talking to us in Hindi or other local languages.
That was when the thought of going local was seeded. We realised if we cannot speak our user's language, we cannot fully solve their problem.
After crossing the 5 Million milestone, I am happy to announce that we have launched the Money View app in 6 new languages.
New and existing users, can now also use the app in Hindi, Gujarati, Bengali, Tamil, Telugu and Kannada.
Going Local was Always Our Goal
India lives in its smaller towns and cities.
According to some estimates, about 10% of India's population speaks English – that is about 125 million people. Out of this, only about 2% have reasonable fluency.
Since  money management is a universal need and not limited to English speaking individuals, if we have to take our product to every person who can benefit from it, going local is an obvious step.
We have started with 6 languages chosen based on the demographic profiles of our current users and where we believe the growth will come from. This is just a start and we will be launching more languages based on demand and adoption.
What Enabled Us to Go Local
'Money View App Works Seamlessly across Social Strata and Infrastructure'
We currently have users in more than 200 cities across India which is a proof that the need for a smart money manager exists everywhere.
The purpose of our app is to simplify your finances and not to provide complex interfaces or interactions.
Money View in its basic form provides a quick view of your bank balance, income, spends and bills due. You don't need to be a savvy user or understand technology to be able to use this app. We have in that sense built this app for everyone.
Technology wise, it has been our conscious effort to Build for Billions. Our app works well for all smartphone models and screen sizes.
Our app is lightweight and works well even without a constantly on data connection. So it won't be affected due to patchy 2G/3G connection and will have updated data even without internet connectivity.
Way forward
According to a NASSCOM report, India will have 730 million internet users and 0ver 700 million smartphone users by 2020. 
Money View was the first of its kind app in India that utilized SMSes sent by banks and financial institutions to present financial data in a manner that was easy to comprehend.
India's fintech market is expected to grow by 1.7 times between 2015 and 2020. Financial apps are aiming to reach out to the people in the furthest pockets of the country and provide them financial services where banks have found it financially unviable to tread.
In that endeavor, going local will now help us serve a demographic which  has not been touched by advances of fintech and bring money management  to those who have not been catered to by any kind of money manager till date.
The entrepreneur, the IT professional, courier delivery man or your neighbourhood kirana store owner – we want to empower each one of these users to have a deeper control of their finances.
The dream of a financially fit India lives on, and I am excited to see how people respond to using a Personal Money Manager that speaks their language.
Sanjay Aggarwal is the Co-Founder of Money View.