Credit Card vs. Personal Loan: What to Choose?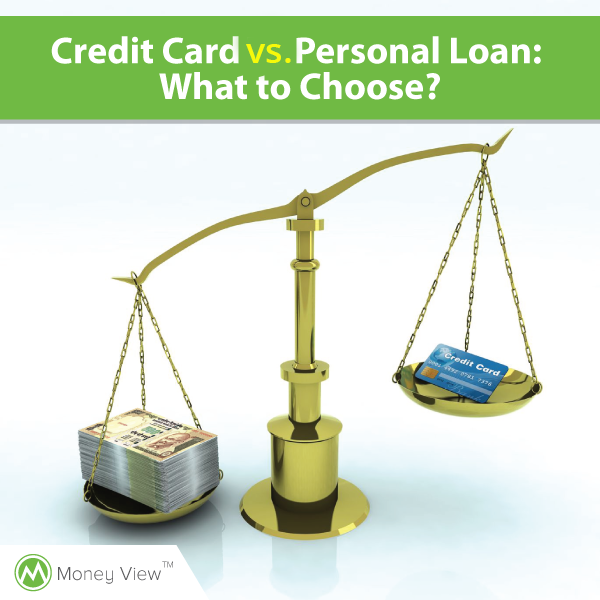 We don't need the festival season to remind us that there will always be expenses that we cannot pay for today, do we? Financing growing aspirations early in work life can be a challenge.
So how to manage that? Credit! That's how we can do 'now' instead of later. That's our ticket to indulge today and pay tomorrow! So it seems like a no-brainer. Get Credit and go buy! But, what kind of credit should you opt for? Is credit card the answer or should you take a personal loan? Which is better for you?
While both have their own merits, what is best is largely dependent on the situation. To make those decisions let's first break things down.
The case for Credit Card
From covering regular expenses to aiding impulsive spends, getting reward points, perks , cashback and upgrades, you can't deny the appeal of a credit card. Once you've mastered the tips and tricks of using your credit card, you'll discover that it is not only a good cash-alternative but also an empowering financial tool.
Because credit cards tend to have an upper limit of how much you can borrow, it makes sense to use them for relatively small amounts. Credit cards are the only interest-free loans you get; if you can manage to pay them off on time, that is.  With some cards giving you the benefit of converting your balance into EMIs, you also have the option to portion out your payments for a few months.
The case for Personal Loan
But what if the situation calls for cash and you don't have it? Withdrawing from your credit card is a cardinal sin! Aside from withdrawal charges, interest is levied from day one till the day you repay, making it an expensive affair. What must you do if you need to buy something which is over your credit limit? Here's where a personal loan makes sense.
Because personal loans are granted as a lumpsum upfront, they are ideal for cash-only or big-ticket purchases. Personal loans have a fixed rate of interest (11.49 – 20%) and are granted for a fixed term, normally between 1 and 5 years. So you get to repay the amount, gradually over a period of several months.
How to choose: The Verdict
Clearly, credit cards and personal loans meet diverse and changing needs. Let's explore some of the situations in your 20s where one works better than the other:
Scenario #1:
To buy Gadgets/home appliances/set up home/festival shopping – Credit Card.
Why: For offers, cashback and reward points. Some merchants allow you to convert this into interest-free EMIs.
Scenario #2:
To buy a two-wheeler – While a Vehicle loan takes care of the financing (cost of the vehicle), for registration and insurance you can opt to use a credit card.
Scenario #3:
Holiday – Hotel and travel booking – Credit card
Why: Offers, reward points and bonuses.
Scenario #4
For cash expenditure and international travels – Personal loan
Why: Charges are levied on credit cards outside the country and also because some merchants accept only cash.
Scenario #5
Wedding expenses – Personal loan
Why: Most wedding purchases and payments are done via cash or cheque.
Scenario #6
Jewellery: Personal loan if the amount is in excess of a lakh.
Tips for availing quick credit:
Buy online: Use a Comparison tool (Ex: Paisabazaar.com)
Live within your means: Use credit only as a last resort
Use your bonus and increments to pay off your debt as soon as possible
Remember that your credit history and CIBIL score will define the bank's willingness to lend to you. Check your credit score, make amends where necessary to get the best interest rates.