Introducing – The Money View Advantage Card
It won't be an exaggeration to say that our personal loans have revolutionized the market. At Money View, we believe that having access to financial services is a basic right for all and we have taken a step further in order to make this belief a reality.
Presenting – The Money View Advantage Card. 
All the benefits of a personal loan and a credit line card in just one pocket-friendly product!
Certain cards are synonymous with a luxury lifestyle. While they come with a number of benefits, the eligibility criteria is quite stringent. But should this mean that these cards should only be in the hands of a few? No!
What if there's a better option?
The Money View Advantage Card
The Money View Advantage Card is a credit line card which comes with a pre-approved limit that can be used for a multitude of purposes such as shopping, purchasing goods, paying bills, etc. Loaded with benefits such as 0% interest payment period up to 40 days and affordable EMIs, this card can be used for offline purchases, and UPI or QR code scanning too.
Features and Advantages of the Advantage Card
Given below are some of the advantages offered by the Money View Advantage Card –
When you apply for a card (credit or debit), you can start using this only after the card gets delivered to you, i.e., the physical card is required for transactions and this usually takes a few days.
But what if we told you that the Advantage card can be used immediately? You no longer need to wait for the card to get delivered to your doorstep to enjoy its benefits.
Purchased something but need a little time to repay it? No problem! With the Money view Advantage card, you can enjoy up to 40 days of interest-free period to make your payment
You can use your credit limit to shop and indulge without having to pay immediately. Enjoy the convenience of buying now and paying later.
Are you planning to purchase an item but unsure about repaying it? We have good news for you!
As an Advantage cardholder, you have the option to split your bills into affordable EMIs 
Have you avoided credit cards because of their joining or annual fees? 
With the Money View Advantage card you will no longer have to worry about this as this card does not have any joining fee or annual fee – it's completely FREE!
Pre-approved Limit up to Rs. 2 Lakh
Based on your credit history and other eligibility criteria, you may be able to avail a pre-approved limit of up to Rs. 2 lakh with no restrictions on the end usage
The Money View Advantage card can be used for both online and offline shopping. You wanted convenience and we are delivering it to you!
The Money View Advantage card may sound similar to a credit card but there are a few key differences. Let us take a look at them –
Credit Cards vs. The Advantage Card – Comparison at a Glance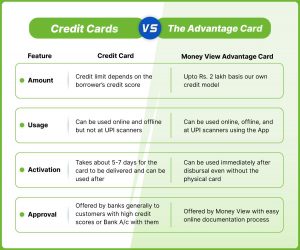 In Conclusion
There are a number of financial products in the market today with credit cards being one of the most popular ones. But credit cards are not as accessible to everyone. There are stringent eligibility conditions to meet and disbursal time varies. But the Money View Advantage card aims to go above and beyond.
Accessible, affordable, and loaded with multiple benefits and features.
Excited to be a part of 'The Advantage' family? Click here to know more!
In the meantime, let us know what feature you are most excited about in the comments below!