Decoding IFSC Codes – All You Need to Know
If you have transferred a certain amount of money online or through a cheque, you will be familiar with the term 'IFSC code'. But have you wondered what is IFSC code and its importance in banking?
Let's delve right into it!
What is IFSC Code
An IFSC code is an 11-digit alphanumeric code that is used to identify a bank branch in the country. The acronym stands for Indian Financial System Code and is unique to each branch. Every type of electronic funds transfer such as NEFT, RTGS, and IMPS requires an IFSC code.
Decoding IFSC Code
The IFSC code is not a random set of numbers and letters. Each character has a specific meaning attached to it. Let us try to decode what it means.
Let us take the following example –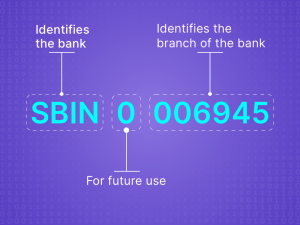 The first four characters of this code denote the name of the bank. In this case, it refers to the State Bank of India or SBI.

The fifth character is always a '0'. This is usually reserved for future purposes.

The last 6 characters denote the branch of the bank. In this case, the branch referred to is Nariman Point, Mumbai.
Therefore, this IFSC code refers to SBI Bank, Nariman Point branch in Mumbai.
How to Find IFSC Code 
If you're wondering how to find IFSC code, here are some easy ways to do so –
You can find your IFSC code on your cheque right below the address of the bank. It is usually printed at the top of your cheque leaf.
Your passbook will contain your IFSC code usually on the first page, right below the address of your bank branch.
Simply click on this link, and enter the relevant details to quickly find out your IFSC code.
Use your net banking credentials to log in to your bank account. The IFSC code will usually be mentioned in your profile section. You can also visit your bank's official website and find out your IFSC code. Please note that the exact steps will vary from one bank to another.

Why are IFSC codes important?
This code was created by the RBI to act as a unique identifier for every bank branch in the country. These codes also make it faster and easier to process EFT transactions.
Here are some other reasons why IFSC codes are a game-changer –
Rakesh, a resident of Mumbai wanted to transfer Rs. 25,000 to his ailing mother. His mother's account was at a bank branch in Varanasi.
If there were no IFSC codes, there is a chance that the money would get transferred to the wrong branch, leading to a significant loss. In this case, an IFSC code will ensure that Rakesh transfers the amount to the correct branch.
One of the biggest benefits of IFSC codes is the security they offer. Each code is unique and ensures that all transactions are secure. This, in turn, prevents any kind of fraudulent transactions or theft.
Anita had to urgently transfer Rs. 10,000 to her sister in Baroda. Unfortunately, by the time she reached it, there was a long line at the bank. Each transfer would have to be verified and multiple formalities would have to be completed delaying the process for everyone.
This would have been the case if not for IFSC codes. However, thanks to these codes, Anita can transfer the amount to her sister within minutes from the comfort of her home. All she needs to ensure is that she provides the correct IFSC code.
Hassle-Free, Paperless Banking
The rise of digital transactions has simplified transactions for everyone. Gone are the days when one had to go to a bank and wait in line for hours to get things done. 
Now, you can enjoy the convenience of banking from the comfort of your home. IFSC codes ensure that you can conduct seamless banking transactions without having to travel to a bank physically.
In Conclusion
An IFSC code works like an address and refers to a particular bank branch. These codes are decided by the RBI and simplify the process of Internet banking. Not only that, but IFSC codes ensure quick and safe banking transactions. You can easily find out a particular bank branch's IFSC code using any of the options in this blog.
Did you find this blog useful? Let us know what you would like to read about next in the comments below.