Easy Application and Instant Disbursal Made Salauddin a Loyal Money View Customer
'I never imagined that I would get a personal loan this quickly and easily through my phone'
Over the years, we have had the privilege of providing loans to customers who have loved the easy application process, minimal documentation, and other unique advantages that only Money View offers. Our customers' positive feedback is a testament to the success of our products.
Recently, we had the privilege of talking to one of our esteemed customers from Maharashtra, Mr. Salauddin Mainoddin Shaikh. Read on to know more about his experience as a Money View user.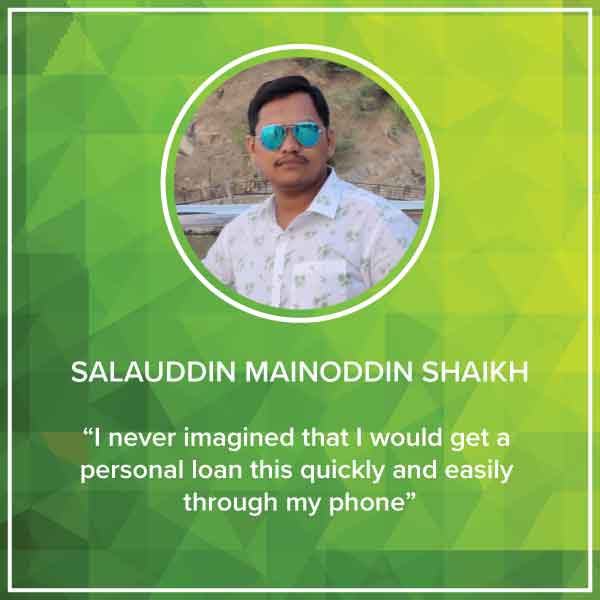 Tell us something about yourself
I am currently a resident of Jalna, a city in Maharashtra and I work with the Maharashtra Police Force.
What kind of loan did you avail from Money View?
I needed funds for some home repairs and other renovation costs. I therefore took a personal loan from Money View to pay for this.
Why did you apply for a loan from Money View and not other financial institutions?
While I did look for loans from traditional finance companies, none of the offers including loan amount and repayment tenure were to my liking. On the other hand, Money View offered a substantial amount right from the get go and I found the terms and conditions competitive as well. 
How did you get to know about Money View?
I was looking for loan providers online when I found out about Money View. I applied for a loan through my phone and the loan was disbursed to my account even faster than I expected.
What do you think of the Money View app and the entire loan application process?
The biggest advantage that Money View offers in my opinion is that the entire process is not just quick, it is also easy enough for anyone to use it. Thanks to the competitive interest rates, I was also able to repay the loan quickly. 
Do you have any advice to give to others who may be looking for an online personal loan?
I feel that Money View offers a lot more advantages as compared to traditional loan providers. Not only is the application process simple, the loan amount is also provided within 24 hours which is great for those looking for loans urgently.
What other features of Money View did you appreciate?
As mentioned before, I enjoyed the application process very much. In addition to this, the documentation requirements were minimal which was surprising as certain loan providers ask for multiple documents as well as multiple copies of the same.
Apart from the above, the auto-debit feature made the process of repayment very convenient as I did not have to worry about remembering dates or paying manually.
Overall I had a very positive experience without any complaints. I did not imagine that getting a loan from my phone would be this easy.
Final thoughts?
I am highly satisfied with the app thanks to its multiple beneficial features and would definitely recommend it to everyone looking for personal loans.
We are very thankful to Salauddin Mainoddin Shaikh for sharing his valuable feedback and experience with us. Team Money View wishes him the very best.