Are FMPs and NCDs Better than FDs?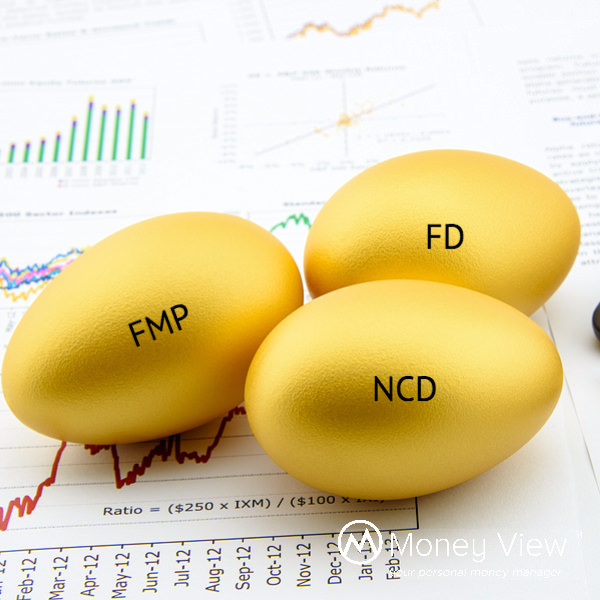 The morning just after the Diwali, while we had assembled for our daily jogging routine, the smog in the atmosphere made us change our mind and instead we ended up discussing pollution. Manohar Ji wished to leave early since it was his superannuation day and he had his farewell in his office. It was his special day and I offered to drop him to his office instead of his daily commute through bus.
En route, we talked.
"Beta, you help everyone with their finances, guide me a little with my retirement funds. I will be receiving a fat cheque today towards my provident fund and gratuity." Manohar ji said.
"I will go to ABC Bank tomorrow itself and get fixed deposit done for the funds. They offer 0.50% extra for senior citizens like us." He continued to share his thoughts.
"Uncle, there are many better ways to invest these days, giving you much better returns. Why do you only plan to invest in Fixed Deposits?" I asked Manohar Ji.
"Ever since I have been working, Fixed Deposits (FDs) are the only things I have invested in and I have not even heard of any other investment avenues as well." Manohar Ji seemed surprised.
"Uncle, a few options like NCDs and FMPs have evolved in recent times with the development of money market. Let me explain the same for you to take a better decision."
The financial advisor in me was now all ready. Moving forward, I explained the fixed income avenues available:
Fixed Deposits (FDs) – This is the most common investment instrument used for household savings and entails depositing money with a bank for a fixed period of time with a fixed rate of interest.
Non-Convertible Debentures (NCDs)/Bonds – NCDs may be considered as twin brother of FD, in the sense that they do have almost similar features in terms of fixed tenor and fixed rate of interest. The major difference lies in the fact that while the FDs are generally issued by the commercial banks, NCDs are issued by corporates. Further, most of the times, NCDs are listed on the stock exchanges and thus impart better liquidity to our funds.
Fixed Maturity Plans (FMPs) – As the name suggests, FMPs come up with a fixed tenor. They do differ a little from FDs for the fact that they do not guarantee any fixed returns. However, since FMPs pool in funds from investors, and invest in fixed income securities, they give almost similar returns as prevalent in the market
"This is so informative. However, FDs are so convenient. They provide me with a monthly interest payout option. I can get my funds back anytime. Do I get similar benefits with NCDs/ FMPs?" Manohar Ji seemed interested but was still convinced with the idea of investing in FDs.
I continued to explain the benefits of NCDs and FMPs over FDs and break his myths point-by-point:
Convenience to invest – Funds in FDs can be deposited easily and NCDs/FMPs offer similar convenience. These days, one can invest in public issues of bonds, which happen occasionally, or buy NCDs on stock market or invest in FMPs online. Further, the investments are in dematerialised/ digital form and hence, easy to store for records and reference.
Periodical Interest Payouts – NCDs usually come with annual interest payout options. Similarly, FMPs can also feature dividend option wherein periodical dividends are declared and credited to the bank account of the investor directly. Hence, even on this parameter, NCDs/ FMPs don't score less than the traditional FDs.
Liquidity – FDs come with a premature withdrawal option. However, in most of the banks, premature withdrawal penalty @1% is levied. Instead, NCDs/ FMPs are usually listed on stock exchanges and hence, the investments can be encashed at the fair value less small transaction costs.
Returns – As discussed above, NCDs are often known to offer better returns than FDs in order to attract investors since NCDs are a much recent investment instrument. Further, the returns also vary based upon the credit rating of the companies issuing the NCDs. Similarly, FMPs also provide comparable returns since they pool the funds to invest in fixed income opportunities available.
Tax Efficiency – Interest from FDs is always taxable on the tax rates applicable to the investor. On the other hand, while the interest from NCDs is taxable at the same rate, capital gains if any on sale of bonds may be taxed at concessional rates if the bonds have been held for more than 12 months. Similarly, the tenor of FMPs is generally made tax efficient and hence, eligible for concessional rates of tax. Further, no tax is deducted on the returns for listed NCDs/FMPs and thus eliminating the need to file Form 15G/15H.
Safety of Funds – Banks have always been considered as a safe investment avenue. However, in the event of bank's default, the funds invested in FDs are insured to the extent of Rs. 1,00,000 maximum due to Deposit Insurance facility. On the other hand, NCDs can be both secured as well as unsecured. In case of secured NCDs, the same carry the security of the fixed assets/ receivables of the issuer company. Similary, FMPs invest the funds through professional fund manager who can be expected to take prudent and rational investment decisions which are safe and secure.
"That's a good dose of knowledge, beta. I feel like I have spent whole my life being so ignorant." Manohar ji seemed convinced with my arguments.
"It's always better to be late than never." I quipped as I dropped him off leaving him mulling over these new investment instruments.
Simardeep Singh is a Chartered Accountant based in Delhi. He loves sharing his knowledge about personal finance and investment. He blogs regularly at  www.simardeep.com.