Get a Loan from the Highest Rated Loan App in India Just Like Prakash!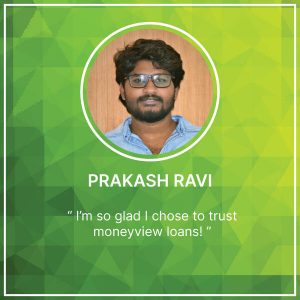 Since our inception, we have disbursed loans to crores of customers across the country. In a lending market that is so highly competitive, how can yet another loan app thrive?!
Instant disbursals? Cutting edge technology that guarantees security? Easy eligibility criteria? Minimal documentation?
How about all of the above?
At moneyview, we offer all of this and more. Customer satisfaction is our goal, one that motivates us to strive day in and day out to help everyone because access to financial security is a basic right. 
But tall claims should not be made without the right justification. 
While the moneyview loans app is the highest rated loans app on Play Store in the country today, our greatest validation comes from our happy customers.
We recently had the pleasure of talking to an esteemed user from Bangalore – Prakash Ravi*. Check out what he has to say about us.
Tell us something about yourself
My name is Prakash Ravi and I'm from Bangalore. I work as a customer support executive in a reputed company.
What kind of loan did you avail from moneyview?
I had taken a personal loan from moneyview to fulfill certain urgent financial obligations.
Why did you apply for a loan from moneyview and not other banks or financial institutions?
It is true that there are multiple lenders in the market today but none of them offered the benefits that moneyview did.
I was looking for a loan that required minimal documentation and an easy application process. Moreover, most lenders advertise lower rates but have a number of hidden charges so it was hard to know whom to trust. 
Amongst all the lenders in the market today, moneyview had the highest reviews on Play Store and this made it really easy for me to trust them. I'm happy to say that my faith in this lending company has paid off.
How did you get to know about moneyview loans?
I found out about moneyview through online channels.
What did you think of the moneyview Loans app and the application process? Are there any particular features that you enjoyed?
I found the application process to be really simple and easy. The interest rate was also lower than I expected it to be. 
I was a little concerned about my repayments but the EMI was quite flexible as well. Since the entire process from application to disbursal is paperless, it was convenient.
I also really appreciated how easy it was for me to track my EMI's and overall repayment schedule. In addition to all of the above, the referral bonus was an added boon.
Final Thoughts
All in all, I'm really glad that I took a loan from moneyview as the entire process was incredibly convenient and safe. I will definitely recommend this loan app to everyone.
Thank you Prakash, for your wonderful feedback. We wish you and your family the very best.
*Name has been changed on request