Halloween Special: Weirdest and Wackiest of Insurance Policies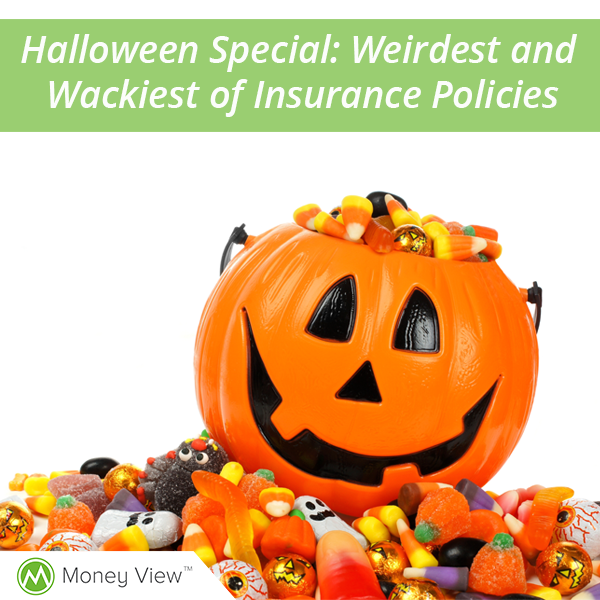 Risks come in many shapes and sizes…and realities! While the majority of us want to get our property, vehicle and life covered under mainstream insurance policies, there are some who are looking beyond the ordinary!
Because… anything can happen! …Because we can be invaded by aliens, captured by the Loch Ness monster, haunted by ghosts or doomed by the apocalypse! No, this is no joke or a movie or a Halloween thing! There are many real-life people with real (or should we say 'reel') fears, who've gone on to get some extraordinary insurance policies to stay protected!
So obviously, insurance is not boring! The most imaginative and creative 'risks' are covered by some specialty insurance companies. For these companies, it's all about likelihood – they are willing to insure (almost) anything, as long as the payout chances are leaning towards improbable!
Here are some unusual and outrageous insurance policies ever underwritten:
Fame's anatomy

The rich and the famous, and their love for … well, their own selves! Insuring body parts isn't a new thing. History is littered with celebrities who thought their physical self was worth a lot of money. Big bucks to protect their biggest assets! From footballers and models insuring their legs to singers insuring their voices, there have been policies written for enormous amounts! Singer Tom Jones though, thought it was more relevant to insure his chest hair! Australian Cricketer Merv Hughes is said to have insured his moustache for AUD 370,000. Closer home, tennis player Sania Mirza has insurance for her arms and Olympian and boxer Vijender Singh is said to have been keen on insuring his fists.
Supernatural

Do you believe in ghosts? Chances are there are more people who do, than you think! And if there are believers, there's insurance! Llyod's, a specialty insurance provider in London has become rather infamous for covering paranormal oddities. The Royal Falcon Hotel in England is said to have had a series of supernatural occurrences, what with supposed ghost spotting! The hotel owner bought a $ 1.5 million worth of insurance cover to protect his staff and guests against the risks of the spook.
Extraterrestrials

If you thought alien invasion and UFO abduction were only part of a script, apparently not! Over $ 10 million worth of insurance policies have covered people in the US, who fear the possibility of such an occurrence. Not only that, there are insurance policies that will double the payout if the 'victim' is found impregnated by the creatures from outer space!
Vampires and Werewolves

Can you imagine the risk of turning into a werewolf or vampire, or being attacked by one? Or worse, falling in love with one? Well 60,000 people have; vividly! They've gone on to get insurance coverage against such encounters. And what about a zombie apocalypse! The walking dead are a serious threat to a significant number of people, who've signed up for Zombie insurance.
Creepy, crawly, alien, or ghoulish, it's the fear of 'if' that causes people to reach out and seek insurance protection.
If you think these were far out, you should get some everyday insurance — ghosts or no ghosts!