How to Plan Your Wedding Budget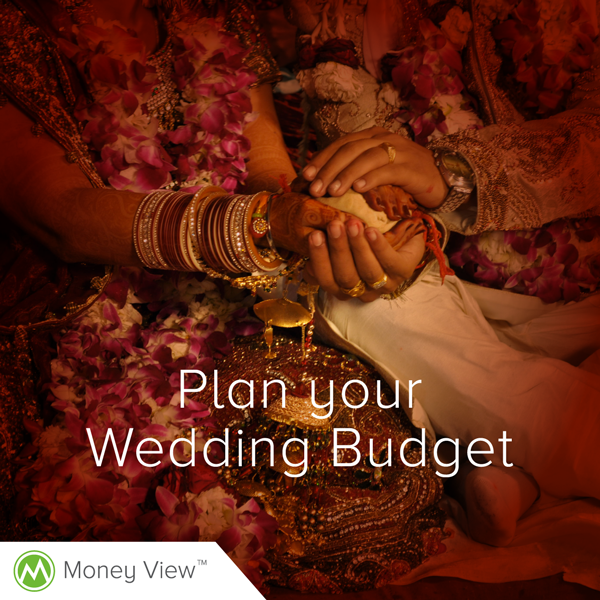 Planning an Indian Wedding is not easy. It's called the Big Fat Indian Wedding for a reason! We like the theatrics, the celebration, and the extravagance that comes with it. In this grand scheme of things, there is much to think about – guest lists, wedding shopping, hospitality, entertainment — all of which depend on the single denomination – Budget!
It's not uncommon for brides, grooms and their families to idealize a wedding, pay as they go, often overshooting their financial capacities. They end up borrowing from family and friends, selling off assets or taking loans piling on credit card debt to fulfill wedding aspirations.
With weddings being as much a financial event as a personal one, planning according to one's resources helps make the occasion stress-free and debt free. How does one go about that – allot a manageable budget, and plan a wedding accordingly.
Pay attention to the details
Wedding budgets are relative – some are intensive on venue, theme and entertainment, others on food, hospitality and yet others on designer clothes and expensive jewellery. No doubt cultures also play a huge role in deciding the length and extent of celebrations, impacting budgets. Many couples however, would rather spend their money setting up home and going on a holiday than planning big weddings. Your wedding budget will depend upon these priorities when planning your wedding.
These are the options you can consider from the minimalist to the uber luxurious:
The Frugal
A simple registration wedding costs next to nothing. And then there are those who have a celebration, but scale down the event. There are couples who've spent less than Rs. 1 lakh. Here's their inventory:
Venue Costs: Nil (Parents' Garden)
Simple Floral Decor: Rs. 20,000
Mangal Sutra + Minimal Jewellery + Clothes: Rs. 35,000
Food: Rs. 15,000 (for 25 people)
Priest: Rs. 10,000
The Fabulous
Destination weddings are the in thing for the couples who wish to do things in style. These couples spare no expense to make it an occasion to remember for a lifetime. Here are some popular destinations with costs:
Thailand – Upwards of 60 lakhs (for a group of 200 people – 2 Day /3 Night package)
Rajasthan – Upwards of 45 lakhs (for a group of 150 people for 2 nights)
Goa – Upwards of 20 lakhs (for a group of 100 – 150 people for 2 nights)
Now that you have zeroed in on the kind of wedding you would like to have, allotting a budget is a big step in planning a wedding.
However, it's the little tips and tricks that help you cut costs and manage your money better.
Save money by going off-season: Sep-Dec counts as the Wedding season in India. Expenses can multiply with venues being in high demand. Book well in advance or marry off-season.
Try local and seasonal: Flowers and food are among the biggest expenses in an Indian wedding. You can cut back by planning menus and decor with easily sourced seasonal ingredients. Ex. Mango Mousse in a December wedding can prove to be very expensive.
Insist on RSVP – Insist that your guests RSVP. This will give you an approximate number of the guests, enabling you to make appropriate decisions about food and other expenses.
Monitor your budget: Now that you have set a budget, monitor spends in the months leading up to the wedding.
Plan your gifts better: Gifts are a given, but make them meaningful. Allow your gang of friends to pay for some wedding-related expenses – clothes, spa visits or entertainment. You can also start a wedding gift registry so that your guests can give you what you really need to begin your new life together.
On your Big Day, you start the rest of your life! Begin with financial prudence.
While it's the wedding that costs, it is the marriage that counts!