Introduction to KYC: What, Why, & the Different Types
If you are opening a bank account, creating a UPI ID, or even purchasing an insurance plan, you will be asked to submit your KYC or 'Know Your Customer' details. But how many of us understand the importance of this process or know the different types of KYC?

But before getting into the details of the various types of KYC, let us understand what KYC means.
What is KYC
KYC is used to verify and authenticate a customer's identity. Since 2004, the RBI has required all financial institutions to verify the identity and address of all customers before conducting financial transactions with them.
This process is quite simple and can be done in many ways. More on this later.
Why is the KYC Process So Important
Here are a few reasons why KYC is of utmost priority –
This process ensures that illegal financial activities are kept in check

By verifying the customer's identities, financial institutions can prevent fraudulent activities and crimes such as identity theft, terrorism financing, money laundering, etc.

By establishing their identities, banks can also understand, serve their customers, and evaluate the risks involved in a better manner
When is KYC Required 
You will be asked to complete the KYC process for almost any banking or financial activity. Some examples are –
If you are opening a bank account, or investing in the bank's fixed deposits, recurring deposits, or any other form of investment.

Recently

, the IRDAI (Insurance Regulatory and Development Authority of India) made it compulsory for customers to submit their KYC before getting insurance policies (auto, life, home, travel, etc.).

You will also need KYC while opening any other account such as a DEMAT and stock trading account, mobile wallets for online transactions, or any other financial transactions essentially.
Documents Required for KYC
In order to complete your KYC process, you will need one or more of the following OVDs (Officially Valid Documents) –
Aadhaar Card

PAN Card

Passport

Driving License

Voter's ID
Different Types of KYC
Now that we've understood the importance of KYC, let us take a look at the various ways or the multiple channels that can be used to complete this process.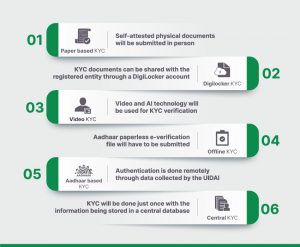 When you submit self-attested, physical copies of documents in person to complete KYC processes, it is known as paper-based KYC or in-person KYC.
The authentication in this case is done remotely through data collected by the UIDAI. You can opt for an OTP – based verification where an OTP will be sent to your Aadhaar-registered mobile number. Alternatively you can also select biometric authentication wherein your biometrics will be used to verify your identity.
Unlike an in-person verification, you will have to download the Aadhaar paperless e-verification file
and submit this for KYC authentication. You may have to provide consent for the information in this document to be used for verification.
Certain apps such as moneyview facilitate the KYC process through this process. This ensures that customers will not have to download a file separately and share it.
In order to make the KYC verification process more convenient, the Government of India came up with this initiative. Individuals will have to complete their KYC just once with the registered entity, after which the records will be added to the Central KYC registry (CKYCR) managed by CERSAI.
This record can later be used by other registered entities to fetch the KYC information. A 14 digit code will be generated which can be used to access this record.
As the name suggests, your KYC process will be completed via a video. This option was permitted due to restrictions arising during the pandemic. An auditor and an agent will be a part of this process and a combination of video-audio as well as AI technology will be used.
You have the option to share their KYC documents with the registered entity through your digilocker account. Digilocker is a secure cloud-based platform that stores your digital documents. This is a flagship initiative by the Ministry of Electronics and IT.
In Conclusion
If there's one process that is mandatorily required by all financial transactions, it is KYC verification. This process helps to establish your identity and allow financial institutions to understand your requirements better. Additionally, the KYC process also ensures secure transactions by preventing fraudulent activities such as identity theft.
The Government of India has tried to make the process of KYC verification as seamless as possible and offers various ways to get this done. All you need to do is ensure that all your documents are in place and that you follow the required steps correctly.