Did you know that you can now share your Aadhaar number in a more secure and convenient way?
Read on to know more.
What is the Aadhaar Paperless Offline e-KYC?
It is a new initiative by the UIDAI to secure your data while making it more shareable. This will help an organization to verify your identity without having to collect or store your Aadhaar number.
The file that will be generated will be password-protected, and will have the following information-
Name

Address

Photo

Gender

Date of Birth

Hash of registered mobile number

Hash of registered Email ID

Reference ID, which will be the last four digits of the Aadhaar number
Please note that to avail of this service, you will need to link your mobile number to your Aadhaar card. Without this, you will not be able to choose this method of verification.
Advantages of the Aadhaar Paperless Offline e-KYC
There are many advantages to using the Aadhaar Paperless Offline e-KYC. Some of them are listed here-
You can share your information directly, without the knowledge of the UIDAI

Your Aadhaar number is not revealed, which means it is secure

No core biometrics are required for verification

You can decide with whom you want to share your data

The UIDAI digitally signs it, thus it can detect tampering

It's password protected, which prevents any unauthorized access
Apart from all of these points, it is also extremely easy to generate and share.
How to Generate the Aadhaar Paperless Offline e-KYC?
You need to follow these steps to generate your Aadhaar Paperless Offline e-KYC-
Go to the official myAadhaar website and login using your Aadhaar number.

Enter the Captcha and click on 'Send OTP'. Enter the OTP that you will receive in your registered mobile number to login.

The list of services will open up, choose 'Offline KYC'.

You will be asked to create a 4-digit share code. Input the code of your choice and remember it. You will need to enter this 4-digit share code with anyone whom you want to share the Zip file.

Finally click on 'Download'. A Zip file will be downloaded.
Now that you have downloaded the file, you can follow these steps to extract it and share it further.
Go to the 'Downloads' section of your system.

Right click on the Zip file that got downloaded, and select the 'Extract' option. If it asks for a password, enter the 4-digit share code that you had created.

Your Paperless Offline e-KYC is ready.
You can easily share the downloaded zip file with whomever you want. Note that no one will be able to access the file without entering the 4-digit share code.


Aadhaar Paperless Offline e-KYC Verification
Verify your KYC instantly using your Aadhaar details & complete your loan application.
Steps to Follow for Offline eKYC Verification:
Section 1: How to Download Your e-KYC ZIP File on UIDAI Website
1. Visit https://myaadhaar.uidai.gov.in
2. Click 'Login' on the Aadhaar website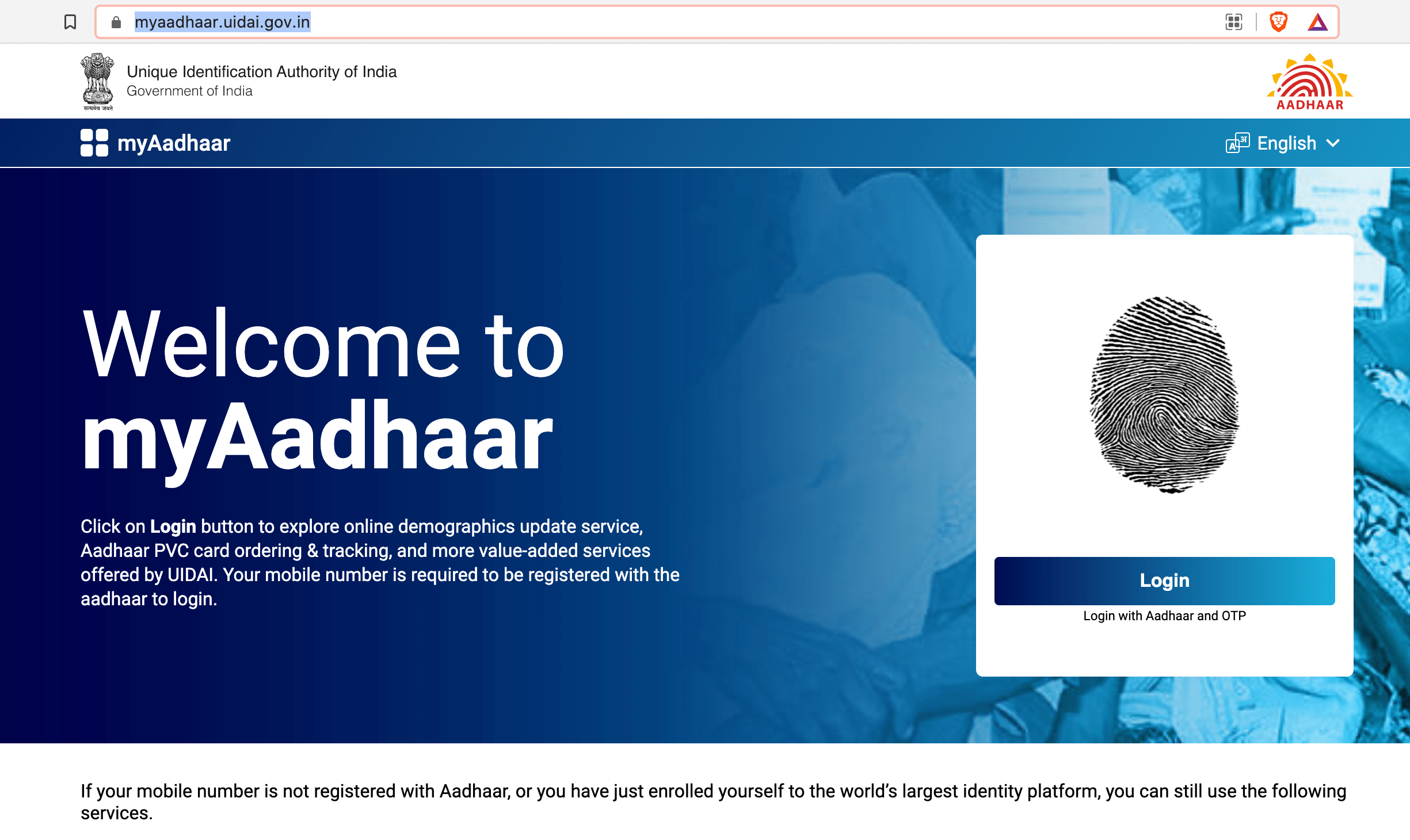 3. Enter your 12-digit Aadhaar Number, Captcha & click on 'Send OTP'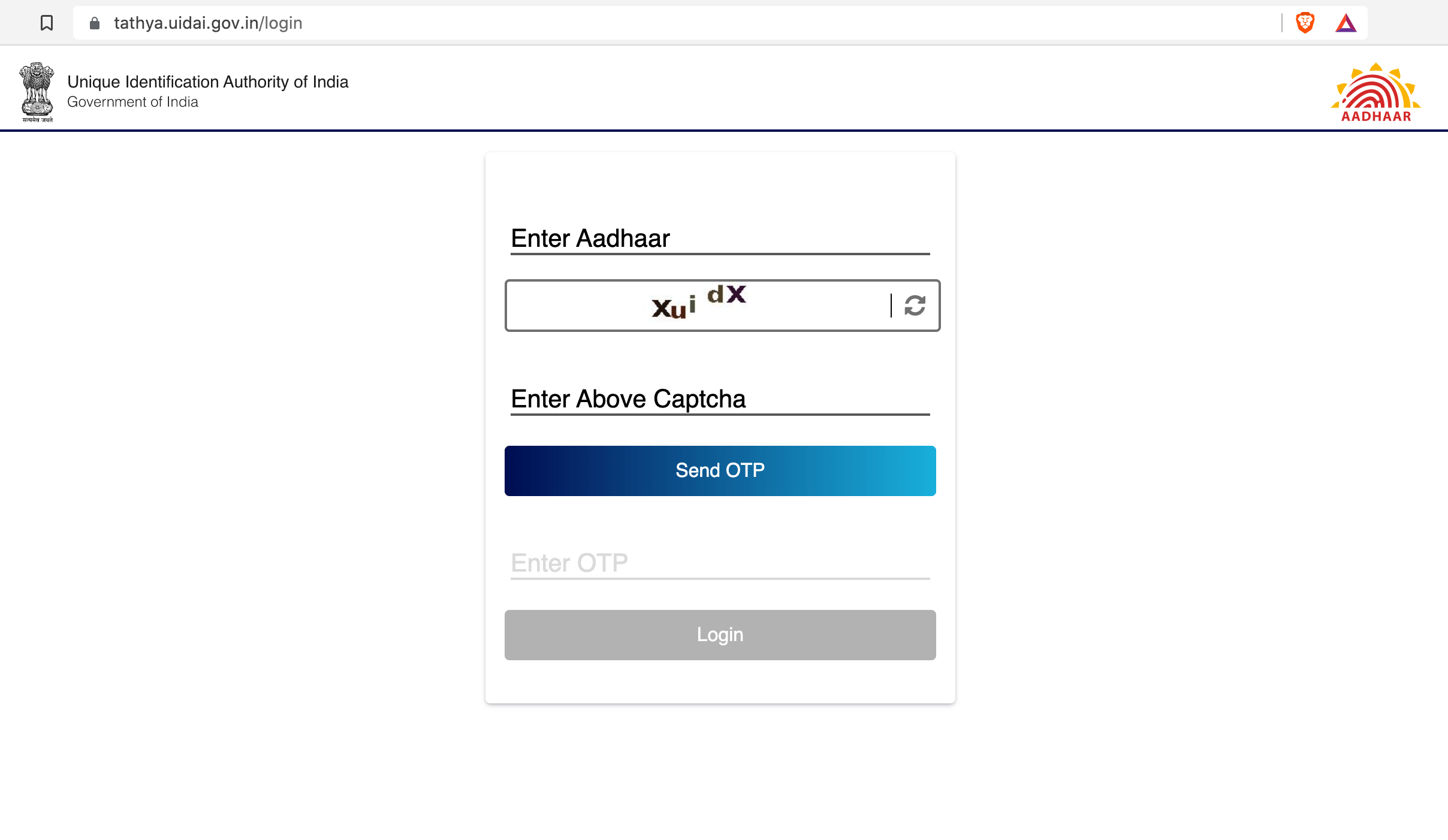 4. Enter the OTP received on your Aadhaar registered mobile number to login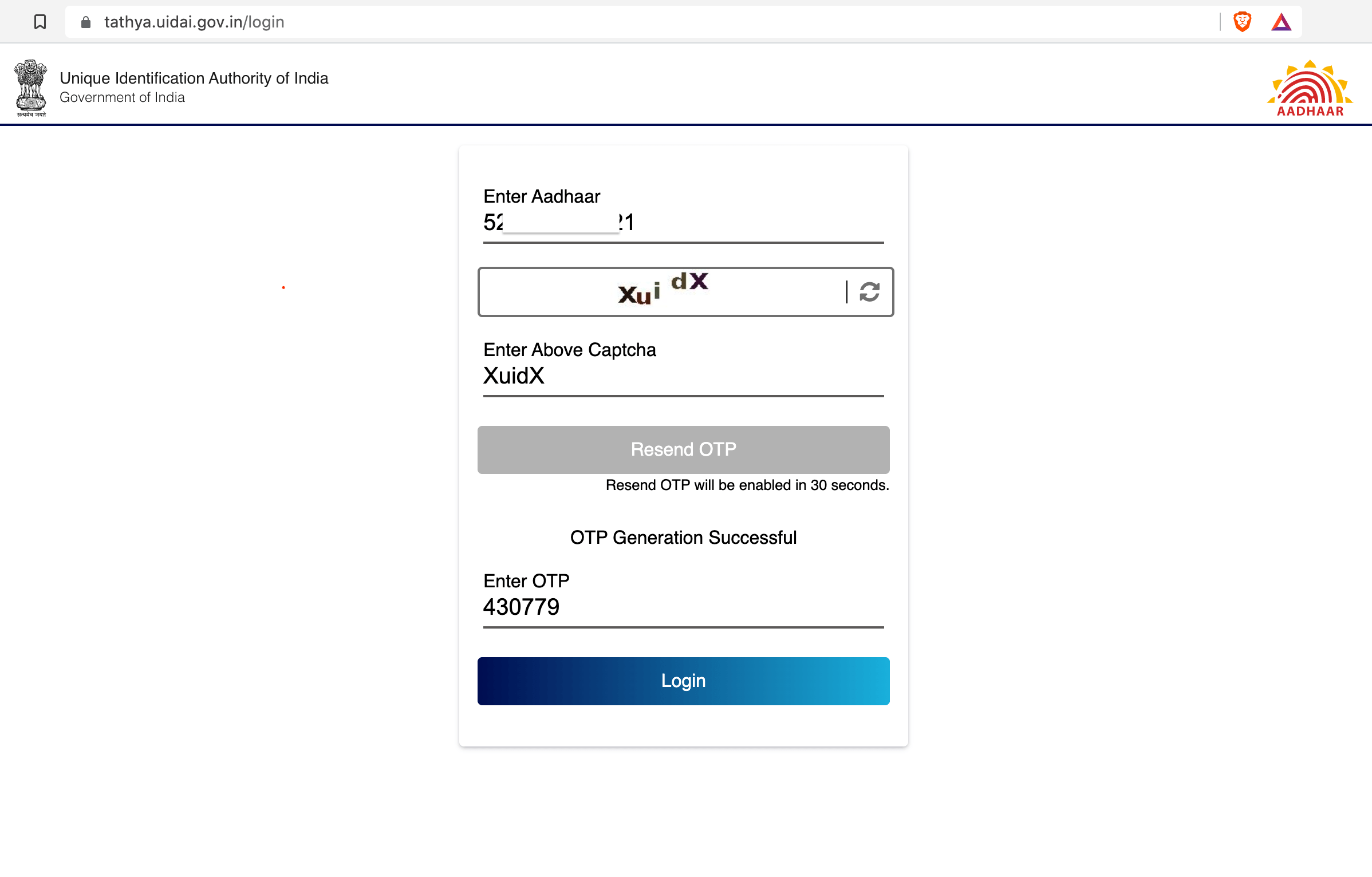 5. Click on 'Offline eKYC'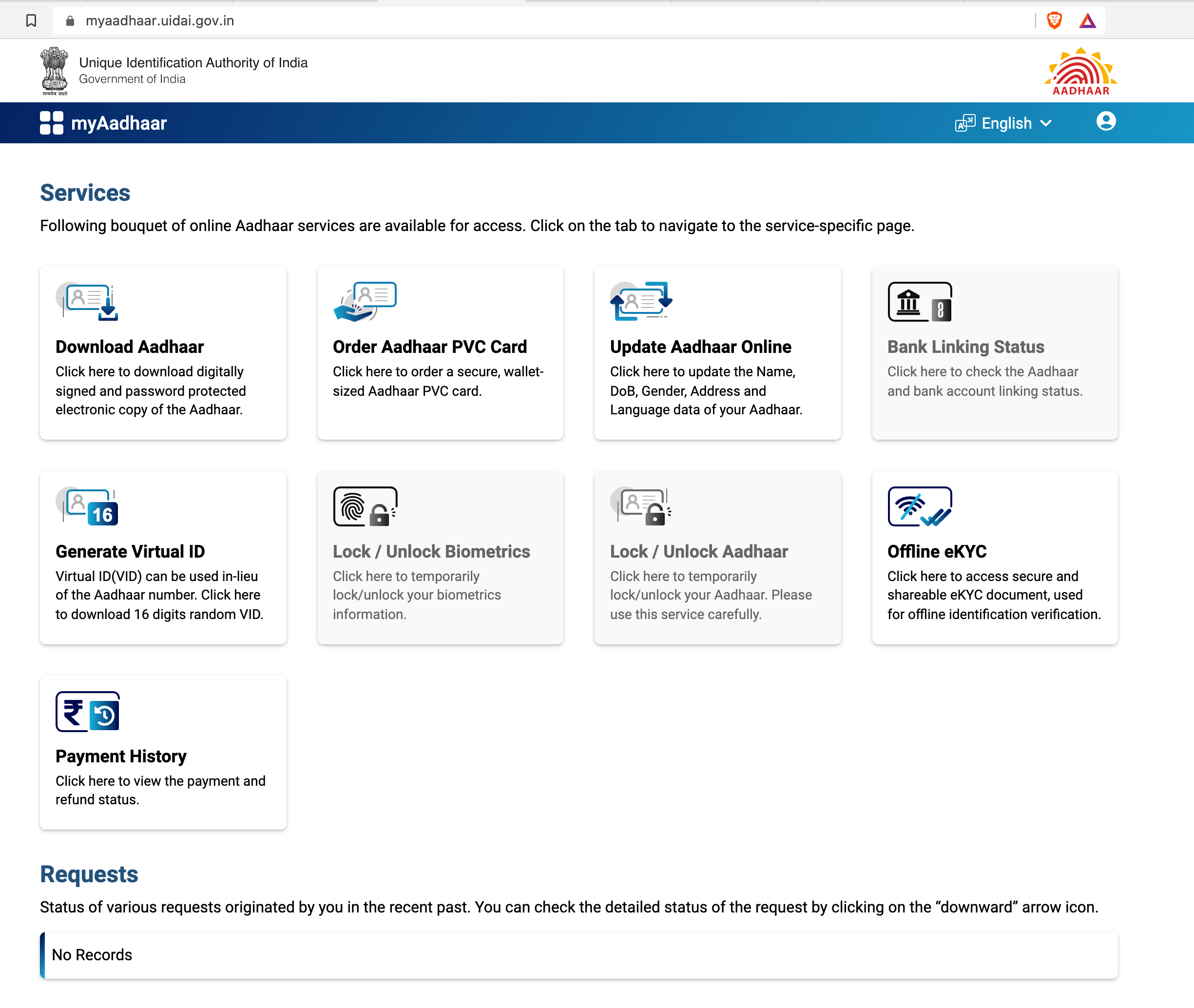 6. Create a 4-digit share code. Please do remember the code & click 'Download'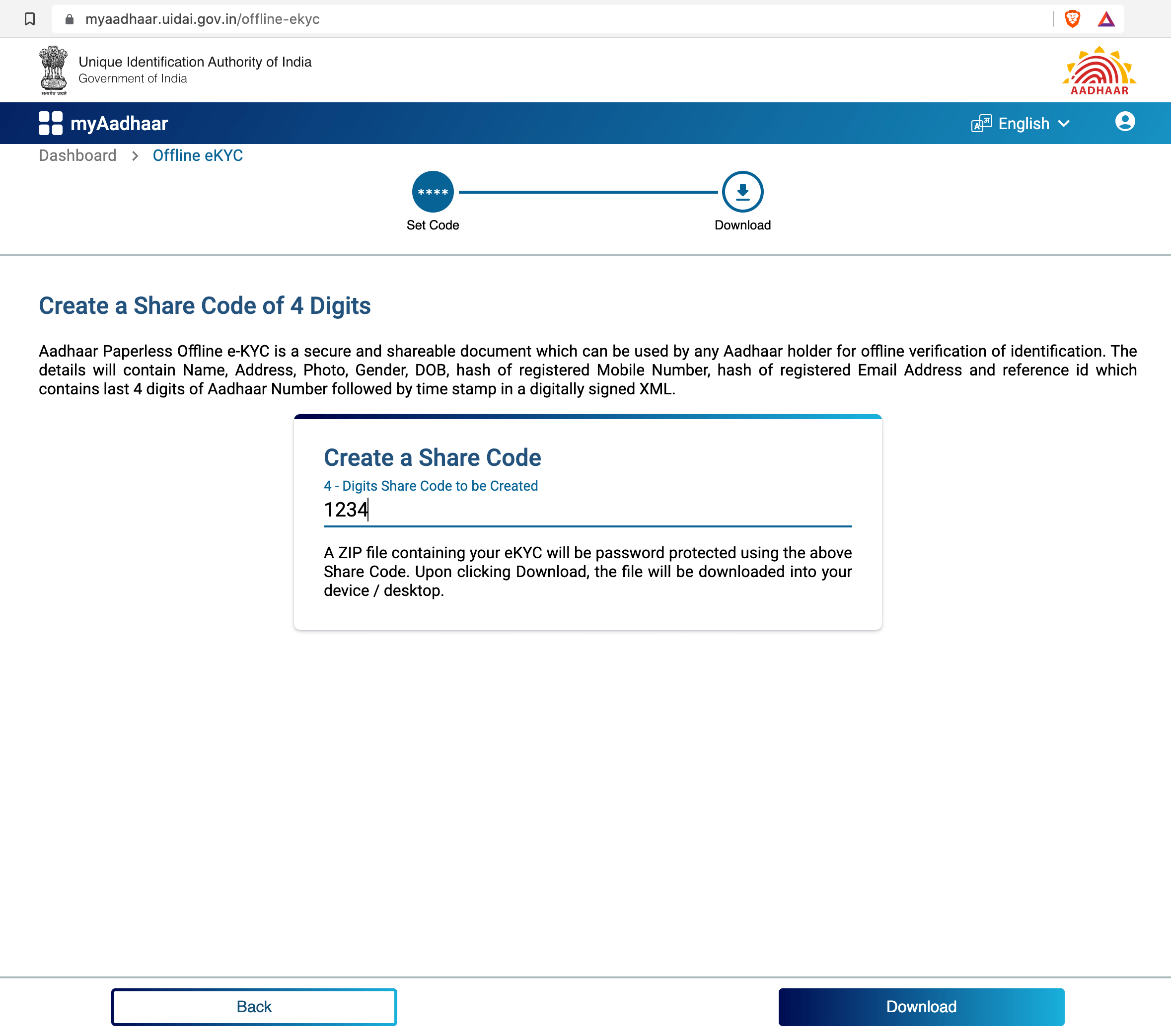 7. Your Aadhaar ZIP file will be downloaded to your mobile or computer.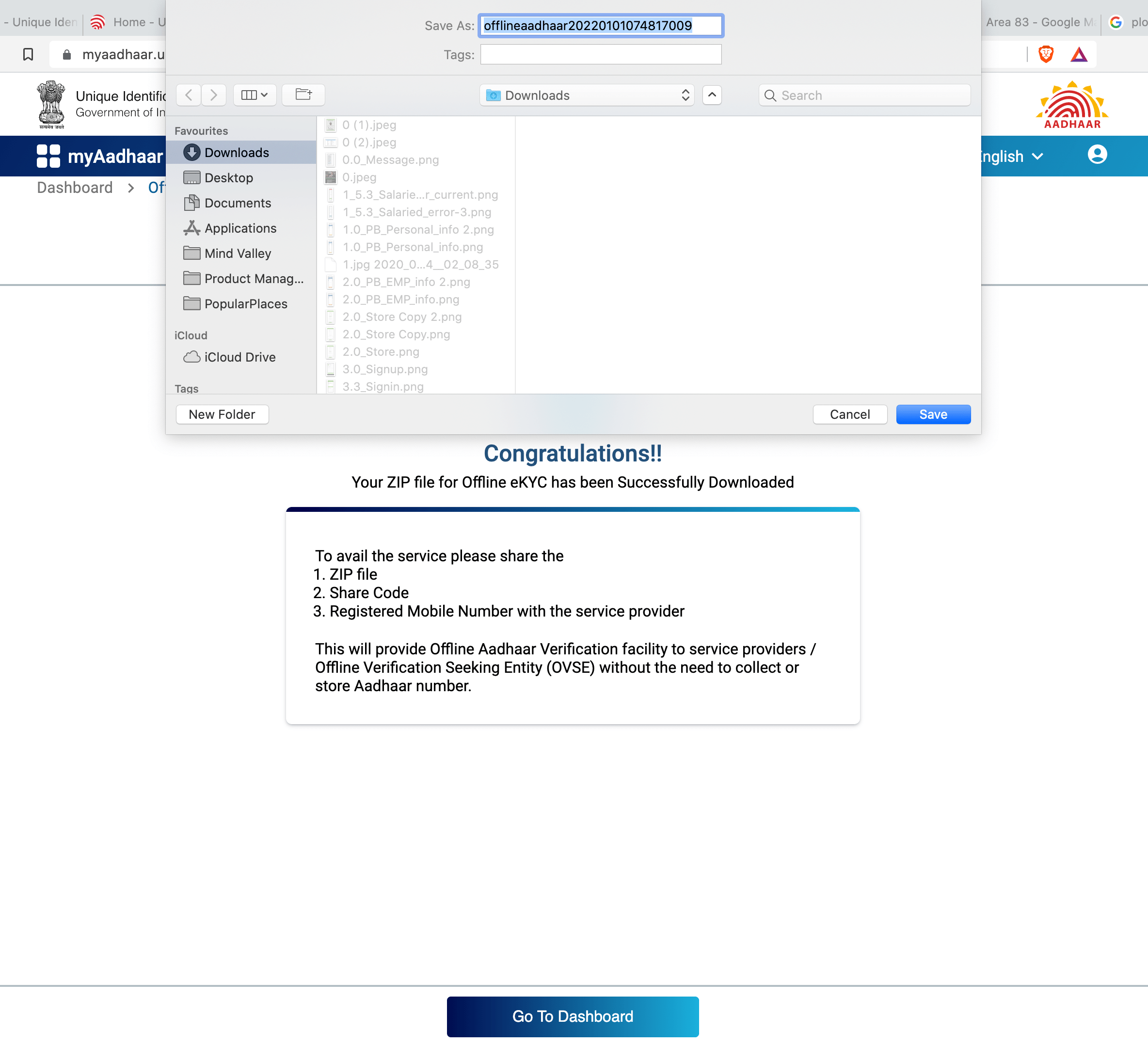 Can I use my Aadhaar Paperless Offline e-KYC for Availing Instant Loans?
Yes, you can even use your Aadhaar Paperless Offline e-KYC on various instant loans apps like moneyview. Here is how you can do it-
STEP-1: Choose the paperless e-KYC option while verifying your KYC.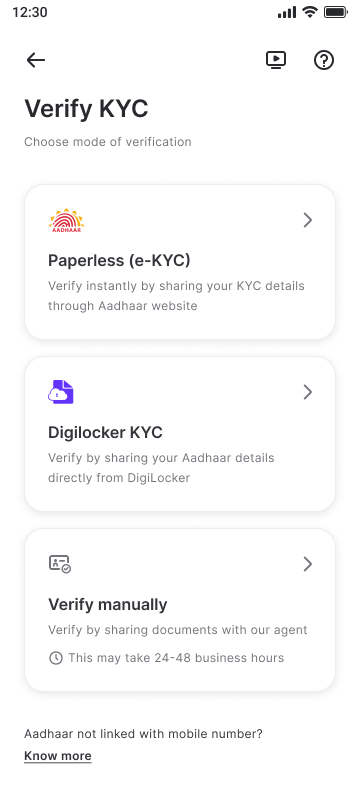 STEP-2: On the next screen, enter your Aadhaar number and the captcha.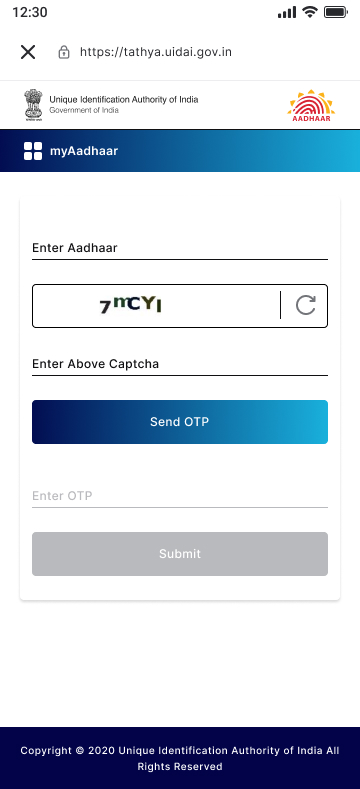 STEP-3: On the moneyview app, your Zip file is generated by itself. You just have to create your 4-digit share code. Click on continue.
Note that this share code can be any random 4-digit number. This share code will be used by moneyview to safely access your KYC document.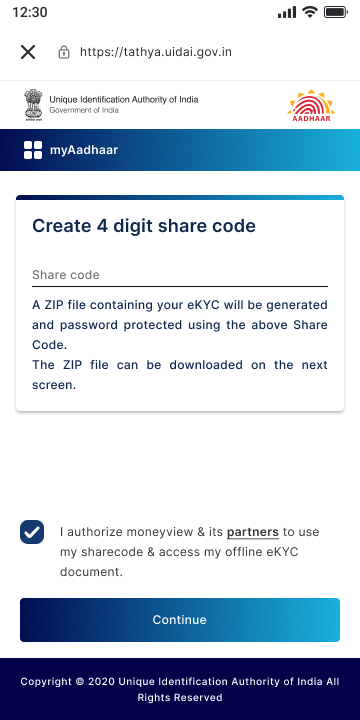 STEP-4: If you have used another number to apply for the loan, you will have to enter your Aadhaar verified number on the next screen.
STEP-5: Your KYC will be verified and you will see your information on the screen.
We, at moneyview, use the data that you share strictly for defined purposes only. Your data is never shared with any third party without your knowledge.