HAPPY  NEW YEAR!
In the blink of an eye a year has gone by and it is time to welcome 2022! While the past year had its ups and downs, we, at Money View, did our utmost to provide a flawless experience for all those looking to avail financial help.
Through 2021, we had the privilege of speaking to over 60 customers and we are proud to see their wonderful feedback and what better way to bring in 2022 than by celebrating our wins in the previous year!
Here's presenting our annual 'Customer Survey Report' – a summary of all the feedback we have received from a portion of our 1 crore+ customers.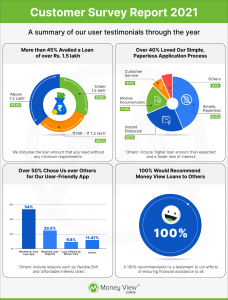 Each month in order to keep improving and upgrading ourselves, we speak to multiple customers for their feedback, which forms the backbone of our 'Stories' blog series.
We believe that financial inclusivity is everyone's right and we are making a conscious effort to ensure this.  Availing a personal loan should not be a complicated process. We do our best to ensure that our app can be navigated easily by everyone because technology should not be a barrier to financial assistance.
Another big advantage is our 24-hour disbursal feature. This makes Money View loans the perfect solution if you need a loan urgently and as seen above, one of the more popular reasons for customers to avail our loans.
Our goal for 2022 is to make the process of availing loans simpler, more accessible, and convenient so that you, our wonderful customers, can gain financial help effortlessly.
We will see you next week with a fresh blog and in the meantime, we would love your feedback. Let us know your thoughts on the above survey and our blogs in the comments section. What topics would you like to read about?