No More Difficulties In Funding Your Business! Follow This TN Businessman's Example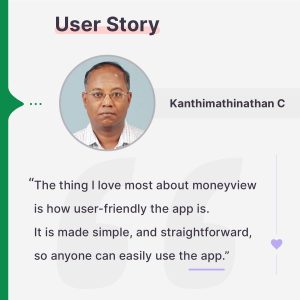 Businesses help in the entrepreneurial development of our country and contribute to its GDP by generating employment. At times, businessmen need a little financial assistance to successfully bring their ideas to fruition and establish their ventures.
One such shrewd businessman is our customer Mr. Kanthimathinathan. This is his story of how moneyview's timely aid helped his business.
Tell us about yourself
 I am Kanthimathinathan, aged 56 years old. I hail from Chennai and I own a business.
What kind of loan did you avail from moneyview?
I took a business loan from moneyview. 
Why did you apply for a loan from moneyview and not other lenders?
moneyview offers a complete digitalized loan application process, from document updation to loan disbursal. I found it very appealing since I could apply for a loan and receive the amount without stepping out of my home. 
How did you get to know about moneyview loans?
I came across moneyview ads on social media and Google Pay. 
I tried the application and when I found out the entire process is digital, I immediately applied for a loan. 
What did you think of the moneyview loans app and the application process? 
I found the app very easy to use. Its user-friendly features and hassle-free process is simple to follow making my loan application experience a pleasant one. 
Would you recommend the moneyview loans app?
I would definitely recommend the moneyview loans app to anyone looking for instant loans.
Final Thoughts
moneyview helped me with funds to sustain my business. More importantly, moneyview's digital loan application process made it possible for me to avail a loan from the comfort of my home. There were no long lines to wait in or needless papers to submit. 
The process was hassle-free and built in such a way that anyone can follow. And, it only took a few minutes of my time! 
Loan applicants will find moneyview a savior in all kinds of financial emergencies. I would highly recommend moneyview to everyone looking for loans.
Your valuable feedback has made all our efforts worthwhile. Thank you for your kind words, sir!