No More Money Woes! Get Easy Loans like Kamal Prakash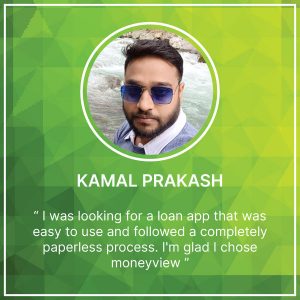 A company is nothing without its customers. We've said this time and again but their satisfaction is our primary goal. There's no point in working towards perfecting a product or a service technically if the users do not derive satisfaction from it. Only when customers are happy can a country grow and become profitable.
Every so often, we get into a conversation with our customers to understand their concerns, pain points, and overall feedback. Each positive response spurs us to continually deliver the best product experience possible and we are grateful for each opinion.
Recently, we had the opportunity to talk to an esteemed customer from Jharkhand, Mr. Kamal Prakash. Check out what he has to say about us.
Tell us something about yourself
My name is Kamal Prakash and I'm from Jharkhand.
What kind of loan did you avail from Money View?
I had taken a personal loan to fulfill some medical expenses.
Why did you apply for a loan from Money View and not other banks or financial institutions?
I wanted a hassle-free loan application process. Additionally I did not want to travel to a bank physically which is why I chose an online loan app.
How did you get to know about Money View loans?
I was looking for loan apps on Play Store and came across moneyview. Since the app had great reviews, I decided to go for it.
What did you think of the Money View Loans app and the application process? Are there any particular features that you enjoyed?
The process was extremely easy. There were no issues at any point and the app was seamless to use.
There are plenty of loan apps in the market today but not all of them are trustworthy and it can be difficult to navigate the interface as well. 
In addition to this, the documentation process was also quite minimal. Unlike other lenders, I was not asked to submit an unnecessary amount of documents. However, there was a slight delay in the disbursal of the loan. 
Final Thoughts
All in all, I'm quite happy with the moneyview loan application process. I would definitely recommend this loan to others.
Thank you Sir,  for your kind words. moneyview wishes you and your family the very best.
If you're looking for a personal loan that is easy to avail and requires minimal documentation, visit our website or download the app.